These tours allow you to get closer to African wildlife within half an hour of driving from Windhoek. The following species can be seen: antelopes: rhino, kudu, Oryx (gemsbok), springbok, blue wildebeest (gnu), red hartebeest, eland, duiker, blesbok, Damara dik-dik, zebras, warthogs, giraffes, crocodiles and ostriches as well as a wide variety of birds.
Video Windhoek & central region
Code G01. Tour to Auas Game Lodge
The lodge is situated 45 km from Windhoek. After your arrival you will be taken on the game drive into the 10 000 hectare proclaimed nature reserve where you can see different kinds of antelopes. On the way you will stop at cheetah enclosure where you can observe feeding of these beautiful animals and later crocodile feeding. After a game drive you can relax at lodge's swimming pool. Optional activities include hikes, nature walks, tennis. Duration of the tour is 7 hours.
Code G02. Tour to Ombo Ostrich Farm and Midgard Guest Farm
You will visit Ombo Ostrich Farm located just outside of Okahandja, small town 70 km north of Windhoek where local guide will explain you all details about the anatomy, life and behaviour of ostriches. See ostriches of all sizes, from egg to adult as well as emus, dwarf ostriches and crocodiles and get insight into the lifestyle of colourful Herero people. You will meet Michael Jackson - unique dancing male ostrich. After a short break we proceed to Midgard Resort - 16 000 hectares farm situated in the Otjihavera Mountains where you will experience a game drive. Other activities on the farm which are optional include horse riding, tennis, table tennis, hiking trails, volleyball, badminton and swimming. Duration of the tour is 7 hours.
Code G03. Tour to Otjisazu Farm and Okahandja
After a first part of the program of tour G02 you will proceed to Otjisazu Farm that is situated 30 km from Okahandja. The farm was founded in 1878 by missionary Jacob Irle. Otjisazu means "Land of Red Cattle" in the native Herero language and covers 8000 hectares of African bushveld. Game drive will conclude the tour. Horse riding and walking trails can be arranged on request.
Duration of the tour is 6-7 hours.
Code G04. Tour to Harnas Farm
Tour to the farm that belongs to Van der Merwe family who turned it into a sanctuary for orphaned and injured animals, miniature of Noah's Ark where you can observe lions, leopard, cheetahs, alligators, warthogs, vultures, snakes, jackals, hyenas, wild dogs, baboons, lynxes, foxes, birds and different antelopes in their natural habitat. Experience animal feeding, game drive on more than 12 000 hectares of African bush, walking trails or relax in a swimming pool.
Duration of the tour is 2 days.
Code G05. Daan Viljoen Game park excursion
Short tour that takes you to the closest game park in vicinity of Windhoek which is situated just 18 km west. The park has a fully equipped rest camp with restaurant and swimming pool and is built around the Augeigas dam. The park was proclaimed in 1962 and named after a former Administrator, Mr. D. T. du P. Viljoen, who played a major role in establishing of the park. With the area of just 40 sq. km it is one of the smallest parks in Namibia. Game drives in the park where you can stop and walk closer to animals as there are no predators in the park. There are several walking trails in the park.
Duration of the tour is 2.5 - 3 hours.
Please note: all tours' itineraries and duration can be changed and combined with other tours or included in a programs of a longer tours and safaris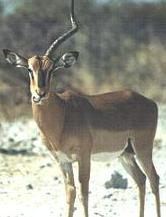 Black-faced impala antelope (Aepyceros melampus petersi) in the Etosha National park in vicinity of Namutoni camp
Directory page
German page
Russian page
Italian page
About us
Search our site
Windhoek city tours
Tours to game farms
Horse and camel trails
Lions, leopards, cheetahs
Tours to the Atlantic Coast
Other tours
Our safaris
Comparison shop
Paul Graetz tour
Desert Express


Kaokoland tours
Hunting
Fishing trips
Flights and fly-in safaris
Hot air balloon safaris
Budget camping tours
Budget travel shop


Car rental
Camping equipment hire
African Art on-line souvenirs shop