Tours and excursions
The following tours and excursions are mixture of different categories of tours.
Please also take a look at our other services and products.
Code D01. Tour to Okahandja & Gross Barmen
This tour will take you to small town Okahandja just 70 km up north from Windhoek where we will visit some historical sites, graves of Herero chiefs and German soldiers, street souvenir markets and than proceed to Gross Barmen Hot springs which is about 25 km from Okahandja.
The main attraction of the resort is the thermal spring which supplies water to the indoor thermal hall and the open - air swimming pool and flows at about 6700 litres per hour with a temperature of 65 degrees centigrade. The water consists of fluoride, sulphate, sodium phosphate, sodium, chloride, silicate and potassium. The water in the thermal hall is cooled to about 40 degrees centigrade. The water temperature of the open-air swimming pool is usually between 25 and 29 degrees centigrade. The thermal bath is equipped with underwater benches, safety rings and massage jets and housed in an enormous dome-shaped glass-enclosed hall. Duration of the tour is about 10 hours.
Video Windhoek & central region
Code D02. Camel riding tour
We are going to vicinity of Swakopmund to the Camel farm where you can choose between short riding or a several hours trip into the desert.
Code D03. Horse riding tour
This tour is going to take you to Eagle Rock lodge where horse riding will be arranged for beginners and experienced riders. Duration of the tour depends on requested program.
Code D04. Souvenir tours
Some places we can visit on tour: Nakara factory, manufacturers and producers of karakul pelts and skins of different animals, Karakul factory in Swakopmund (a separate full day tour), Ibenstein Weavery in Dordabis, Crafts centre in Windhoek and curious and street souvenir markets in Windhoek and Okahandja. We are also going to visit Mr. Vrey, who is our famous artist on leather. You have no obligation to buy souvenirs at any of the places we are going to visit.
Code D05. Hot Air balloon excursion
Tour that takes you to Namib Desert to Sesriem where hot air balloon excursion will be arranged early in the morning at sunrise. Tour can be combined with Sossusvlei excursion.
Code D06. Day tour to Rehoboth
Day tour that introduces visitors to the Baster community living in town Rehoboth 85 km south of Windhoek. We will visit Rehoboth museum and Acacia forest, one of most dense stands of acacia trees in Southern Africa where three species of acacia grow: camel thorn, candle thorn and sweet thorn. Visit to Oanob dam can be included on request. Duration of the tour is 5 hours.
Please note: all tours' itineraries and duration can be changed and combined with other tours or included in a programs of a longer tours and safaris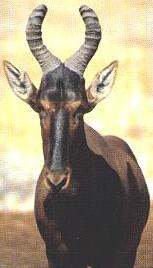 Red hartebeest (Alcelaphus buselaphus). Reputedly the fastest of all antelopes
Related:
Accommodation in the area:
Facebook:
NAMIBIA:
https://www.facebook.com/groups/namibia.namibia
WINDHOEK:
https://www.facebook.com/groups/windhoek.namibia.africa
KATUTURA:
https://www.facebook.com/groups/katutura
DRONESBERG AERIAL PHOTO/VIDEO:
https://www.facebook.com/dronesberg
Contact & reservations:
E-mail: info@namibweb.com
Reservations are only accepted in writing: by fax or via e-mail.
Final availability confirmation: in writing: by fax or via e-mail.
Terms & conditions, Payment options and Cancellation policy
Page created and serviced by



www.namibweb.com

Copyright © 1998-2023 namibweb.com - The online guide to Namibia
All rights reserved | JOIN | VIDEO PORTFOLIO | VIDEO/PHOTO COLLECTION
Telegram | YouTube | Blog
Page is sponsored by ETS & Exploring Namibia TV
Disclaimer: no matter how often this page is updated and its accuracy is checked, www.namibweb.com and ETS
will not be held responsible for any change in opinion, information, facilities, services, conditions, etc. offered by
establishment/operator/service/information provider or any third party