Namib Sky Adventure Safaris (Sesriem/Sossusvlei)
Francolino Fly-Ins (Twyfelfontein/Damaraland), Francolino Camp
African Adventure Balloons (Swakopmund)
Hot Air Ballooning Namibia (Brandberg)
Hot air balloon safaris and tours, parasailing
Hot air balloon safaris and tours in Namibia: in Sesriem/Sossusvlei area, Swakopmund (Atlantic Coast) and Damaraland. Hot air balloons is our specialty.
1. Namib Desert (Sossusvlei flights): Namib Sky Safaris. Unforgettable and most beautiful experience in the Namib Desert. One of the most special tours conducted in the Namib desert. Safaris are conducted every day before sunrise from Sesriem.
The flights are weather permitted.
YouTube: Sesriem/Sossusvlei hot air balloon flight tour video:
The duration of the flight is approximately one hour.
A spectacular launching and take off as the sun rises over the world's oldest desert. Your destination will be the wind-swept red sand dunes of the Namib. Soar with the winds over the ocean of sand and mountains, endless sea of shadow and light.
One of the reasons that flights are conducted in the mornings is that a balloon is very sensitive to wind and heat. In Namibia, the only time it is possible to fly balloon is one hour after sunrise in summer, 2.5 hours after sunrise in winter. It is impossible in windy conditions or on very hot mornings (more than 30°c). (The difference between the outside temperature and inside the balloon envelope being approx. 70°c).
YouTube: Namib Sky Safaris video:
A pilot cannot steer a balloon, it goes with the wind at the same speed. He can just control the altitude, and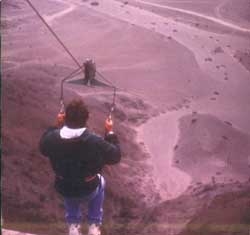 according to the wind channels found, the direction preferred is chosen.
Suggested accommodation establishments: Le Mirage, Sossusvlei Lodge, Kulala Desert Lodge, Sossusvlei Mountain Lodge, Sossus Oasis Camp Site and Sesriem camping site. A champagne breakfast is served after landing. Flight certificate and park entrance fees are included in flight's rate.
Namib Sky Safaris office GPS coordinates: -24.673379, 15.807227 - road C27, 22 km south of Sesriem.
Passengers must be at the office before flight departure.
Passengers staying in other establishments have to be at departure point on time to join the tour.
2. Flights from the area around Swakopmund: African Adventure Balloons. Passengers are picked up from hotels/pensions in Swakopmund. Generally flights are conducted in the vicinity of the Rossing Mountain with a magnificent view of Spitzkoppe Mountain, Moon Landscape and the Naukluft Range in the south. Champagne breakfast is served after the flight.
3. ''Flying Fox''. DISCONTINUED TILL FURTHER NOTICE. This is the cable slide installed on the top of Rossing Mountain which is the world's longest (1100 m) and highest (200 m) cable slide. The program include 4x4 trail up to the top of the mountain with a spectacular views of the surrounding plains. All safety precautions are in place and this activity is much safer than bungee jumping or quad biking.
4. Parasailing. DISCONTINUED TILL FURTHER NOTICE. This activity is conducted in vicinity of Swakopmund close to the dunes.
5. African Balloon Safaris at Brandberg. Flights from Mowani Camp (Damaraland).
Meeting point is at the tourism info centre in Uis on the day of departure 30 minutes before sunrise. On the evening prior to the ballooning at 6pm the pilot will be available for any questions or discussions on the trip at the same venue. A group must consist of 3-5 persons (minimum is 3 persons) Booking in advance is essential. The take-off of the balloon is weather permitting. Minimum age is 12 years.
YouTube video quad bike & other adventure tours:
Payment is not processed until the date of the flight due to the reason that it can be cancelled in case of bad weather
Rates: on request
Namib Sky Safaris: map
Closed on 25 December, 1 January and from 15 January until 15 of February yearly
Sossusvlei flight (1 hour)
Please download a booking form here and send it back to us:
Special large groups: Min 24 - Max 56 passengers .
The group is split in two, and each of the passengers will have ½ hour flight, and ½ hour following the balloon in 4x4.
This allows to take pictures from the ground and from the air.
Champagne breakfast is served after final landing before the drive back.
African Adventure Balloons Swakopmund
-
Francolino Fly-Ins
Closed till further notice
Hot Air Ballooning Namibia: Twyfelfontein: same routes as Francolino Fly-Ins in the past
Air Transport License 108
Departures from Mowani Camp entrance, morning flight with champagne breakfast.
Children: 13 years and older: full rate. No children under 13 years old.
No discounts for children
Facebook:
NAMIBIA:
https://www.facebook.com/groups/namibia.namibia
SESRIEM SOSSUSVLEI:
https://www.facebook.com/groups/sossusvlei
NAMIB-NAUKLUFT NATIONAL PARK:
https://www.facebook.com/groups/namib.naukluft
TRAVEL NAMIBIA:
https://www.facebook.com/groups/travelnamibia
Contact & reservations:
E-mail: info@namibweb.com
Reservations are only accepted in writing.
Final availability confirmation: in writing.
Terms & conditions, Payment options and Cancellation policy
Related:
Accommodation in the area:
Activities in the area:
Page created and serviced by



www.namibweb.com

Copyright © 1998-2023 namibweb.com - The online guide to Namibia
All rights reserved | JOIN | VIDEO PORTFOLIO | VIDEO/PHOTO COLLECTION
Telegram | YouTube | Blog
Page is sponsored by ETS & Exploring Namibia TV
Disclaimer: no matter how often this page is updated and its accuracy is checked, www.namibweb.com and ETS
will not be held responsible for any change in opinion, information, facilities, services, conditions, etc. offered by
establishment/operator/service/information provider or any third party
Itineraries and description:
Copyright © Namib Sky Adventure Safaris, Francolino Flights, African Balloon Safaris and African Adventure Balloons