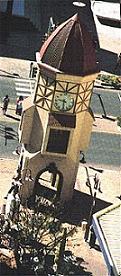 Old German clock tower in the Windhoek city centre
Search our site
Tours to game farms
Horse and camel trails
Lions, leopards, cheetahs
Tours to the Atlantic Coast
Other tours
Our safaris
Budget camping tours
Budget travel shop


Car rental
Contact:
E-mail: info@namibweb.com
Facebook:
NAMIBIA:
https://www.facebook.com/groups/namibia.namibia
WINDHOEK:
https://www.facebook.com/groups/windhoek.namibia.africa
KATUTURA:
https://www.facebook.com/groups/katutura
DRONESBERG AERIAL PHOTO/VIDEO:
https://www.facebook.com/dronesberg
When you visit Namibia stay for a while in Windhoek and experience a real Africa. Explore this fascinating and unique city - the heart of Namibia. These tours are designed for people who do not have much time in our capital, business people and just anyone who wants to know more about history, geography, architecture and people of Windhoek. Tours are conducted in air-conditioned vehicles.
Code W01. Windhoek city tour
Usually your acquaintance with the country starts from its capital. Windhoek, the capital of Namibia is situated in the central region of the country at the average altitude of 1650 meters above sea level and renowned for its blend of German colonial buildings, the annual Carnival Wika and traditional German dishes.
You will be met at your hotel by our guide. This basic tour takes you in air-conditioned vehicle in and around different parts and suburbs of Windhoek. Amongst places that you are going to see are old railway station, House of Parliament - National Assembly, Christuskirche, Raider's Memorial, Alte Feste (Old Fort), three Castles of Windhoek, Katutura township, view points over the city, historical, industrial and residential areas of our capital. Duration of the tour is 2.5 - 3 hours.
Code W02. Windhoek city tour and excursion to Penduka project
The program of the basic city tour with an excursion to Penduka project centre (Penduka is a word which means "Wake up!" in Oshiwambo and Herero languages). This is a non-profit-making organization which co-ordinates women to produce needle-work in the underdeveloped rural areas of Namibia. The centre is located on the shores of the Goreangab dam on the outskirts of Katutura. We visit workshop and souvenir shop where an embroidered and quilted bedroom furnishings, table linen, hand - woven baskets, wall hangings, rucksacks and bags are displayed and sold. Duration of the tour is 4 hours.
Code W03. Windhoek beer tour
This is extended city tour with excursion to Namibia Breweries Ltd. where you will have an opportunity to taste famous Namibian Beer that is produced according to German "Purity Law" of 1516 (Reinheitsgebot). Barley malt, hops, and water are the only ingredients and Namibian beer contains no other additives, colorants and preservatives. Later we will visit Daan Viljoen Game Park where you will see rich African wildlife just 18 km from our capital. Duration of the tour is 5 hours.
Code W04. Windhoek sundowner tour
Tour that is focused on the night life of Windhoek. After a sundowner at a view point that overlooks the city you will visit Country Club Resort casino. Duration of the tour is 2 hours.
Code W05. Windhoek city tour and Okapuka excursion
The program of the basic tour with an excursion to Okapuka Ranch. Game drive and lion feeding are included.
Windhoek Bus City Tour - discontinued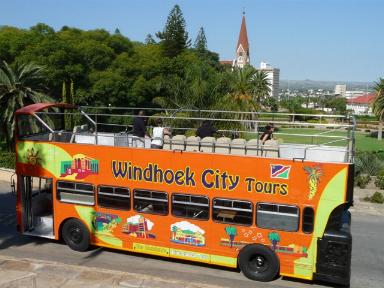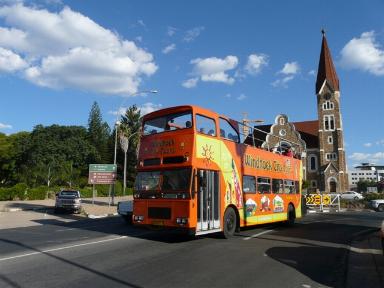 Prices are on request
Places you can visit and activities you can do in Windhoek:
Excursions to the production workshop of Seelenbinder Furs
Excursion to the Herrle & Herma Jewellery Foundry
Excursion to the Springer Chocolate Factory
Excursion to the Hartlief Meat Factory
Excursion to Nakara factory, manufacturers of karakul pelts and other skins
All these extensions can be arranged and included in tours' programs.
Please note: all tours' itineraries and duration can be changed and combined with other tours or included in a programs of a longer tours and safaris