Lions, leopards and cheetahs day tours


Africa is not Africa without them. These tours are focused on these beautiful animals and all mentioned farms are situated in a close vicinity of our capital. Duration of the following tours can be changed and overnight accommodation is available on all of three farms. Duration of the following tours is approximately 8-10 hours.
Code C01. Tour to Okapuka Game Ranch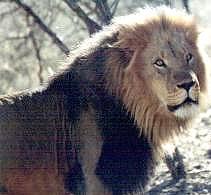 This tour offers you an exceptional game watching experience on 12 000 ha of farm area, that situated 30 km north of Windhoek just off the B1 road towards Okahandja. The farm restaurant constructed as a lapa with enormous thatched roof and a massive wooden door that according to the owner of Okapuka, Mr. F. Flachberger, must weigh at least a ton.
Game drive will take you around the farm where you will see different game species, including springbok, oryx, kudu, roan antelopes, crocodiles. Later you will proceed to lion feeding. Helicopter flights can be arranged on request. Duration of the tour is 7 hours.
Code C02. Tour to Dusternbrook Farm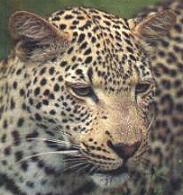 Guest farm Dusternbrook that used to be a cattle ranch with an area of 12 000 ha situated 48 km from north of Windhoek. A special attraction is the leopard enclosure where you have a rare opportunity to observe these beautiful animals in their natural environment.
Below farmhouse that was built in 1910 there is a cheetah enclosure where you will see a feeding in close, but safe distance. Game drive through private game reserve "Otjihorongo" ("place of kudu") will conclude this day tour. Horse riding on request. Duration of the tour is 8 hours.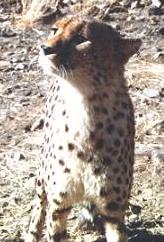 Code C03. Tour to Melrose Farm

Tour starts from your hotel where you will meet your guide and proceed in the western direction. Melrose Game Farm is situated 43 km south-west of Windhoek on the road to Sesriem in a unique landscape of the Khomas Hochland. The road to the farm through the Kupferberg pass will take a half an hour. Already on your way to the Melrose you will have an opportunity to see antelopes and baboons in surrounding hills.

The farm land was given to James Bassingthwaighte by Nama Chief Jonker Afrikaner in 1841. From the cheetah bar you can view the cheetahs at a close range. Later you will be taken on a game drive. Optional: horse riding, bow and arrow target shooting. Duration of the tour is 7 hours.


Please note: all tours' itineraries and duration can be changed and combined with other tours or included in a programs of a longer tours and safaris

American Society of Mammalogists

July 9, 1996

Dr. Charles W. Dane, Chief
Office of Scientific Authority
Mail Stop: Room 725
Arlington Square
Washington, D.C. 20240

Dear Dr. Dane:

The American Society of Mammalogists is a professional scientific society that consists of nearly 4000 members from over 60 countries. One of the Societyıs principal interests is the conservation of rare or threatened mammal species. Accordingly, The American Society of Mammalogists would like to comment on the petition to downlist the cheetah from endangered to threatened in the Republic of Namibia.
Although we recognize the potential value of providing landowners in Namibia with an economic incentive to conserve cheetahs residing on private lands, we have several concerns regarding the Fish and Wildlife Service proposal to reclassify the cheetah in Namibia.
First, information regarding the current population size of cheetahs in Namibia is uncertain, and the basis for the often cited estimate of 2000-3000 cheetahs is unclear. As most cheetahs in Namibia exist on private farmland and an estimated 500 cheetahs are killed on farms annually (Marker-Kraus et al. 1996. Cheetah Survival on Namibian Farmlands. Cheetah Conservation Fund, Windhoek, Namibia), the size of the population at this time is uncertain. Data on cheetah numbers, distribution, and current harvest (both legal and illegal) are necessary to set biologically meaningful hunting quotas. Furthermore, data on sex and age ratios are lacking, and such information is critical to predict population responses to changes in harvest levels.
Second, the effects of limited hunting quotas established by CITES in 1992 must be reviewed. An argument in favour of downlisting the cheetah is that importation of trophies into the United States would be permitted, thereby providing an economic incentive for landowners to conserve cheetahs. We believe the following questions must be answered before downlisting is approved: Over the last four years, has there been a documented improvement of the status of this species in Namibia? Have the numbers of cheetahs killed on farms declined? Have attitudes towards cheetahs on private lands changed? What have been the economic impacts of limited trade? This information is critical for an evaluation of the effects of current quotas before expansion of trade is warranted.
Because of these uncertainties, the American Society of Mammalogists does not support the petition to downlist the cheetah in Namibia from endangered to threatened. We appreciate your consideration of our position of this matter, and we request that this letter become part of the Federal Register. Thank you for allowing us to comment on this proposal.

Sincerely,

Alicia V. Linzey, Ph.D.
President

Contact & reservations:


E-mail: info@namibweb.com

To book:

1) you can e-mail us requesting information and/or rates

Reservations are only accepted in writing: by fax or via e-mail.
Final availability confirmation: in writing: by fax or via e-mail.

Terms & conditions, Payment options and Cancellation policy

Related:

Page created and serviced by



www.namibweb.com

Copyright İ 1998-2024 namibweb.com - The online guide to Namibia
All rights reserved | JOIN | VIDEO PORTFOLIO | VIDEO/PHOTO COLLECTION
Telegram | YouTube | Blog
Page is sponsored by ETS & Exploring Namibia TV
Disclaimer: no matter how often this page is updated and its accuracy is checked, www.namibweb.com and ETS
will not be held responsible for any change in opinion, information, facilities, services, conditions, etc. offered by
establishment/operator/service/information provider or any third party