Tsondab Valley Camel Trails

Off into the Namib Desert on a camel – hiking or riding with Reitsafaris! Join a camel trail into nowhere - feel free to go where you want without being bothered by water or luggage restrictions. You will certainly enjoy the scenic drive from Windhoek south west to Tsondab Valley, across the central highland towards the escarpment and via Spreetshoogte Pass to our Camel camp in the southern Namib (220km). Should you later wish to go on to Sossusvlei or Naukluft or maybe even to the coast via Kuiseb Pass, Walvis Bay and Swakopmund, you will find that our camp is perfectly situated at the strategic Solitaire junction.
No matter whether you arrive by means of a transfer, rented car or fly-in ... a certain sense of adventure will strike you once you see the sun set over the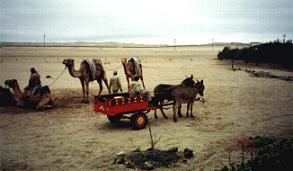 endless vast planes and you feel the wide open space of the desert around the campfire under the African sky.
You can be in for a camel hike (2 – 5 days), where you walk off into the distance not bothered by the limitations of water supply and heavy backpack; the camels carry food and water supply as well as luggage, tent and sleeping bags. Any worry of losing your way around dunes, marble and Quartz Mountains amongst the never-ending planes? This certainly is the concern of the local guide.
Should you prefer not to walk on your own two feet, you can ride one of our camels, the so-called charismatic ships of the desert, tied together caravan style, and enjoy the spectacular scenery and relaxed rhythm of ancient times; (2, 3, 4 or 5 day tours).
YouTube video quad bike & other adventure tours:
Well-experienced riders will love riding our camels (2 – 5 days); these are faster and much more steady than horses and need only half the time for a days` distance. Only when you have ridden on a camel with us, you will know the feeling of sailing at a steady pace, yet relaxed far above the soil across unlimited space. Just to tell you, our best riding guides - all horse breeders involved in horse business of different kinds – when they have to go into the desert and have the option, they certainly and without any second thought opt for the camels and leave the horses at home!
Since no mechanised back up is taken and the dromedary camels carry everything, you will experience true unspoilt nature. There are some limitations concerning luxury, but you will find a strange satisfaction and happiness and feel that you do not need as much as you thought: a tiny bit of water for washing, a good meal and a warm sleeping bag will be appreciated and considered an ever unforgettable adventure.
Packing list:
a very warm sleeping bag, wide-brimmed hat, long-sleeved shirts / blouses, comfortable hiking shoes, some neckerchiefs, sun screen, sun glasses, warm pullover, woolly hat, torch, tiny towel, 2 water bottles, mug, plate and cutlery,
Riders: summer boots, chaps or mini-chaps.
Itinerary:
Every tour starts and ends at our Camel Camp. Depending on the length of your tour we show you various mountains, dunes and planes – take a wider and even wider circle. Daily distance and duration of hikes and rides depend on weather conditions and fitness of hikers / riders. Since we do not follow the same route time and again, but venture into the unknown we can show you unspoilt landscape and create a tailor-made itinerary.
Whether we take you into Ostrich Valley, Valley of the Kings, towards the Three Sisters, Vulture's Paradise, Moringa Mountain, Long Dune, Valley of the Desert Fox or Camel Thorn Trees … this does not only depend on the weather, but also on how long you stay with us. Every tour's big surprise is Red Canyon, a scenic canyon of petrified red dune sand, at places so deep, shady and narrow that the pack camels cannot pass some owls nests.
You just have to come to feel and see this incomparable landscape yourself and you will never forget those few days of a very special break from everyday routine in civilization!
Inclusive in price: meals, back-up, dromedary camels in tack, qualified local guide (English and German speaking), camel driver
Exclusive: transfer to and from Camel Camp, drinks at camp.
Extension as well as details on other tours can be arranged and supplied on demand.
More tours to be arranged later.

Namib Desert Horse Trail

On horseback across the oldest desert in the world: 400km from the central highland to the Atlantic Ocean. 9 days riding, 1.5 days ranch, 1.5 days coast.
Enjoy the spectacular and fascinating contrasts of Namibia: central highland, escarpment, Kuiseb pass, Tinkas-, Tumos-, and Welwitschia Planes in the central Namib Desert, Moon Valley, dry Swakop river, dunes and Atlantic Ocean. Namibia on horseback is an adventure never to forget!
Conditions: Since this is one of the toughest trails in the world you should be physically fit as well as riding-fit, have a good sense of humour and sufficient riding experience. 6-8 hours riding per day, all paces (ref. General Information).

Itinerary:
Day 1: On Sunday we meet you in Windhoek and drive 65 km south-west to our ranch. Be introduced to riding guides and fellow-riders. Time for rest and relaxation.
Day 2: Trial ride – meet your horse and get used to tack and terrain.
Day 3: On game and cattle tracks cross-country across bush savanna of the central highland (2000m above sea level) towards the escarpment, where the highland breaks: stunning view on endless hills and steep rocks constantly changing colours as the African sun sets. An easy descent takes us to the camp site, where we meet our back-up trucks. Sleep in a tent or beneath the stars after a good meal cooked on the camp fire and some jokes and talks on the day's happenings.
Day 4: A long tough day never to forget! Across the Hakos Mountains (2000m) along dry river beds and on tracks of mountain zebra, oryx and baboon; past leopard caves and thorn bushes. Inaccessible country side, stunning panoramic view …. and you will certainly appreciate a hot shower and a good meal at the end of the day!
Day 5: Venture into the shaft of a long forgotten gold mine not far from our camp; then a short ride (20km) to the red sand dune of Rooisand at the outskirts of the Namib desert.
Day 6: Semi-desert area between Gaub and Kuiseb valleys; past abandoned remote farms towards the edge of the Namib Naukluft Park (500 000ha).
Day 7: Enter the largest nature reserve in Africa. Bizarre Kuiseb Canyon and its banks, Aruvlei oasis in the Namib desert. Most beautiful African sunset, unlimited stars.
Day 8: Another long, tough day! Across the desert as the crow flies, gravel plane, endless space, unlimited sunshine. Mountain zebra, Oryx, ostrich and springbuck. Lunch break at Ganab, then on to Hotsas (Tinkas and Tumos planes). Vast distances, most spectacular sunset in the desert.
Day 9: Happy cantering towards Poacher's Turn and Marble Mountains, strange shapes and mirage, fascinating survival devices, unlimited space and tremendous solitude.
Day 10: Unspoilt true desert landscape, Welwitschia plants, endless planes and spectacular Moon Valley. Camping out under the stars around the campfire for the last time in the dry Swakop river bed near Goanikontes.
Day 11: A joyous ride along the Swakop valley until we reach the dunes and then at last the beach of the Atlantic Ocean at Swakopmund. After ten days the first sight of a town! For the next two days we stay in comfortable bungalows and our horses enjoy their well-deserved rest in cozy stables.
Day 12: Bare-back to the dunes, happy galloping along the beach; will your horse go for a swim?

The next morning (Friday): breakfast together and say good bye to friends and horses. Take Air Namibia's flight to Windhoek, Johannesburg, Cape Town or travel on the Mainliner Bus to Windhoek. Be sure that you have already thought about coming on another trip to Damaraland/Skeleton Coast or elsewhere in Namibia!

Short Desert Trail: 4 days on horseback + 1 day arrival; Windhoek – Swakopmund; as for Namib Desert Horse Trail, but transfer to Ganab, then following the same itinerary as from lunch on Day 8, Days 9 – 11. Details on demand.

We also offer Camel Trails across the Namib Desert and Damaraland.
RATES/DATES/DETAILS
On request

Participants: min: 5, max: 12
Pick-up on arrival day at 10h00 and 16h00 in Windhoek in front of Kalahari Sands Hotel opposite bus terminal (take airport bus to Windhoek). Kindly inform us about your flight details and hotel or guesthouse in Windhoek, should you arrive earlier. If needed we can happily find other arrangements to be sure that everything works out well.

GENERAL INFORMATION:
HORSES and SADDLES: "One of every breed", i. e. Arab, Haflinger, Lippizzaner, Trakehner, Ranch Horses, even the famous wild horses of the Namib desert; small to middle-sized, swift horses raised on rough terrain, some of them with experience in endurance rides, each one of them a kind, reliable companion deserving the very best treatment and care. Comfortable equitation and Western saddle, which we prefer.
TERRAIN and DISTANCE: Gravel, sometimes hard and difficult, later sand. On average we cover 35km a day, 6 - 10 hours on horseback. Speed depends on terrain and temperatures as well as on fitness and weight of riders; gait, trot and canter. 6 - 15 riders + 1 - 2 riding guides per group.
TENTED CAMP: big igloo-type tents (two people per tent), camp-beds, swags with lambskin, duvet or continental quilt and pillow; folding chairs, hot shower. Luggage is transported on trucks; the riders take short-cuts through the bush or desert and meet the back-up vehicles at camp sites. Camp is erected every sunset; meals are prepared around the open fire, usually "braai" (barbeque) or "potjiekos" (stew), typically Namibian and often a surprise.
BRING your sleeping-bag, wide-brimmed hat, windcheater, warm pullover, 2 neckerchiefs, long-sleeved shirts, sun-tan lotion, sun glasses, comfortable riding clothes (well-fitting beloved sportswear rather than fashionable brand-new jeans) - bring at least 3 changes -, riding boots/tekkies/chaps/mini-chaps according to habit, leisure wear, towel, water bottle (2l!), torch, gloves, moon bag, lip salve. We strongly recommend riding caps (not wearing them is at your own risk).

Fitness, good health, experience in horse riding and dealing with horses is essential. You need not be a professional dressage or show jumping rider, but should really feel very much at ease on the back of a cantering horse, have a tough mind and a sense of humour.
Our weight limit is 85 kg - anyone heavier has to pay additional 30% for an extra horse.
Canned or bottled drinks are supplied by us to your prior instructions and on your account.
Should we get into a sand storm (June/July from Day 8-11 of the Namib Desert Trail) we shall leave the desert immediately either for Swakopmund or our ranch.
As we are not liable for any loss, damage or injury on your side, your travel insurance should include accident, health cover, emergency rescue.
Day rides and shorter trails may be arranged by individual enquiry. We also offer to handle or help with other travel arrangements around our country. Non-riding company is welcome to join the trucks.
By joining our trails you get access to areas in Namibia unknown to tourists and even locals. As far as we know there is only one other desert trail of this kind available: Grand Canyon Trail in the U.S.A.. Imagine, the Namib is not only the oldest desert in the world, it is not even far from you and you can book the trail by contacting us.
Dates: on request
Desert Trail 1:
Klein Aus Vista 1:
Fish River Canyon 1:
Fish River Canyon 2:
Damaraland Trail:
Buschmannland:
Desert Trail 2:
Desert Trail 3:
Desert Trail 4:
Fish River Canyon 3:
Fish River Canyon 4:
Klein Aus Vista 2:
Contact & reservations:
E-mail: info@namibweb.com
Reservations are only accepted in writing: by fax or via e-mail.
Final availability confirmation: in writing: by fax or via e-mail.
Terms & conditions, Payment options and Cancellation policy
Camel Farm Swakopmund: photo album
Related: