Horse graves near Swakopmund
Almost unknown site at the Atlantic coast of Namibia, event behind it and history of this event.
For a long time here have been a several versions about masses of horse bones in the dunes a few kilometres outside of coastal town Swakopmund, western Namibia. Only a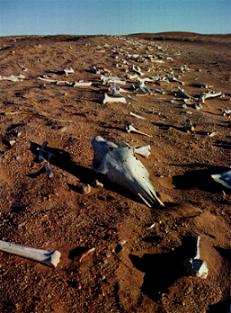 limited number of people, usually 4x4 drivers or dune quad bikers have come across the long rows of white horse skulls and bones in the dune valleys about 4 km to the south of the Swakop river. Many of them have wondered about the origin and the story surrounding them. The most mysterious fact is that skulls have a bullet hole in the forehead.
The most popular theory or version that has been common for a long time that the horses were used by German Schutztruppe during World War 1 and that they died of unknown horse decease. Other versions include opinions that the horses died of food poisoning or lack of food/water. But why every skull has the bullet hole? Were they German Schutztruppe horses or horses of South African Occupation Forces? Why so many died or were shot?
The answer has been finally found in the military archives in South Africa.
In a telegram sent on 15 May 1916 from the Ministry of Defence (Johannesburg) to the House of Parliament (Pretoria) the following information was given:
Sixteen hundred and ninety five (1695) horses and nine hundred and forty four (944) mules were destroyed near Swakopmund in November / December 1915 on account of a glanders (horse decease) outbreak which occurred amongst South African Union Defence Force animals that had been moved down to the coast in October. Immediately all possible steps were taken to deal with the glanders and to eradicate the disease. On receiving of notification of the glanders outbreak in Namibia a veterinary officer with a supply of mallein (a fluid used in the diagnosis of glanders, when injected into an animal infected with glanders mallein causes a sharp rise of temperature) was dispatched from Cape Town on SS ''British Prince''.
YouTube video quad bike & other adventure tours:
Unfortunately the ship was wrecked on its way and the officer's arrival in Swakopmund was delayed by 10 days. Animals showing critical symptoms were immediately destroyed by the veterinary officer.
The remainder was tested with mallein and those that reacted positively were also destroyed to prevent the spreading of infection.
''Glanders'' is a chronic, usually fatal bacterial disease which is highly infectious among horses caused by ''Pseudomonas mallei''. The main symptoms are severe coughing, pneumonia, a nasal discharge and swollen lymph nodes.
The disease occurs more often among poorly fed, weak horses or those kept under crowded or unhygienic conditions. The glanders is one of the oldest diseases known and can also be fatal to humans. No glanders vaccine has been discovered yet.
The control can be exercised only by destruction of an infected animals.
YouTube: Mondesa tour video - Swakopmund, Namibia:
The conclusion is that the skeletons were most likely not German Schutztruppe horses. At no period in time there were so many German horses located at Swakopmund or at the coast and the few German soldiers had left Swakopmund early in 1915 with all their horses. Another fact to rule out German origin of the skeletons is that the horses that were buried in the dunes were destroyed approximately 5 months after the German South West Africa campaign had ended by peace treaty in Khorab on 9 July 1915.
The telegram from the Ministry of Defence to the House of Parliament, sent on 15 May 1916, confirms the fact that the destroyed horses were South African Defence Force horses. General Louis Botha (Prime Minister of the Union of South Africa and Commander-in-Chief of its armed forces) was questioned in parliament on this issue on May 17, 1916.
Horse sickness as a cause of the mass destruction of horses can be ruled out because the disease does not occur at the Namibian coast. The transmitter of horse sickness, Theculicoides midge (an insect) can not survive at the coast.
Graves seem to disappear for a few years and it is an interesting phenomenon itself. The shifting sand of dunes covers up the skeletons completely from time to time. It happens when one visits a known site that no trace of the horse bones can be found but later on it is suddenly disposed again.
Approximate GPS coordinates: -22.707741, 14.544750
YouTube: Tour to Mondesa | Township singers Vocal Galore | Swakopmund
See a full list of Namibian coast shipwrecks.
Facebook:
NAMIBIA: https://www.facebook.com/groups/namibia.namibia
SWAKOPMUND: https://www.facebook.com/groups/1swakopmund/
WALVIS BAY: https://www.facebook.com/groups/1walvisbay/
DRONESBERG AERIAL PHOTO/VIDEO: https://www.facebook.com/dronesberg
Contact & information:
E-mail: info@namibweb.com
Page created and serviced by



www.namibweb.com

Copyright © 1998-2023 namibweb.com - The online guide to Namibia
All rights reserved | JOIN | VIDEO PORTFOLIO | VIDEO/PHOTO COLLECTION
Telegram | YouTube | Blog
Page is sponsored by ETS & Exploring Namibia TV
Disclaimer: no matter how often this page is updated and its accuracy is checked, www.namibweb.com and ETS
will not be held responsible for any change in opinion, information, facilities, services, conditions, etc. offered by
establishment/operator/service/information provider or any third party
Images and description: Copyright © namibweb.com