Quad bikes tours Namibia
These tours are conducted from Swakopmund.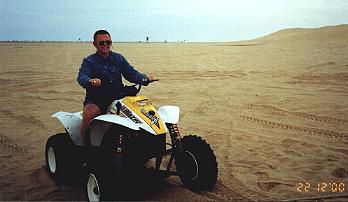 The following programs are available and can be booked:
Rates per person: on request
1. Code DE 01: 20 km desert tour, +-1 hour.
2. Code DE 02: 38-55 km desert tour, +-2 hours: pick-up times: 09:00, 11:00, 13:00, 15:00. The most popular tour, as real adventure start here for the ride of your life. Ride the wildest dunes, roller-coasters
and spirals of the Namib. Excellent photographic opportunities. Adrenaline guaranteed. Inclusive of cooldrink, safety gear.
YouTube video quad bike & other adventure tours:
3. Code DE 03: Explorer tour: +- 2.5 hours. Departures: mornings only: 08:30. Quad bike tour through the desert to explore the different plant and animal live of the Namib desert. Make a lot of stops on the way – while guide will show and tell a little about the creatures of the desert.
Much slower Quad tour for pure enjoyment.
YouTube video Mondesa tour, Swakopmund, Namibia:
4. Code DE 04: Combo desert tour, +-3 hours combo: 1 hour lie-down only sandboarding + 2 hours quad biking. Departures: mornings only: 09:00.
5. Code DE 05: 70-80 km desert tour: Quad breakfast run, +-3 hours.
Drive up the Swakop riverbed, enjoy breakfast at Rossmund Lodge Golf Club.
Riding the dunes for +-2 hours on the way back.
6. Code DE 06: Surf and Turf Combo: Combination of Dolphin Cruise in the morning and 2hour Quad biking in the afternoon. Departures: 08:00.
7. Code DE 07: GO-KARTING: Pick-up time 08:00 till 12:00 & 16:00 till 19:00.
Minimum: 4 persons.
1 x Qualifying – 5 min (+-10 rounds) & 1 x Race – 15 min.
Extra tours:
Code OO 01: 2 man quads tour, +-2 hours.
Code OO 02: 2 man quads & sandboarding combo tour, +-2.5 hours.
Code OO 03: 2 man eco & sandboarding combo tour, +-2.5 hours.
Additional tours: Living Desert Tour, township tour, skydiving
Indemnity: all participants will be required to sign an indemnity form
Children policy: no charge if sharing a bike with parents
Minimum age if sharing a bike with parents: at parents' discretion
Minimum age if unaccompanied: 14 years old
OVERNIGHT TRIPS:
Minimum: 4 persons
*Program:
Day 1:
Leave at 12:00. Visit the Namib dunes and the horses graveyard on the way to the Swakop River. Move up the beautiful Swakop River with plenty of wildlife to be seen, including Springbok. Arrive at Sophia Dale Rest Camp on the banks of the Swakop River for the first night's rest. Enjoy cold sundowner drinks while dinner is prepared.
Day 2:
Leave Sophia Dale after breakfast along the Swakop River to oasis Goanikontes. Stop for refreshments and some sightseeing. A swimming pool is available for those who want to cool down. Next stop is the Flintstone Caves with it's unique rock formations, where a light lunch will be served. From there we move up the Kahn river where wildlife such as Springbok, Ostriches and Klipspringers are very common. Arrive late afternoon at Vergenoeg Castle Lodge where the swimming pool and drinks under the lapa will be very welcome. Experience the vastness and beauty of the Namib desert's heart before dinner is served.
Day 3:
After breakfast you'll be picked up and brought back to Swakopmund.
*Program can be modified.
PACKING CHECKLIST: Neutral coloured casual clothing (shorts/shirts or long trousers) for everyday wear, stout shoes, light jacket and jacket (night time), towel, broad brimmed sun hat, sunglasses, sunscreen, Lip balm, 1 litre water & personal medication eg asthmatics and diabetics.

DIETARY REQUIREMENTS: For those with food allergies or other dietary requirements we need to be notified well in advance when booking with all information regarding food you can eat and cannot eat. Diabetics should also carry snacks for between meals.
ALL TRIPS ARE DONE WITH APPROVAL OF THE NATURE CONSERVATION OF NAMIBIA.
A FULLY EXPERIENCED GUIDE AND SAFETY GEAR ARE PROVIDED ON EACH TRIP.
Facebook:
NAMIBIA: https://www.facebook.com/groups/namibia.namibia
SWAKOPMUND: https://www.facebook.com/groups/1swakopmund/
WALVIS BAY: https://www.facebook.com/groups/1walvisbay/
DRONESBERG AERIAL PHOTO/VIDEO: https://www.facebook.com/dronesberg
Contact & reservations:
E-mail: info@namibweb.com
Reservations are only accepted in writing: by fax or via e-mail.
Final availability confirmation: in writing: by fax or via e-mail.
Terms & conditions, Payment options and Cancellation policy
Page created and serviced by



www.namibweb.com

Copyright © 1998-2023 namibweb.com - The online guide to Namibia
All rights reserved | JOIN | VIDEO PORTFOLIO | VIDEO/PHOTO COLLECTION
Telegram | YouTube | Blog
Page is sponsored by ETS & Exploring Namibia TV
Disclaimer: no matter how often this page is updated and its accuracy is checked, www.namibweb.com and ETS
will not be held responsible for any change in opinion, information, facilities, services, conditions, etc. offered by
establishment/operator/service/information provider or any third party