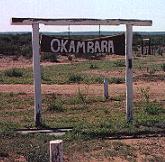 Okambara Game Ranch is located around 150 km east of Windhoek, the capital of Namibia.
The Okambara Lodge is set around an hour east Windhoek's international Airport in the middle of the Okambara Mountains, at an altitude of 1600 m above sea level. Okambara offers an adventure and luxury lodging on an exclusive game ranch in the middle of the Namibian bushveld. Okambara is located outside the malaria area and safe to visit even with a children.
The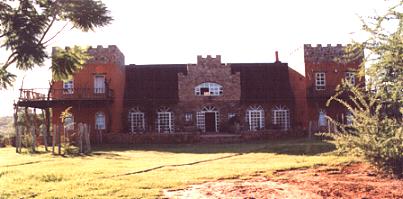 lodge's main building impresses traveller with its four towers and reminds of the Victorian-style castle Namutoni (in Etosha National Park) from the outside, offering comfortable accommodation in Namibian country style inside.
Okambara's daily meals are served in a tastefully decorated living room with a direct access to the terrace, where dinner is served in summer and on warm evenings. Okambara's barbecues are very popular, where delicious braai ("barbecue" in Afrikaans, grilled antelope meat) is prepared. Two bordering waterholes can be viewed from the terrace where kudu, impala, Oryx and more wildlife congregate for drinking.
Okambara Elephant Lodge boasts a healthy population of elephants, rhinos, giraffes, hyenas, cheetahs, leopards, zebras, ostriches and various types of antelopes. An exclusive round trips, safaris are on offer to observe and photograph Okambara's game.
Video Windhoek & central region

A memorable experience for old and young awaits travellers at Okambara.
Accommodation at Okambara Lodge
There are either 3 family and 3 double rooms in the main house, 2 big chalets, as well as the mountain house, built above the pool, where a breathtaking view is offered.
The rooms are twin bedded rooms with en-suite bathrooms. The family rooms are 2 bedrooms and 1 bathroom each, and 1 family room with 3 bedrooms and 1 bathroom.
There are no fridges in the rooms and no air-conditioners.
Activities at Okambara Lodge
• Game drives
• Leopard, cheetahs and red cats feeding
• 2-hour hikes on the elephant trail, leading to a breathtaking panorama view
• Transfers to/from Windhoek, the capital of Namibia

Okambara important information
• Children under 5 years old are free of charge
• Children between 6 and 12 years: 50%
• Children 13 years and older: full rate
• Lunch as well as coffee, tea/cake can be arranged at an additional charge
• Private camping or caravan stand facilities are not offered at The Okambara Elephant Lodge
• Special accommodation rate for guests with Namibian and South African residence
Facilities at Okambara Lodge
• Airport shuttles
• Laundry
• Braai/Barbecue
• Swimming pool
• Wi-Fi
• Secure parking

Languages spoken at Okambara Lodge
• English
• German
• Afrikaans
Staff can arrange a shuttle service to Windhoek International Airport.
Rates per night: on request
Dinner, bed and breakfast or full board
-
-
Activities per person
-
-
Notes:
Rates are subject to change without prior notice should tax be increased or Government levies introduced. Rates include Value Added Tax.
Facebook:
NAMIBIA:
https://www.facebook.com/groups/namibia.namibia
WINDHOEK:
https://www.facebook.com/groups/windhoek.namibia.africa
KATUTURA:
https://www.facebook.com/groups/katutura
DRONESBERG AERIAL PHOTO/VIDEO:
https://www.facebook.com/dronesberg
Contact & reservations:
E-mail: info@namibweb.com
Reservations are only accepted in writing: by fax or via e-mail.
Final availability confirmation: in writing: by fax or via e-mail.
Terms & conditions, Payment options and Cancellation policy
Page created and serviced by



www.namibweb.com

Copyright © 1998-2024 namibweb.com - The online guide to Namibia
All rights reserved | JOIN | VIDEO PORTFOLIO | VIDEO/PHOTO COLLECTION
Telegram | YouTube | Blog
Page is sponsored by ETS & Exploring Namibia TV
Disclaimer: no matter how often this page is updated and its accuracy is checked, www.namibweb.com and ETS
will not be held responsible for any change in opinion, information, facilities, services, conditions, etc. offered by
establishment/operator/service/information provider or any third party
Description: Copyright © Okambara Elephant Lodge