Historical facts and information about the capital of Namibia - Windhoek. The emphasize is on less known facts from the town's history.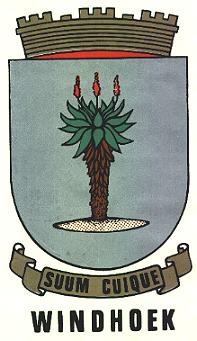 Windhoek was founded in the valley that was most likely the bowl of the prehistoric lake which was proven by the fact that a vegetation layer was found during the construction of the Sanlam Building, Independence Avenue. Typical bottom of the lake deposits were found at the depth of 15 metres.
Name
Nama called Windhoek AiGams (''Hot water'' because of hot springs of Windhoek) and Herero used name Otjimuise (''Place of smoke'') but it was Nama's chief Jonker Afrikaner who gave the town its present name - '' windy corner''. There are two versions for the origin of the name: windy place (only 28% calm days a year) and name of farm Winterhoek in the Cape where Afrikaner's family originally was from.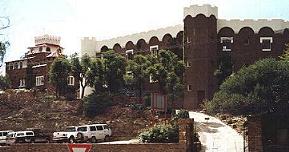 Windhoek climate makes it a very nice place to live in: mostly dry but with a quite reliable rainfall with an average of 360 mm a year. Another reason for establishing a settlement here were several fountains with good healthy water. German colonists found morass in the Windhoek's valley that they drained later. Windhoek's altitude is around 1650 m above sea level (railway station: 1642 m, International airport: 1680-1720 m, Ausspanplatz: 1650 m). The highest mountain around the capital is Grossherzog at 2330 m above sea level (south of Windhoek on the way to Rehoboth with TV tower on top).
The settlement was founded in 1840 by Jonker Afrikaner who built his first house next to present South African High Commission (previously Berg Hotel). For a long time Windhoek was a small settlement abandoned from time to time during Nama-Herero wars. 18 October 1890 Curt von Francois reached Windhoek with 32 men and commenced construction of Alte Feste establishing permanent German presence. Shortly after small fort was erected which forms part of Schwerinsburg castle now.
1922 historical railway bridge near Avis Dam
Video Windhoek & central region
Sights and buildings
Alte Feste
National Monument. The oldest building in Windhoek (1890). Built as a headquarters for Schutztruppe and later served for South African troops the building was later used as a hostel for Windhoek High School (from 1935). Became a museum in 1962.
Floods in Namibia were frequent after periods of drought and caused damage to roads and railway lines.
YouTube video of Klein Windhoek suburb:
National Monument. Built in 1910.
Elisabeth House. Storch Street. National Monument. Built as a maternity home in 1908 and named after the Duchess Elisabeth zu Mecklenburg who was the wife of the President of German Colonial company.
Windhoek Railway station (Mandume Ndemufayo Avenue)
The southern wing and central building were built in 1912. In 1929 the northern wing was added, built in the same style. The station still serves its purpose.
YouTube video Windhoek railway station:
Windhoek Railway bridge (near Avis Dam, B6 road to Hosea Kutako International Airport)
YouTube video Windhoek railway bridge:
Metal arch bridge built in 1922 over highway B2 to Gobabis.
Artillery and Kammer Gebaude (Hugel Street)
These buildings are probably two of the earliest in Windhoek, apart from Alte Feste.
Built in mid 1890 for artillery division of Schutztruppe as an ammunition strore and weapon repair shop.
Altes Bezirksgericht (Goethe Strasse)
High Court building. Built in 1908. Remained in use till late 60's when the new High Court building was opened near Kudu Monument. Presently serves as a headquarters of Veterinary Division of the Ministry of Agriculture.
Schmerenbeck-Haus (Independence Avenue)
Located opposite of the Windhoek Municipality. Built in 1893, it was enlarged after 1900 and a gabled roof was added.
Erkrath-Gathemann-Kronprinz Facades (Independence Avenue)
The oldest building is former Hotel Kronprinz (1901-1902). Gathemann building was erected in 1913 and expanded in 1926/7 and Erkrath building (1910) is the last to the right. Architect Wilhelm Sander.
YouTube video Waldorf School car boot sale:
Felsenkeller Brauerei (Tal Strasse)
At the beginning of the century there were four breweries in the country: Kronen Brewery in Swakopmund, Omaruru Brewery, Klein Windhoek Brewery and Felsenkeller Brewery in Tal valley in Windhoek. The demand for local beer was increasing rapidly and the brewery was expanded in 1912. After World War 1 a number of German citizens were deported back to Germany and smaller breweries had to close down. Omaruru and Klein Windhoek breweries were purchased by Herman Olthaver and Carl List. Hnasa Brewery joined the Consortium in 1968 when the South West Breweries were formed, renamed to Namibia Breweries after Independence.
YouTube video Three Circles viewpoint:
Some historical dates
1893. First hotel (Gasthof zum Kaiser) built by Ernst Heyn.
1894. First German private school opened.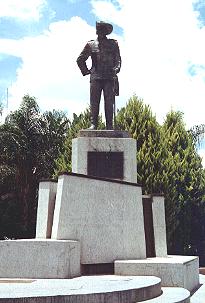 1897. The monument in the Zoo park to honour the soldiers killed in the battle of Naukluft opened.
1899. Main street officially named Kaiserstrasse (Independence Avenue).
1902. 19 June - State railway line (Staatsbahn) reached Windhoek.
1904. January. Herero uprising. First water pipes laid down. First traffic rules: no galloping in town and speed limit for trains in Windhoek: 10 km per hour.
1907. 11 August. Commencing of construction of Christuskirche.
1909. Windhoek is an independent municipality with Gustav Voigts as the first Mayor. First Mayor of Klein Windhoek is Amandus Fritsche.
1911. 280 telephone connections in Windhoek.
1912. Raider Memorial is unveiled on 27 of January - Kaiser Wilhelm's birthday.
1913. Opening of ''Tintenpalast'' (''Palace of Ink'') - Government Building (National Assembly at present).
1915. Occupation by SA troops on 12 of May.
1917. Owambo Campaign Memorial is unveiled on 6 of February. First Jacaranda trees are planted in SWA.
1920. First flushing toilet is installed by Georg Pinsenschaum in Kaiserkrone Hotel.
1921. Klein Windhoek falls under jurisdiction of Windhoek.
1924. First electric street lightning installed along Kaiser Street.
1930. Construction of Avis Dam.
1932. Establishments of gardens at ''Tintenpalast'' by city gardener Hugo Stoessel.
1950. Population of Windhoek is 20 463.
1953. First Windhoek carnival.
1959. 11 and 12 December. Shooting at Old Location. Black inhabitants forced to move to new township Katutura.
Opening of Kudu Statue.
1964. Ondekaremba International Airport is opened.
1975. First sitting of Turnhalle Conference.
1981. Commencing of the construction of new brewery in the Northern industrial area.
YouTube video Luxury Hill suburb:
Windhoek old power station aerial photos
Botanical gardens Windhoek map
Facebook:
NAMIBIA:
https://www.facebook.com/groups/namibia.namibia
WINDHOEK:
https://www.facebook.com/groups/windhoek.namibia.africa
KATUTURA:
https://www.facebook.com/groups/katutura
DRONESBERG AERIAL PHOTO/VIDEO:
https://www.facebook.com/dronesberg
---
Archives
First rain in Windhoek in September 2013: photo album
---
Contact & information:
E-mail: info@namibweb.com
Terms & conditions, Payment options and Cancellation policy
Important telephone numbers (Windhoek code 061):
| | |
| --- | --- |
| AMBULANCE | 21 1111 |
| FIRE BRIGADE | 21 1111 |
| POLICE | 1 0111 |
| WINDHOEK CENTRAL HOSPITAL | 203 9111 |
| MEDI CLINIC PRIVATE HOSPITAL | 222687 |
| RHINO PARK PRIVATE HOSPITAL | 225434 |
| CATHOLIC MISSION HOSPITAL | 237237 |
| MEDRESCUE | 230505 |
Page created and serviced by



www.namibweb.com

Copyright © 1998-2023 namibweb.com - The online guide to Namibia
All rights reserved | JOIN | VIDEO PORTFOLIO | VIDEO/PHOTO COLLECTION
Telegram | YouTube | Blog
Page is sponsored by ETS & Exploring Namibia TV
Disclaimer: no matter how often this page is updated and its accuracy is checked, www.namibweb.com and ETS
will not be held responsible for any change in opinion, information, facilities, services, conditions, etc. offered by
establishment/operator/service/information provider or any third party