Trophy hunting in Namibia
Our company offers hunting tours and safaris with a different duration according to your specifications on the private hunting farms in Namibia. You can find some useful information on this page as well as addresses of hunting organizations in Namibia. For more information and hunting safaris' rates please mail to: info@namibweb.com
Hunting season.
Hunting season in Namibia is from 1 of February to 30 of November.
General information on trophy hunting in Namibia.
The history of trophy hunting in Namibia started in 1962 when several private farms owners decided to provide professional and controlled hunting on their farms. The Namibian Professional Hunting Association, one of the main controlling organizations in the country, was established in 1974 and now has more than 300 members. The Namibian code of hunting ethics was formed under strong influence of German hunting rules and regulations also because of large number of farms' owners of German origin.
According to Namibian hunting regulations the presence of professional hunter - guide is compulsory during the whole duration of hunting safari. It is illegal to start a safari without proper obtained hunting license, where all desired animals must be stated. The export trophies permits will not be issued for animals not stated in the hunting license. If, during the safari, an animal was wounded and its blood was found, the animal regarded as killed and paid in full.
Services of professional taxidermy studios in Namibia.
There are several professional taxidermy companies in Namibia. Their rates for preparing trophies depend on type of trophy (shoulder mount, full mount, etc.) and type of animal. As a general practice the preparation takes 8 - 12 month. The shipping costs normally charged separately.
Medals of the Namibian Professional Hunting Association.
The NAPHA's system of hunting medals based on requirements of international organization Safari Club International (SCI). The trophies 5% and larger than standard SCI receive the gold medal. The trophies which are equal to SCI standard receive the silver medal. The trophies 5% smaller than SCI standard receive the bronze medal. The special trophies (deviations, defects, etc.) receive special NAPHA medals.
NAPHA's address:
Namibia Professional Hunting Association (NAPHA): P.O.Box 11291 Windhoek, Namibia

| Country | Application form | Restrictions | Fees | Assistance on arrival |
| --- | --- | --- | --- | --- |
| Botswana | In advance with your agent | No automatic weapons and '22 caliber weapons permitted | No | Not necessary |
| Namibia | Fill the customs form on your arrival | No automatic weapons permitted | No | Not necessary |
| South Africa | Fill the customs form on your arrival | No automatic weapons permitted | No | Not necessary |
Hunting rifles, shot guns and bows can be temporarily imported into Namibia. Revolvers, pistols and automatics are not allowed. Permits are issued by the police at the port of entry. For application a hunter will need a passport, original license for rifle, invitation letter from farmer to hunt.
List of Namibian game species: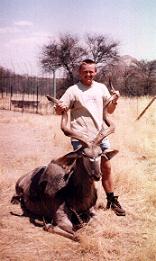 1. African elephant
2. Black rhinoceros
3.White rhinoceros
4. Hippopotamus
5. Cape buffalo
6. Lion
7. Leopard
8. Cheetah
9. Giraffe
10. Hartmann's mountain zebra
11. Burchell's plain zebra
12. Greater kudu

Kudu antelope
13. Gemsbok 30. Common duiker antelope
14. Sable antelope 31. Steenbok antelope
15. Roan antelope 32. Klipspringer antelope
16. Hartebeest antelope 33. Damara dik-dik antelope
17. Blue wildebeest 34. Grysbok antelope
18. Eland antelope 35. Warthog
19. Puku 36. Bushpig
20. Reedbuck 37. Caracal
21. Tsessebe 38. Brown hyena
22. Sitatunga 39. Spotted hyena
23. Waterbuck antelope 40. African wild dog
24. Oribi 41. Side-stripped jackal
25. Springbok antelope 42. Black-backed jackal
26. Southern impala antelope 43. Cape fox
27. Black-faced impala 44. Bat-eared fox
28. Red lechwe 45. Aardwolf
29. Chobe buchbuck
Related: Hunting farms and safaris, Hunting links, Hunting medals in Namibia, Special hunting trophies, Die Keiler hunting farms, Arms import/export permit
Contact & reservations:
E-mail: info@namibweb.com
Please fill in our booking form and fax it back indicating a method of payment or e-mail us.
Reservations are only accepted in writing: by fax or via e-mail.
Final availability confirmation: in writing: by fax or via e-mail.
Terms & conditions, Payment options and Cancellation policy
Page created and serviced by



www.namibweb.com

Copyright © 1998-2023 namibweb.com - The online guide to Namibia
All rights reserved | JOIN | VIDEO PORTFOLIO | VIDEO/PHOTO COLLECTION
Telegram | YouTube | Blog
Page is sponsored by ETS & Exploring Namibia TV
Disclaimer: no matter how often this page is updated and its accuracy is checked, www.namibweb.com and ETS
will not be held responsible for any change in opinion, information, facilities, services, conditions, etc. offered by
establishment/operator/service/information provider or any third party