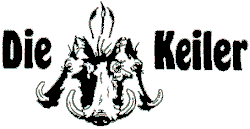 Hunting

HUNTING IN NAMIBIA
Die Keiler offers a chance as a hunter and friend of nature to experience the rich diversity of Namibia's wildlife and landscape. Visit five farms, each of which offers a wide variety of game and landscapes, making the hunting expedition an enjoyable experience for both the novice and experienced hunter. Friends and family are equally welcome.


GENERAL


Accommodation: all farms offer comfortable guestrooms for two people each (maximum for six persons) with shower and/or bath and toilet. Electricity (220 V ac), running cold and hot water, full board of home-produce and venison are guaranteed to make your stay a unique Namibian experience.
Price include: Full board and lodging, laundry service, light alcoholic beverages, registered hunting guide, stalking drives, trackers, export permits, basic preparation of trophies and their transport to the nearest forwarding agent.


Not included in prices: taxidermist, packaging, insurance and shipment of trophies at forwarding agent, items of personal nature, telephone costs as well as tips for the staff.


Recreational activities: swimming, barbecues around the campfire, game and bird watching, stalking with the camera, hiking, horse riding, game drives and relaxing sun baths.


Total size of hunting area: 170 000 hectares (410 000 acres).


Hunting season: 1 February till 30 November


Climate: February - April = mild/hot and slightly humid
May - July = cool and dry (cold nights)
August - November = warm and dry (can be rainy in later months)
Hunting is done by stalking, by vehicle, or from a hide. The law permits each hunter a maximum of two trophies per game species. Allow two days for a thorough trophy search.


Bring along: hunting clothes, appropriate footwear, hat, sunblock cream and a warm jacket for the nippy evenings.


Rifles: We recommend hunting rifles of calibers 7 x 64 upwards with projectile weights from 180 grains. A high velocity bullet with a maximum force on impact is needed. Telescopic sights with a four to six fold enlargement are sufficient.
Local regulations prohibit the importation of handguns, automatic and semi-automatic rifles. Rifles for hire are available on request.
According to Nature Conservation regulation, wounded game that cannot be found despite conscientious search efforts must be debited in full.
Insurance: It is advisable for the visitor to comprehensively insure him/herself, since we cannot assume any liability.
Enjoy an unforgettable hunt and holiday with your bilingual (English/German) hosts who put top priority on personal attention. Tours through the rest of the country can be arranged on request.
We'd be happy to furnish you with any other details you may require to make your trip a memorable experience.
The Namibian Nature Conservation Authority has approved this brochure.
A step by step guide for your hunting safari to Namibia
THE FLIGHT: Your first step! If your hunting agent is not booking for you, book your ticket as soon as possible with your personal travel agent to avoid disappointment. Flights are usually fully booked during high season.

There are two different airlines that fly directly from Europe to Windhoek . We are not able to quote a particular price due to variation in seasonal and special offers.
The following benefits were agreed upon between the airlines and NAPHA (Professional Hunting Association of Namibia):

1. Air Namibia allows an excess weight of 10 kg per person plus free handling of rifle case. A special rate is offered on the price of two connecting stopovers within the subregion.
2. LTU recommends its clients be a member of the LTU travel Card or the LTU Euro Card. Members are allowed to have an excess weight of 10 kg and can make seating arrangements prior to the date of departure.
If you fly from the USA to Namibia you have the choice of flying either the northern route via Europe or the southern route via South Africa. It seems that the northern route via Frankfurt, Germany, is less tiring as your stop over in Frankfurt for a few hours enables you to stretch your legs before you continue with the direct flight from FRF to Windhoek. However it is not recommended to fly via Heathrow airport in Great Britain.

Attention must be given to arrival and departure times to prevent loss of holiday time. With late evening arrivals and early morning departures overnight stay in Windhoek is essential to avoid dangerous trips to and from the farms.

THE RIFLE: You will encounter no problems when importing or hunting with your own rifle in Namibia. Namibia customs require no special permits beforehand. On arrival you will be issued by the Namibian police in the arrival hall a temporary weapons permit. Please take good care of this document because it is essential for the export of your rifle on departure day. Your weapon should be stowed away in a stable case. The key should be available on request at any time( keep it with the travel documents.) The ammunition must be packed separately in an accessible place in your suitcase should customs require to count the rounds.

Ammunition and knifes may not be packed in hand luggage. In Namibia you are not allowed to carry handguns.

If you want to rent a gun please inform the Keiler hunting group when you book your hunt. Rental fees on rifles are Euro 25.00 / U$ 30.00 per day plus ammunition charges.

PREVENTATIVE MEDICATION: Get as much medical information as possible from your personal physician. Visitors to Namibia are not required special any immunization. There is no danger of epidemics e.g. Cholera
The drinking water is pumped from 30 m below the surface and was tested at a laboratory. It is declared as drinking water of good quality.

Malaria prevention: When you travel to the northern parts of Namibia it is recommended to take a Malaria prophylaxes. In central and southern areas it is only advisable to take prophylaxes during the rainy season: December – April In the commercial farm area medical help is easily accessible. Private doctors and hospital standards are comparable to Europe.

THE HUNT: Hunting methods are adapted to the different areas and situations on each of the five ranches. The Keiler hunting group will do everything within reason to make your hunt successful and a true African experience. This means not only good trophies but also an exciting hunt where the concept of fair chase and sustainable utilization is applied at all times.

The hunt usually begins with a game drive through the hunting area. Accompanying persons are welcome to take part on the hunting trips. There are always things of interest to observe and experience. As soon as a suitable quarry is spotted, the interesting part of the hunt starts for the hunter and the PH, namely the stalk. All the others stay on the vehicle and sometimes they can observe the stalk through the binoculars. Some game species can be hunted from a hide eg. warthog. In the planning of your hunting safari please allocate two days per trophy animal that you want to hunt.

Please inform us if you are interested in an Eland trophy because the Eland concession lies in another area and prior booking has to be made. .

The trophy: The field preparation for the trophies will be done by our skinners. Further processing can be arranged with the local taxidermists or in your own country. If you want to mount the trophies yourself or your taxidermist abroad, skull and horns ,capes and skins will be sent through a shipping agent.

This you should decide after a successful hunt together with the expert advice of your professional hunter.

"Die Keiler" doesn't charge extra for trophies qualifying for medals. Medals as well as certificates are available at the NAPHA offices in Windhoek for a fee. This fee is used to enhance the activities of NAPHA in order to preserve wildlife and hunting for the next generations.

Additional tourist program: It would be worthwhile to visit certain tourist attractions while in Namibia:
1. The North: The great Etosha National Park: Here you can observe the diversity of our unique wildlife, the Otjikoto Lake, Museum and mining town of Tsumeb, and the National Waterberg Plateau Park Tours to the Etosha National Park must be booked well in advance as the park is a very popular tourist destination.
2. The West: Rock engravings, Petrified Forest, seal colonies, the Namib Desert, the picturesque coastal town of Swakopmund with an angling or sightseeing tour by boat.
3. The South: The highest dunes on earth, Sossusvlei, Sesriem Canyon, Quiver Tree Forest, Fish River Canyon, Kalahari Desert and Lüderitzbucht.

There are three alternatives to reach your tourist destinations:
1. Self-driving with a rented car
2. An organised bus tour
3. Guided tour by Keiler partners (exclusive)

On request we provide you with additional information as well as a quotation of the estimated price regarding the tour programme.

METHODS OF PAYMENT: The total hunting safari as well as a possible touring program can be paid in Cash (Euro, U$) or by traveller cheques. In most of the souvenier shops, restaurants and hotels you can use your Euro, Visa or Master Card.

Small items should be paid in local currency (Namibian Dollar) obtainable very easily at the foreign exchange counter of every bank. Should you need larger amounts in N$ you are advised to exchange the money in Namibia in order to get a more favourable exchange rate.

Regarding tips for the staff, your professional hunting guide will give you advice.

Insurances: We advise you to take adequate insurance cover for accidents, medication and lost baggage as we can not be held liable for any accidents, losses or damages.

Procedures for Passport and Customs control at the Windhoek International Airport (Hosea Kutako International Airport):

When you disembark the airplane (don't forget your hand luggage) you will be greeted by the renown blue sky of Namibia. In the arrival hall you will find several counters. Please present your valid passport, flight ticket, the completed blue entry form (obtainable either in the airplane or arrival hall) and as requested please forward the address in Namibia of your Namibian hunting host (address on the pricelist or brochure)

After a short while you will have passed Passport control and have reached the luggage hall. Here you will collect your luggage and proceed to the customs area.

The hunter however, after collecting his luggage, goes to the office of "Namibian Police" situated in the very same hall. The completed application form for an rifle import permit must be shown to the police officer.( you should ask your outfitter or agent for this to speed up the process) After the officer has checked the serial number on the application form as well as on the rifle, he will provide you with a temporary weapon's licence.
Please make sure that the serial number on your rifle matches the serial number on the temporary licence.

This licence should be well kept as you will need it when leaving Namibia.

In the entrance hall you will be met by your professional hunter with the logo on the "Keiler" brochure as an identification. From the airport you are taken by car to your hunting area., approximate driving time: 2 ½ hours.

We look forward to an enjoyable time together with you and thank you very much for your bookings.

Tips to pack your suitcase

Hand luggage: Standard size of 50 x 40 x 20 cm of maximum 7 kg

 personal medication that could be needed during flight
toiletries and shaver
 one set of underwear and socks
 one shirt/blouse and trousers
camera with extra batteries and film
light binoculars from 6 x 30 upwards
Travel documents: Passport, flight tickets, filled in application form for importation of
your rifles,
firearm licence
international drivers licence if you are self-driving
light shoes (sandals or running shoes)
good sunglasses and suntan lotion
Please note: No spray cans (deodorants, hairspray, etc.)
Your hand luggage should include everything to sustain you for three days in case your suitcases got temporarily lost.

Suitcase (just a guideline)

3 sets of underwear and 3 pairs of socks
 2 sets of hunting outfits (no wool, preferable tough cotton)
 2 sets of trousers for the day and if you like shorts
 2 short and 2 longsleeve shirts
2 light pullovers
light windbreaker, hunting vest and Parka (mornings and evenings could become chilly)
 one pair of comfortable warm hunting boots
1 pyjama, 4 handkerchiefs
1 broadrimmed sunhat, sunblock and lip-ice
N.B.: Daily washing service is provided on the farms, therefore dont take along too much luggage.

Furthermore include in the suitcase:

min. of 40 wit a max. of 60 rounds of ammunition, because the rifle may need zeroing in at the beginning of the hunt

small torch with spare batteries
enough films for camera and video

Rifle case:
hunting rifle
 telescope from 4 x 6 upwards
hunting knife
cleaning kit
rifle sling
small repair kit

N O S P R A Y C A N S ! ! ! !
PRICE LIST: on request
One day's hunt for one hunter
-
One day's hunt for two hunters
-
Rest day / Non-hunting person per day
-
Children below the age of 12
-

Rates include: Accommodation, full board, beverages; laundry service; hunting guide, trackers, hunting vehicle; basic trophy preparation and transport to forwarding agent, trophy hunting permits, value added tax.
Not included in rates: Taxidermy, packaging, trophy insurance and shipment; skinning of full mount; strong alcoholic beverages; rifle hire, ammunition; personal requirements, telephone, tips.
TROPHY PRICES
| | |
| --- | --- |
| Warthog | - |
| Greater Kudu | - |
| Oryx (Gemsbok) | - |
| Red Hartebeest | - |
| Springbok | - |
| Black Wildebeest | - |
| Blue Wildebeest | - |
| Blesbok | - |
| Klippspringer | - |
| Damara Dik-Dik | - |
| Duiker | - |
| Mountain or Hartmann's Zebra | - |
| Steenbok | - |
| Black-backed Jackal | - |
| Chacma Baboon | - |
| Caracal | - |
| Game birds, doves (each) | - |
| Game birds fowls and other (each) | - |
| Common Impala | - |
| Eland (bull) | on request |
| Eland (cow) | on request |
| Cheetah | on request, concession |
| Leopard | on request, concession |
| Blank faced Impala | on request, concession |
No value added tax is added to the trophy prices. With your booking please indicate which trophies and activities you are interested in. For trophy export purposes please bring along 2 copies of your passport. Prices subject to change depending upon exchange rate fluctuations.
Contact & reservations:
E-mail: info@namibweb.com
To book:
1) you can e-mail us requesting information and/or rates
Reservations are only accepted in writing: by fax or via e-mail.
Final availability confirmation: in writing: by fax or via e-mail.
Terms & conditions, Payment options and Cancellation policy
Related:
Page created and serviced by



www.namibweb.com

Copyright © 1998-2023 namibweb.com - The online guide to Botswana
All rights reserved | JOIN | VIDEO PORTFOLIO | VIDEO/PHOTO COLLECTION
Telegram | YouTube | Blog
Page is sponsored by ETS & Exploring Namibia TV
Disclaimer: no matter how often this page is updated and its accuracy is checked, www.namibweb.com and ETS
will not be held responsible for any change in opinion, information, facilities, services, conditions, etc. offered by
establishment/operator/service/information provider or any third party
Description and logo: Copyright © Die Keiler