About us - Elena Travel Services Namibia
Elena Travel Services & Car Hire CC is a Namibian company that was established in 1996 and based in Windhoek, the capital of Namibia.
We specialize in tours for a groups up to 10 people to ensure quality of the service.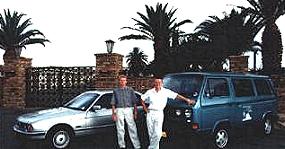 We can help you to arrange your holiday and make all necessary accommodation and transport bookings that saves your time and money that you can fully enjoy your trip without hassles of arranging everything by yourself - that is the reason why to use tour operator. We can provide detailed information on road conditions, location of parks, hotels, lodges and camping sites.
Why Elena Travel?
First, we have the most comprehensive web site on travelling to Namibia where you can find information on our country, adventure, tours and safaris, history, geography, ethnic groups, accommodation, national parks and many other subjects.
Second, we always respond to all your inquiries in the shortest possible time and, besides, we welcome all your requests on Namibia.
Third, we have constructed a pages of different accommodation establishments and other tour operators' pages to make our web site one stop information point on travelling to Namibia.
Fourth, we are updating our site on a daily basis which guarantees that our information is up to date and most accurate.
Please do not forget to bookmark our page (Ctrl-D).
Namibweb.com
This web site was established with an idea to provide a visitor and a proposed tourist with a maximum information about Namibia while also offering various travel services. As we see, our web site is getting more and more popular and we are glad that it helps you to plan your trip or that you have found out more about our country.
We process more than 9.000 reservations every year and it is growing. On our website you have an access to the most accommodation establishments in Namibia. Information includes pictures, maps, descriptions and rates. Once reservation is confirmed we issue accommodation vouchers to be presented on arrival. This voucher is a document that must be presented upon check-in as form of payment.

Easy payments: We accept all major credit cards as well as bank transfers.
Contact & reservations:
E-mail: info@namibweb.com
Reservations are only accepted in writing: by fax or via e-mail.
Final availability confirmation: in writing: by fax or via e-mail.
Terms & conditions, Payment options and Cancellation policy
Payment options, Author of this site, Contact details
Page created and serviced by



www.namibweb.com

Copyright © 1998-2024 namibweb.com - The online guide to Namibia
All rights reserved | JOIN | VIDEO PORTFOLIO | VIDEO/PHOTO COLLECTION
Telegram | YouTube | Blog
Page is sponsored by ETS & Exploring Namibia TV
Disclaimer: no matter how often this page is updated and its accuracy is checked, www.namibweb.com and ETS
will not be held responsible for any change in opinion, information, facilities, services, conditions, etc. offered by
establishment/operator/service/information provider or any third party