Namibia country information for travellers


Republic of Namibia - The jewel of Africa
One of the youngest democracies in the world that included protection of environment in its constitution, country of desolate Namib Desert, famous Etosha National park with its abundant wildlife, enormous and magnificent Fish River Canyon, Swakopmund - small Bavarian-style German town on the edge of Namib and cold Atlantic ocean that remains almost unchanged since the beginning of the century, peaceful land of old traditions, ancient tribes and modern infrastructure.
Namibia has always been a country of superlatives. Dragon's Breath is the largest subterranean lake in the world, Hoba meteorite is the biggest ever found, Gibeon meteorite shower is the largest ever discovered, Namib Desert is the oldest desert and it is also the only desert in the world that harbours elephant, lion, giraffe and rhino. Red sand dunes at Sossusvlei are regarded as being the highest in the world. Namib desert is also home to one of the oldest living fossil plants, the Welwitschia mirabilis. Namibia has the largest free-roaming cheetah population in the world an estimated 2 500. And there is more. Rossing is the largest open - cast uranium mine, the coast is the largest occurrence of rock salt and Uis is the largest known tin reserve.

Facts and figures
Geography
Namibia has an area of 824 268 square km. Namibia is situated in Southern Africa and borders on South Africa, Botswana, Angola and Zimbabwe.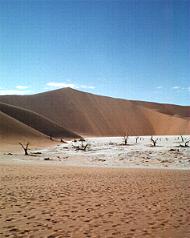 Regions
The country is divided into 13 constitutional regions: Omusati, Oshana, Ohangwena, Oshikoto (formerly Owambo), Okavango, Caprivi, Kunene (formerly Kaokoland and a part of Damaraland), Karas, Erongo, Otjozondjupa, Omaheke, Khomas and Hardap.
Topography
Namibia has four distinct topographical regions: the Namib, a long and narrow coastal desert; central plateau running from north to south with an altitude up to 2000 m above sea level; the eastern lowlands including Kalahari desert; the high rainfall areas of Okavango and Caprivi.
Geographic coordinates
22 00 S, 17 00 E
Land boundaries
Total: 3 824 km, border boundaries: Angola: 1 376 km, Botswana: 1 360 km, South Africa: 855 km, Zambia: 233 km.
Coastline
1 572 km
Mountains
The highest mountain in Namibia is the Brandberg with a height of 2 579 m above sea level with Moltkeblick (Auas range) at 2 480 m being the second highest. Other notable mountains of Namibia are: Bismarckfelsen (2 419 m), Gamsberg - Namibia's Table mountain (2 347m), Spitzkoppe (1 730 m).
Rivers
Namibia has only five perennial (permanent) rivers are situated on the country's borders: Kunene, Okavango, Zambezi, and Kwando/Linyanti/Chobe rivers in the north and north-east and Orange river in the south.
Natural resources
Diamonds, uranium, copper, gold, lithium, tin, lead, zinc, gas, cadmium, salt, coal, iron, fish.
Population - age structure
0-14 years: 44% (male 366,030; female 358,105)
15-64 years: 52% (male 424,879; female 435,116)
65 years and over: 4% (male 26,787; female 37,353) (1999 est.)
Population growth rate
1.57% (1999 est.)
Infant mortality rate
65.94 deaths/1 000 live births (1999 est.)
Ethnic groups
Black 86%, white 6.6%, mixed 7.4%. About 50% of the population belong to the Owambo tribe and 9% to the Kavangos tribe; other ethnic groups are: Herero 7%, Damara 7%, Nama 5%, Caprivian 4%, Bushmen 3%, Baster 2%, Tswana 0.5%
Religions
Christian 80% to 90% (Lutheran 50% at least, other Christian denominations 30%), native religions 10% to 20%
Climate
In general Namibia has a dry climate with the exception of the high rainfall area in the far north east. The country is regarded as a semi-desert country where droughts are frequently occur. The summer day temperature can reach up to 42 degrees C, while night winter temperature can reach as low as -5 degrees C. Rain in Namibia usually falls in the summer with an average rainfall figures varying from less than 50 mm along the coast to up to 700 mm in the far north-east.
| | | | | | | | | | | | | |
| --- | --- | --- | --- | --- | --- | --- | --- | --- | --- | --- | --- | --- |
| Month | January | February | March | April | May | June | July | August | September | October | November | December |
| Day time temperature | 38 | 34 | 32 | 32 | 30 | 22 | 18 | 25 | 33 | 35 | 37 | 39 |
| Night time temperature | 19 | 18 | 15 | 13 | 05 | 03 | -4 | 05 | 11 | 15 | 17 | 22 |
| Rainfall, mm | 77 | 73 | 81 | 38 | 06 | 01 | 01 | 00 | 01 | 12 | 33 | 47 |
Flora
Namibia has 14 vegetation zones including desert, semi-desert, forest savannahs woodlands, mopane and thorn bush woodlands, dwarf shrub, camel thorn, mixed trees and shrub savannahs. The country has more than 120 tree species and more than 200 endemic plant species.





Fauna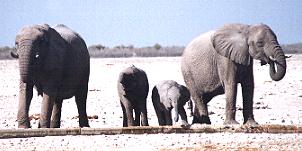 The large mammal group represented by elephant, giraffe, rhino, and buffalo with endangered species such as black rhino, cheetah, wild dog, lion, kudu, waterbuck and oribi. Out of 887 bird species recorded in Southern Africa 620 have been found in Namibia.
Etosha National Park
The most famous Namibian park consists of salt pan, which is approximately 4 500 square kilometres large, woodland and grassland habitats. Access by road from Otjiwarongo or Tsumeb or by light aircraft. Open all year round. Accommodation is available in three camps: Okaukuejo, Halali and Namutoni. Animal species inhabiting the park include different smaller species of antelopes, cheetahs, elephants, gemsboks (oryx), giraffes, hartebeests, impalas (black-faced only), kudus, leopards, lions, rhinoceros, springboks, wildebeests, zebras and more than 300 species of birds.
Khaudom Game Park
Consists mostly of semi-desert. Access by poor road from Grootfontein or Rundu (Katima Mulilo). Open all year round although access is only permitted to four wheel drive vehicles. Accommodation available. Animal species living in the park include antelopes, elephants, zebras and a variety of birds.
Mahango Game Reserve
The reserve is open to day visitors only. Accommodation is available at Popa Falls camp.
Namib-Naukluft National Park
Consists of desert and semi-desert. Access by untarred road from Windhoek, Walvis Bay or Luderitz via Helmeringhausen. Open all year round, access is not permitted to the diamond area. Different types of accommodation is available. Animal species living in the park include cheetahs, klipspringers, kudus, leopards, springboks and zebras.
Skeleton Coast Park
Access by untarred road from Swakopmund or from Khorixas. Open all year round. Accommodation available. Animal species living in the park include elephants, hyenas, jackals and a wide variety of birds.
Waterberg Plateau Park
Consists of savannah and woodland. Access by road from Windhoek or from Otjiwarongo. Accommodation is available. Animal species living in the park include antelopes, buffaloes, bushbabies, cheetahs, rhinoceros, and more than 100 species of birds.
Caprivi Game Reserve
Access by road from Rundu or Katima Mulilo. Accommodation is available. Animal species living in the park include crocodiles, hippopotamus and a wide variety of birds.
Political history
In 1884 the country was proclaimed a German protectorate and for the next almost 30 years Namibia, that time German South West Africa, remained a German colony. Capitulation of Germany in the beginning of 1915 resulted in administration of South Africa under a 1920 League of Nations mandate. After implementation of United Nations Resolution 435 in 1989 and free and fair elections Swapo (South West African People's Organization) came to power under leadership of Dr. Sam Nujoma who became first president of an independent Namibia.




Population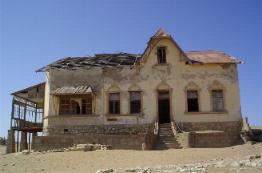 The estimate population of the country is currently 1.7 million people with an annual growth rate approximately three percent and population density of less than 2 people per square kilometre.
Languages
The official language of the country is English, although German and Afrikaans are widely spoken. Indigenous languages include Bantu languages such as Owambo, Kavango, Herero, Caprivi and Tswana, Khoisan languages spoken by the Nama-Damara and San (Bushmen) people. See also The people of Namibia page.
Ghost diamond town Kolmanskop outside of Luderitz.
Media
The constitution of the Republic of Namibia guarantees the freedom of expression. There are seven commercial newspapers in the country. The Namibian Broadcasting Corporation has nine radio and one television channels. There are several privately owned radio stations and television channels.
Post and telecommunications
The country has one of the most modern postal systems in Africa comparable to the highest of world standards. There is privately owned satellite telephone company and Telecom Namibia has 31 automatic telephone exchanges, enabling customers to dial to 277 countries world-wide.
Government
The Republic of Namibia is a multiparty democracy with fundamental rights and freedoms guaranteed by the country's constitution. The country is lead by the President Mr. Sam Nujoma.
Administrative divisions
13 regions; Caprivi, Erongo, Hardap, Karas, Khomas, Kunene, Ohangwena, Okavango, Omaheke, Omusati, Oshana, Oshikoto, Otjozondjupa
Participation in international organisations
ACP, AfDB, C, CCC, ECA, FAO, G-77, IAEA, IBRD, ICAO, ICRM, IFAD, IFC, IFRCS, ILO, IMF, IMO, Intelsat, Interpol, IOC, IOM (observer), ISO (subscriber), ITU, MONUA, NAM, OAU, OPCW, SACU, SADC, UN, UNCTAD, UNESCO, UNHCR, UNIDO, UPU, WCL, WHO, WIPO, WMO, WToO, WTrO
Public holidays

| | |
| --- | --- |
| 01 January | New Year's Day |
| 21 March | Independence Day |
| 21 April | Good Friday |
| 24 April | Easter Monday |
| 01 May | Worker's Day |
| 04 May | Cassinga Day |
| 25 May | Africa Day |
| 1 June | Ascension Day |
| 26 August | Heroes Day |
| 10 December | Human Rights Day |
| 11 December | Public Holiday |
| 25 December | Christmas Day |
| 26 December | Family Day |
Education
The literacy rate in the country is estimated at 40 percent. There are approximately 1 450 schools and one tertiary institution, the University of Namibia. In addition there are several teacher's and agricultural colleges, computer and information technology training centres, training centres for employers and employees in tourism trade.




Major towns
The capital of Namibia is Windhoek with a population of approximately 200 000 inhabitants. Other major centres are Rehoboth - the centre of Rehoboth Basters, Okahandja - capital of Herero tribe, Gobabis and Otjiwarongo regarded as a centres of cattle industry, Tsumeb - former mining town, Swakopmund and Walvis Bay at the coast, Grootfontein, Otavi and Outjo in the north, Mariental, Maltahohe and Karasburg in the south and Gochas, Stampriet and Aranos in the east.
Airports
There are two international airports in Namibia, Hosea Kutako International airport situated 42 km from Windhoek and Walvis Bay airport. All Namibia's major town have airport or registered landing strips.
Roads
The country has a well-maintained network of surfaced and gravel roads covering more than 40 000 km in total. Trans-Caprivi and Trans-Kalahari highways give the country access to Botswana, South Africa, Zambia and Zimbabwe.
Railways
The railway network consists of more than 2400 km of railway lines connecting major towns in the country. The Desert Express is the 5-star luxury train service between Windhoek and Swakopmund. Once a year the Rovos Rail from South Africa offers 2 600 km trip from Johannesburg to Swakopmund.
Banking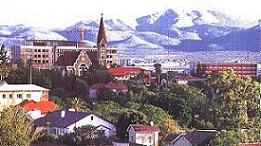 The banks in Namibia connected to major international communication networks and offer fast and efficient transfers of funds to and from any destination in the world. Major credit cards widely accepted. Foreign currency exchange services offered in banks in all major towns in the country.
Currency
The national currency of Namibia is Namibian dollar (N$), divided into 100 cents with a current rate of approximately 6.3 N$ for 1 US$. South African Rand is also legal tender in the country and linked to Namibian dollar on 1:1 basis.

Credit card agencies in Windhoek
VISA: First National Bank of Namibia, Tel: 299 2213, fax: 226 676.
Master Card, Diners Club: Standard Bank of Namibia, Tel: 294 2143(4/5/6), fax: 294 2199.
American Express: Tel: 249 037, fax: 224 417.
Time zone
Summer time is two hours ahead of Greenwich Mean Time (first Sunday in September to the first Sunday in April). Winter time is one hour ahead of Greenwich Mean Time (first Sunday in April to first Sunday in September).
Health precautions
The northern, northern-east and far northern-east areas of Namibia are prone to malaria and visitors are advised to take prophylaxis.
What to buy
Semi-precious stones and gems, diamonds, wood carvings and Herero dolls.
Radio
BBC World Service:
MHz 17.88 15.42 6.190 3.255
Voice of America:
MHz 17.60 15.30 9.555 6.015





Customs
Duty free goods - 400 cigarettes/50 cigars/250g of tobacco; 2 litres of wine/ 1 litre of spirits; 50ml of perfume. Gifts to the value of N$500.
Please note: South Africans travelling to Namibia are not entitled to purchase duty-free goods for import back into South Africa, whether travelling through airports or land border posts.
Internet
Most of major towns have internet access. Expect to pay about N$10 per half hour at internet cafes.
Public holidays
Supermarkets and most food shops are open on most public holidays (except Christmas and Easter), but most restaurants and other services to be closed.
----------------------------------------------------------------------------------------------------------------------------------------------------
Would you like to link to this page? Follow our simple instructions below:
Please copy and paste this code to any place on your site.
<p align="center"><font face="Arial" size="1"><a href="http://www.namibweb.com/info.html"><img src="http://www.namibweb.com/logo.gif" width="77" height="77" alt="NamibWeb -- whole Namibia in one site." border="0"><br><strong>NamibWeb</strong></a><br>Namibia's information - all you need to know before your trip</font></p>
Alternatively you can just make a text link: http://www.namibweb.com/info.html
To print this page press Ctrl-P
Did you know?
Namibia Real Estate
Contact:


E-mail: info@namibweb.com
Terms & conditions, Payment options and Cancellation policy
Page created and serviced by



www.namibweb.com

Copyright © 1998-2024 namibweb.com - The online guide to Namibia
All rights reserved | JOIN | VIDEO PORTFOLIO | VIDEO/PHOTO COLLECTION
Telegram | YouTube | Blog
Page is sponsored by ETS & Exploring Namibia TV
Disclaimer: no matter how often this page is updated and its accuracy is checked, www.namibweb.com and ETS
will not be held responsible for any change in opinion, information, facilities, services, conditions, etc. offered by
establishment/operator/service/information provider or any third party