Fish River Canyon, Ai-Ais Resort Hot Springs Spa and Hobas
Information on the second largest canyon in the world.

The Fish River Canyon can be reached driving down south on B1, turning to B4 towards Luderitz, turning left on C12 and follow signs. The main attraction of the park is Fish River Canyon Hike (see information below).
Can be booked in advance only!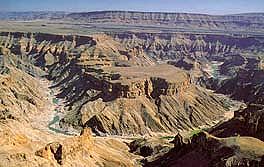 Due to extreme temperatures (up to 50 degrees in the summer!) open only during winter time.

The canyon, which is 161 kilometres long and up to 550 meters deep, forms part of the conservation area proclaimed a reserve in 1969.
Vegetation. The vegetation in the area has been classified as dwarf shrub savannah. The following trees occur: camel thorn, quiver tree (kokerboom), sweet thorn, buffalo thorn.
Ai-Ais: One of the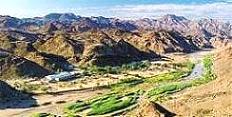 most famous hot-spring resorts in the country. The name is a Khoekhoen word which can be translated as ''fire water''. The area was discovered in 1850 by local Nama shepherd. During Nama uprising of 1903-07 the spring was used by German military forces as a base camp. They were also using this area in 1915 as a base to recover from wounds during invasion of South African troops.
Later the spring was leased to local entrepreneur and proclaimed a national monument in 1962. In 1969 it became a conservation area. The rest camp was opened in 1971 on 16 March. Severe floods in 1972, 1974 and 1988 caused camp to close down for some time. The Fish River Canyon Conservation area was enlarged in 1987 by addition of state land west of canyon. Renovations to the Ai-Ais Camp were carried out in 1987-88 and again in 2009 and in 2013.
Canyon Lodge has no camp sites. Camping is available at Canyon Road House Camp.
Detailed map of Fish River Canyon & trail
Images (photo album):
Related:
Activities in the area:
Ai-Ais: Usage and entrance fees per day (payable on arrival only): click here
Additional information:
Day visitors are admitted between sunrise and sunset only. Overnight visitors may not leave the resort between 23.00 and 6.00.
Other facilities:
Kiosk, swimming pool, restaurant, fuel, fire wood. No banking facilities.
Entrance to mineral bath or spa:
Open: 7.00-9.00, 12.00-14.00, 18.00-22.00.
Restaurant:
Open: 7.00-9.00, 12.00-14.00, 18.00-22.00
Meal times:
7.00-8.30, 12.00-13.30, 18.00-20.30
Hobas
Located 10 km from the main viewpoint along the access road to the canyon. There is a kiosk with basic supplies and a swimming pool.
Usage and entrance fees per day (payable on arrival or pre-booked): click here
Ai-Ais accommodation per night: on request
Unit type
Number of units
Daily rates per person
Single rate
Note
Double room 2 beds
5
-
-
Bed and breakfast
Maximum 2 adults
Bush family chalet 4 beds
30
-
-
Bed and breakfast
Maximum 4 adults
Camping, power points
26
-
-
Maximum 8 persons per site
Accommodation only: children under the age of 6 stay free of change, 6-12 years old pay 70%.
Provision for children will be made upon arrival; however the booking must be made in advance.
Activities
Guided excursion full day
-
-
-
Children 6-12 half price, no children under the age of 6 permitted
Guided excursion morning or afternoon
-
-
-
Hobas camping per night: on request
Unit type
Number of units
Daily rates
Note
Camping, power points
10
-
Maximum 8 persons per site
Children under the age of 6 stay free of change, 6-12 years: on request
Fish River Canyon Hiking Trail:
Starts from main view point 10 km from Hobas and ends in Ai-Ais. It is approximately 80 kilometres long and takes 4 to 5 days to complete.
Open from 01 May to 15 September.
Groups of minimum 3 and maximum of 40 persons are allowed. No children under 12 years old.
Reservations should be made well in advance. The price: on request. Own transport must be arranged. Transport back to Hobas from Ai-Ais must be arranged with Ai-Ais office directly. Approximate cost is 60 N$ per person (to be confirmed in advance, subject to change).
Medical questionnaire is here. Please print it out and fill it in.
All going on Fish River Canyon Hike do pay normal entrance fees for the first day only.
Kalkfontein Hotel trail package: 2 nights accommodation and transfers
Certificates of fitness and indemnity forms must be submitted to the office in Hobas!
Reservations of resorts in National parks
Note on day hikes in the canyon
Reservations
(click for more information)
Contact & reservations:
E-mail: info@namibweb.com
Reservations are only accepted in writing: by fax or via e-mail.
Final availability confirmation: in writing: by fax or via e-mail.
Terms & conditions, Payment options and Cancellation policy
DAILY PARK AND RESORT FEES (PER PERSON AND PER VEHICLE) ARE NOT INCLUDED IN ACCOMMODATION FEES!
Page created and serviced by



www.namibweb.com

Copyright © 1998-2024 namibweb.com - The online guide to Namibia
All rights reserved | JOIN | VIDEO PORTFOLIO | VIDEO/PHOTO COLLECTION
Telegram | YouTube | Blog
Page is sponsored by ETS & Exploring Namibia TV
Disclaimer: no matter how often this page is updated and its accuracy is checked, www.namibweb.com and ETS
will not be held responsible for any change in opinion, information, facilities, services, conditions, etc. offered by
establishment/operator/service/information provider or any third party
Description and logo: Copyright © Namibia Wildlife Resorts