Message board
All messages are welcome.
Post new message
There is a new speed limit on Namibian roads for all vehicles carrying tourists - 100 km/h.
Elena Travel
New book on the history of railways in Namibia: "The First 100 Years of State Railways in Namibia", written by Brenda Bravenboer and Walter Rusch is available now at selected bookstores in Namibia. Also available at TransNamib Railway Museum situated in railway station building in Bahnhof Stra?e, Windhoek. For information on first railway line please click here.
Elena Travel
New 20-room 3 star lodge will be built near the Cape Cross. Proposed name is Capo Diego after the bay where Diego Cao erected stone cross in 1486. The lodge will be fully operational at the end of 2001.
Elena Travel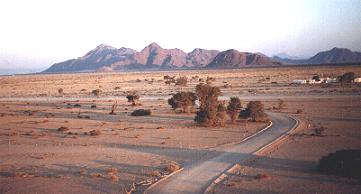 New luxury tented camp will be built at the Skeleton Coast in the Khumib riverbed. The camp will be operational in April 2000.
Elena Travel
Kuiseb river came down in flood during March 2000. The river reached the ocean at Walvis Bay for the first time. It is considered to be one of the most rare occurrences in the the Namib desert in a recent history.
View from the Sossusvlei lodge tower at Sesriem
Elena Travel
Namibia's luxury train will shortly extend its west-bound journey between Windhoek and Swakopmund, to continue on to Walvis Bay. The train usually stops east of the dune belt at Rand Rifles for breakfast to give a passengers a chance to climb the dunes. In future it will continue its journey to Namibia's main harbour town, 33 km south of Swakopmund. Passengers on Desert Express will have a few hours in which to explore the town and its surroundings, before returning to Swakopmund.
Elena Travel
The first four star hotel has been opened in Ondangwa. Cresta Lodge Pandu is the 30 million development opened by Namibian and Zimbabwean Presidents and the first hotel of international standards in the Northern Namibia.
Elena Travel
Namibia will soon become the first country in Southern Africa region to used desalinated sea water for domestic consumption. The tender has been granted to US company Ionics to build a plant at Swakopmund. The cost of construction amounts to N$ 190 million.
Elena Travel
From the 1st December 2000 any vehicle with foreign (other than Namibian) registration, entering from any border post into Namibia, will have to pay an entry fee (N$ 70-00 for any vehicle carrying up to 24 passengers and N$ 150-00 for vehicles carrying 25 or more passengers). Motorcycles, motor quadbikes, caravans and light trailers are exempt.
Passengers entering the Namibia Border Post will have to complete a form, pay and will obtain a permit. This permit (CBC Certificate) must be produced to any law enforcement agent or person on demand, inside Namibia.
Foreign registered vehicles that entered Namibia before 1st December 2000 must show proof of such a date of entry when stopped by the traffic law enforcement officers. No CBC entry fees would be required for such vehicles, however the registration requirements for such a vehicle in Namibia still apply.
Elena Travel
Rostock Ritz Desert Lodge, situated approximately 110 km north of Sesriem in the Namib Desert has introduced a number of hiking trails and other activities in the area. These hiking trails vary from a 40 minute walk in the vicinity of the lodge to full day trails in the Gaub and other river courses. The Gaub River forms a deep and scenic canyon before it joins the more well-known Kuiseb River which runs towards the Atlantic ocean and stops just south of Walvis Bay among the Namib dunes. In addition to the Gaub canyon and Namib landscape hikers can enjoy views of the Witberg (its name is derived from the white and weather resistant marble which forms the mountain ridge), and the Rostock Mountain (Red Gneiss). A cave with Bushman paintings can also be visited.
Elena Travel
Two Swakopmund residents witnessed three killer whales in one of the bays of Luderitz. Trudi van Rooyen said the whales swam as close as 15 metres to their boat. According to Jean-Paul Roux, principal fisheries biologist at the Ministry of Fisheries in Luderitz, it is extremely rare occurrence in Namibian waters.
The Namibian, 9 May 2001
For the second year in succession, Namibia experienced a very good rain season. This year the best rains also fell late in the rain season, mainly in March and April.
As a result of these rains, the Fish River Canyon Hiking Trail also for the second year in succession had to be closed on its opening date of 15 April. It was later opened early in May for hikers till 15 September.
Most of the Namib Desert area also experienced good rains and is covered with grass. The Northern Namib adjacent to Skeleton Coast Park has excellent grass cover and many large game such as oryx, springbok and ostrich can be seen there at present. Sossusvlei received some water, not as much as the previous year, but should retain it till the end of the Namibian winter.
The Kunene River reached its highest flood levels since 1983 at the end of April. This resulted in spectacular sights of the waterfalls at the Ruacana Falls and the Epupa Falls. For the greater part of the Namibian winter these falls will be well worth visiting.
The Etosha National Park also received good rains, especially late in the rain season. The Pan received a high inflow of water from the north and is at present still partially covered with water. Game viewing at waterholes was limited during the month of May due to open water in the veld. However it has since dried up and the animals are busy returning to popular game viewing sites such as the Okaukuejo waterhole.
Hennie Fourie
Tourist Development at Cape Cross
Construction of the first private tourism development project along the inhospitable Namibian west coast at Cape Cross has started. The Cape Cross Seal Reserve, situated approximately 130 km north of Swakopmund near the Skeleton Coast Park, is well known for the large colony of Cape Fur Seals which is found there as well as 2 replicas of a stone cross erected in 1486 by the Portuguese seafarer, Diego Cao.
This seal reserve, managed by the Ministry of Environment & Tourism, is only open to day visitors from 10:00-17:00. There is at present no accommodation at Cape Cross, only an office at the entrance, toilets and drinking water. A group of developers have obtained a piece of land adjacent to this reserve to develop tourist facilities. They are busy developing a restaurant as well as a small lodge with 8 fully equipped rooms as a first phase of a larger project. The intended completion date of the project is the end of July 2001. It should therefore be operational at the start of the peak foreign tourist season for Namibia in August.
In addition to the seals and the cross, the main attractions of this area are the excellent angling opportunities, a small lichen reserve, possible cruises on the bay as well as the desert scenery and nature. This development can also form the gateway to the attractions of Damaraland, such as Twyfelfontein and the Skeleton Coast Park.
Hennie Fourie
Windhoek Hosts WTO Conference
Windhoek was the host of the first International Conference on Air Transport and Tourism since the turn of the century. This conference which was organised jointly by the World Tourism Organisation ( WTO) and the Africa Commission for Civil Aviation ( AFCAC), took place on 30 and 31 May 2001. From the WTO the secretary-general, Mr. Francesco Frangialli, and dr Dawid de Villiers, former Minister of Tourism of South Africa and present deputy secretary-general attended this conference.
Topics covered in this conference included the following: "Structural changes in air transport market and their effects on tourism development"; and "The constraints on air transport in Africa and the repercussions for the tourism industry". At present Africa only receives 2,5% of global international tourists and 1,5% of global tourism receipts. Strategies to improve this situation and strengthen Africa tourism, also through improved air links, were discussed.
Hennie Fourie
Namibia Holiday & Travel Expo 2001
The major travel & tourism fair held annually in Namibia, the Namibia Holiday & Travel Expo 2001, will again be held in Windhoek from 21 – 23 June 2001. Opening times will be from 10:00 – 21:00 every day. The venue will be the old Sport Club Windhoek hall (SKW/Brauhaus) in the centre of town.
As was the case last year, the popular Food & Wine Festival, a Chef's Competition and the Namibia Holiday & Travel Photographic Competition will form part of this event. Namibia's wide selection of tourism products such as accommodation establishments, tour operators, car rental firms and supporting industries will be featured at this event. This fair is open to both the travel trade and travelling public.
Hennie Fourie
Trans Caprivi Highway nearly completed.
The construction of the Trans Caprivi Highway was started soon after the independence of Namibia in 1990 to link Namibia with Northern Botswana, Zimbabwe and Zambia. This road will also link the tourist attractions in especially Northern Namibia with tourist areas such as Kariba, Chobe Game Reserve and Victoria Falls in neighbouring countries. With the exception of a 2 - 3 km portion which will be finished by the end of April 2001, this permanently surfaced road has now been completed from Rundu through Northern Botswana to Victoria Falls. This route now provides a viable alternative to travellers by road from Cape Town via Windhoek to Victoria Falls to the previously preferred route via Gauteng and Beit Bridge to Zimbabwe. This is the route that the Intercape Mainliner uses for its coach service from Cape Town to Vic Falls.
The Zambian Government has also decided to go ahead with the construction of a bridge over the Zambezi river opposite Katima Mulilo in the Caprivi to replace the ferry presently used to cross the river. Planning of this bridge has started and construction is expected to start early in 2002. Simultaneously the road on the northern side of the Zambezi River to Livingstone will be upgraded to open up that area to travellers from Namibia and provide an alternative to the road through Botswana to Victoria Falls. Due to the fact that incursions by rebels from Angola into North Eastern Namibia still occur from time to time, visitors are advised to stay on the tarred Trans Caprivi Highway when travelling east of Rundu and to make use of the military escorted convoy travelling daily from Bagani in the Kavango to Kongola in the Caprivi and back.
Hennie Fourie
Appointment of Board Members of the Namibia Tourism Board
At a meeting held on 7 March in Windhoek, members of the first Namibia Tourism Board (NTB) was introduced to the local media and the Tourism Industry by the Minister of Environment & Tourism, Philemon Malima.
Malima stated that until 7 November 2000 when the Namibia Tourism Board Act was published, Namibia was the only SADC country with an active Tourism Industry which did not have a Tourism Board or Authority. This act made provision for the inter alia the following functions for this Board: marketing Namibia as a tourism destination, registration and grading of Accommodation Establishments and declaration of any sector of the tourism industry as a regulated sector in terms of this Act. He also mentioned that the Government wanted to see further investment in the tourism industry of Namibia and the encouragement of the local population of Namibia to participate in this industry. He announced the appointment of the following 5 people as the first board members of the NTB:
1. Mr Simwanza Simenda - (Chairperson) Deputy Permanent Secretary, Ministry of Environment & Tourism
2. Ms Benita Herma-Herrle - (Vice Chairperson) Tourism Related Namibian Business Association
3. Mr David Nuyoma - Namibia Investment Centre
4. Ms Lusia Ndahafa Hamumokola - Ministry of Finance
5. Mr Brian Black - Hospitality Association of Namibia
Hennie Fourie
New Namibian Marketing Organisation formed
A number of Namibia's leading hospitality establishments together with a few other important players in the tourism industry have formed an association called "Uapenduka Namibia" with the aim of assisting local tour operators in familiarising and educating mainly the European Wholesalers and Retailers on Namibia. Uapenduka undertook various information roadshows to foreign countries, the first of which took place late in February. The Uapenduka delegation, currently representing 50 of Namibia's accommodation establishments, visited key cities in Germany and the Dutch capital Amsterdam to achieve this aim. This February 2001 road show was scheduled to serve as a prelude to the European tourism fairs where Namibia was represented by local tour operators and the Ministry of Environment and Tourism, thus complementing their effort in selling Namibia. Each road show presentation consisted of a general introduction to Namibia as a destination, where after guests were
given the opportunity to talk directly to Uapenduka representatives.
Hennie Fourie
Appointment of a CEO for the Namibia Tourism Board
The appointment of the first Chief Executive Officer of the first Namibia Tourism Board (NTB), Gideon M L Shilongo, was announced in Windhoek. He will assume duty at the NTB on 15 October.
The Namibia Tourism Board was formed to market Namibia as a tourism destination, to register and grade accommodation establishments and where necessary to declare of any sector of the Tourism Industry a regulated sector in terms of the NTB Act. Board members for this organisation were announced early in March 2001 and it officially started operating on 15 May 2001. With the appointment of the first CEO the last hurdle to the effective operation of this organisation has been passed.
Shilongo was previously responsible for Community Tourism Development working together with the EU-funded Tourism Consultants attached to the Ministry of Environment and Tourism. After that he was appointed as Manager: Corporate Affairs at Namibia Breweries where he has been employed till this latest appointment.
New development in Tsiseb Conservancy
The development of conservancies in especially the north west and north east of Namibia, has become very popular with local communities. By developing conservancies they assist in conserving the wildlife and also share in tourism income earned in these areas.
The Tsiseb conservancy was recently proclaimed by the Ministry of Environment and Tourism. This area includes the Brandberg, highest mountain in Namibia, as well as the Ugab river and its tributaries, well known for wildlife such as the roaming desert elephant.
Along the banks of this river, the Ugab Wilderness Camp was recently developed by Alan and Gesa Schutte. It provides tented accommodation, meals as well as camping facilities for normal campers. Local guides are also provided from this camp for visits to the Brandberg and other surrounding attractions.
New angling regulations
New regulations relating to the utilisation of marine resources along the Namibian Coast recently came into force. As a large number of visitors enjoy recreational fishing along the coast, it is important that they take note of some relevant aspects of the new Marine Resources Regulations.
A person who in Namibian waters angles for recreational purposes must now be in possession of a fishing permit. Such a fishing permit may be obtained from the Ministry of Fisheries and Marine Resources in Walvis Bay, Swakopmund and Luderitz, or at the Henties Bay Police Station.
A recreational fishing permit is issued for a period of :
- One month against payment of N$ 14.00
- One year against payment of N$ 168.00
Daily bag limits
A person may not, for recreational purposes, in one day catch and retain more than a total of 10 (ten) fish comprimising any one or more of the following species: kob (kabeljou), blacktail (dassie), galjoen, West Coast steenbras and snoek. The species referred to may not be a size less/smaller than -
a) blacktail (dassie) - 25cm
b) galjoen - 30cm
c) kabeljou (kob) - 40cm
d) West Coast steenbras - 40cm
A person angling for recreational purposes may not in one day harvest more than 2 individuals of kob which are each longer than 70cm including head and tail, and or more than 2 individuals of West Coast steenbras that are longer than 65cm including head and tail.
Transport
A person or group may not transport or carry in a vehicle or vessel any quantity of marine resources caught for recreational purposes, exceeding the cumulative bag of more than three days for each angler in the vehicle.
New lodge burnt down
Only one month after the luxury lodge of Mr Frans Indonga, prominent businessman of Namibia, was opened, it was totally devastated in a fire which spread via the thatched roofs from the Lapa to the kitchen, restaurant and accommodation units. This lodge was situated approximately 40 km north
east of Otjiwarongo.
Indonga stated that he plans to rebuild this lodge in the near future and also wants to add already planned extensions. He is also the owner of the Protea Walvis Bay Lodge in Walvis Bay.
New development at Etosha
An exciting new development is taking place adjacent to the eastern boundary of the Etosha National Park. This development is Onguma Game Ranch, situated on a 20 000 ha tract of land and sharing a 30 km boundary with the Park opposite the well known Fisher's Pan. Developments up to date include accommodation units, an open restaurant/lapa and well serviced camping sites. A separate restaurant will be opened by 1 February 2002.
The lodge is situated 12 km from the Von Lindequist Gate of the Etosha National Park. Most of the larger animals normally found in the park, excluding elephant, are also found on this game ranch.
Fire at Windhoek Country Club Resort
A fire during the early evening of 14 September destroyed the conference centre of the luxurious WIndhoek Country Club Resort. The quick and efficient action of the Windhoek Fire Brigade however prevented the fire from spreading to the rest of the building complex.
According to Paddy Brealy, manager of the hotel, all conferences and activities booked at the conference centre have been moved to the Safari Court Conference Centre or the Kalahari Sands Hotel.
The building complex is insured against such damage. He hopes that the conference centre will be rebuilt before the end of the year.
Hennie Fourie
Friday, October 12, 2001
Botswana opens new immigration point with Namibia

In a long anticipated move, Botswana has formally opened an immigration point in the Kwando, adjacent to the Mudumo National Park in Namibia. The border point will greatly facilitate tourism movement around the region
by allowing guests access to the Namibian side of the Kwando/Linyanti rivers via Lianshulu (which serves as the Namibian border point) and into the Caprivi direct from lodges in the Delta, Moremi and Savute. The initiative supported by the Namibian and Botswana governments is part of the "Protocol On The Development of Tourism in the Southern African Development Community" which recognizes the region as a single multifaceted tourism destination through a need to facilitate intra-regional travel for the development of tourism through the easing or removal of travel and visa restrictions and harmonisation of immigration procedures. It is also fully supported by the Peace Parks project in Africa which aims to have a co-coordinated management system for the protection of wildlife both sides of the border.
The border point in Namibia is part of Lianshulu Lodges, including Lianshulu Bush Lodge which is a Desert & Delta Safaris Lodge.
Louise Leach
New Board & Management for Air Namibia
The former Board of Air Namibia was dismissed by the Government of the Republic of Namibia on 28 October 2001. This move followed speculation on the future of this loss-making airline and the appointment of a commission of enquiry into the future of the airline by the President, Sam Nujoma.
This board consisted of chairman Tom Alweendo, Peingondjabi Shipoh, Stephen Brown, Paul Hartman and former MD, Jaafar bin Ahmad. In its place a new Board consisting of mainly private sector executives have been appointed. This new board consists of the following people: Vekuii Rukoro (Chairman & MD of Sanlam Namibia), Leake Hangala (MD of Nampower), Inge Zaamwani (MD of Namdeb) and Gernot Riedel (private consultant).
This move also follows the earlier announcement by the Minister of Finance that the Government has decided to recapitalise Air Namibia to reduce the debt which it had to carry lately. Shortly after this announcement, Dr Jaafar bin Ahmad, then MD of Air Namibia departed on 2 months leave after which he will leave the service of Air Namibia. Following these events and the appointment by the new Board of Peter Chikumba as Acting MD till 31 December 2001, further drastic changes were made to the management of Air Namibia.
On Monday 5 November Chikumba announced the appointment of a new management team of 18 people to assist him for the period that he will act to endeavour to turn Air Namibia into a profitable organisation. In addition to a number of new appointments, Oscar Kaveru was appointed as Acting Manager: Operations and as the 2 nd in command to Chikumba. Erastus Hoveka was appointed as Acting Manager for Finance and Administration. In this process all former managerial personnel such as Capt. Louis Jonach, Flight Operations; Ms Shareen Thude, Commercial Services; and Mr Rassie Koortzen, Human Resources either lost their jobs or were demoted.
Several further appointments in the new management team will be announced shortly and Chikumba warned that anyone not producing according to expectations, will lose his or her job.

Cape Cross Lodge now fully operational
The Cape Cross Lodge which is situated on the beach adjacent to the Cape Cross Seal Reserve, is now fully operational. This is the only private accommodation establishment north of Henties Bay along the Northern Namibian Coastline. Eight luxury sea-facing rooms have been developed as well as all associated facilities such as a bar, lounges, viewing decks and a restaurant which can cater for large groups, including lunches and snacks. A well stocked curio shop and museum is also provided. Activities provided include visits to the seal colony and the cross planted by Portuguese seafarer Diego Cao, guided fishing safaris and photographic safaris to nearby attractions such as the Messum crater.

LTU gets another chance
Following recent speculation on the future of LTU German Airlines which also operates flights between Dusseldorf and Munchen in Germany and Windhoek in Namibia, as well as a summit on the future of the airline held on Friday 9 November, Sten Daugaard on behalf of the Management of LTU stated that LTU, after weeks of insecurity, was provided an opportunity for survival. In this regard he expressed their gratitude to the Government of Northrhine-Westfalia, to Dusseldorf City Bank, to the REWE Group, to WestLB and to all other participants of this summit. Based on a positive assessment of the LTU Business Plan 2002 – 2004, Dusseldorf City Bank will take over the 49.9 % shares of Sair in LTU in trust until another investor can be found. The REWE Group will inject additional capital and the regional government (Northrhine-Westfalia) is willing to stand surety for LTU.
This will provide a financial frame to LTU that will enable it to make a profit once again in the year 2004. He also stated that they will now put all their energy into the realisation of the Business Plan in order to fulfill the expectations invested in them. He concluded by thanking all employees of LTU as well as union representatives and tariff commissions for their responsible actions, even when it might mean making sacrifices in the future.

Namibia presented at World Travel Market
Namibia has been represented by a strong team at the annual World Travel Market Tourism Fair which is held in November 2001 in London. The delegation of the recently formed Namibia Tourism Board is led by the CEO, Gideon Shilongo and the chairman of its Board, Simwanza Simenda.
The Namibia Wildlife Resorts also forms part of this team to represent especially the wildlife associated product of Namibia and the leader of its delegation is Abe Mbaukua, General Manager: Marketing. From the side of the private sector 22 companies, mainly tour operators, form part of the group to promote Namibia to the members of the foreign travel trade attending this fair.
Hennie Fourie
Convoy
A military convoy escorts people on a daily basis from Divundu to Kongola leaving at 9.00 and 15.00.
Elena Travel
Sent: 21 January, 2002 3:26 PM
Subject: Immigration requirements of tourists at police road blocks
Dear All,
There have been a number of incidents recently where tourists and tour groups have had problems with immigration officials at the various police road blocks around the country. There has apparently been a bit of a campaign to get immigration officers out onto the road blocks to check for illegal immigrants, and some of them have been demanding that all tourists produce their passports to prove who they are. The most disturbing of these incidents involved a Belgian tourist who was detained at Opuwo police station on suspicion of being an illegal immigrant, even though he was part of an organised tour group, specifically because he could not produce his passport showing where and when he had entered the country.
We have been to visit the Head of Immigration at Home Affairs in order to clarify whether tourists are actually required by law to carry their passports with them at all times, or whether demanding them is just a convenient way for immigration officials to check up on individual's status with minimal effort. It transpires that carriage of passports is not in fact a legal requirement, HOWEVER ..
The Immigration Control Act of 1993, Section 42 (1) (a) does state that when a person found within Namibia who is suspected of being an illegal immigrant, an immigration officer may arrest him without warrant, and may detain him or cause him to be detained for up to 14 days.
Section 42 (1) (b) of the same act also states that any police officer or other authorised person who has reasonable grounds to suspect that a person is a prohibited immigrant and is not entitled to be in Namibia may require such person to produce proof that he or she is entitled to be in Namibia. If such a person fails to satisfy the officer that he or she is so entitled, the officer may take him or her into custody without warrant and bring him or her before an immigration officer to be dealt with in terms of paragraph (a)
As you can see, although there could be some debate about what does, or does not, constitute reasonable grounds for suspicion, the powers of the police and of immigration officials in this matter are considerable. Even though it not specifically required by law that visitors should carry their passports at all times, it is clear that the easiest way to produce proof of being in the country legally is to be able to show a passport which has an valid entry stamp and the term of the relevant tourist visa. If this is available, I would assume there would be no question of any further action being taken.
I would therefore strongly recommend that everyone involved in dealing with visitors to our country should encourage them to carry their passports with them while travelling around, thus ensuring that similar incidents should not happen again. I know it has become common practice amongst many tourists to leave their passports in hotel and lodge safes in order to avoid the risk of losing them, but I believe the chance of losing a passport should be weighed against the inconvenience of being 'detained' if unable to produce proof of being here legally. On balance, I would certainly carry my passport if I was a tourist here and I would recommend that other visitors should do the same.
Tour and Safari Association of Namibia
Hotel School for Namibia
The first Hotel School for Namibia will soon be built with the partial financial and other assistance of the European Union (EU). The EU has promised to contribute N$ 2,0 million to the construction of this facility. This Hotel School will be erected in Windhoek West, near the present campus of the Polytechnic of Namibia, of which it will form an integral part. Previously students wishing to further their studies in Hotel Management and associated disciplines, had to enroll at hotel schools in adjacent countries such as Zimbabwe and South Africa. Jennifer Herholdt, head of the Department Hotel, Travel and Tourism Management of the Polytechnic of Namibia, said that this new institution will improve standards in the Hotel and Tourism trade. In training this institution will concentrate on providing practical orientated training to students and knowledgeable people from the tourism trade will be used to provide the training. Short courses will also be developed to improve the skills of people presently employed in the tourism sector. The first phase of this Hotel School will consist of a restaurant, a bar, a conference centre and 2 kitchens. The second phase will consist of lecture rooms with facilities for computer training and the third phase will include a number of hotel rooms.
Hennie Fourie
Day Hikes: Fish River Canyon
Although day hikes and leisure walks in the Great Fish River Canyon in the south of Namibia are absolutely strictly forbidden, many tourists do not adhere to this and wander on their own down the canyon from the lookout point. This has become a major problem and a serious reason for concern to the Namibia Ministry of Environment and Tourism. It is for this reason that sign boards have now been erected at the starting point which specifically warn tourists not to descend down into the canyon.
Only hikers with valid permits issued by the Ministry of Environment and Tourism are allowed to go down the canyon. These permits are only issued to people with medical certificates indicating that they are fit enough to undertake the hike from the starting point to Ai-Ais of about 80 km which takes from four to five days to complete. These hikes am permitted from 15 April to 15 September each year. Extremely high temperatures are experienced during the hot summer months before the hiking season starts in April. This is one of the main reasons why day hikes and leisure walks are not allowed. The heat may have serious implications for tourists walking down on their own in the summer months as dehydration and exhaustion are real threats to people, especially Europeans not accustomed to the scorching southern sun. At the end of January this year (2001) a tourist died when he and a friend went down the canyon from the starting point. He possibly slipped and fell to his death some 200m further down. The Police and members of the Ministry of Environment and Tourism brought his body out by helicopter two days later. By then his body was almost totally charred by the scorching sun. Because of the intense heat during the hot summer months when temperatures can soar into the high forties or even as high as 50 degrees Celsius, walking in the bottom of the Canyon can be dangerous. One can easily get disorientated and even lose your sense of direction. For further information contact or approach the offices of the Ministry of Environment and Tourism in the different regions. Please note that permits for the hiking trails (15 April to 15 September) are only issued in Windhoek.
Henk Coetzee
Air Namibia Senior Manager Marketing & Business Development
Re: Identification Requirements on Domestic Routes
Due to Security and other Operational requirements, it has become essential for us to start requesting identification at check-in for Domestic routes. Anyone of the following will be accepted as an acceptable Identification Document for check-in on Domestic routes only:
1. Valid Passport
2. Valid ID Card
3. Valid Driver's License
This requirement will be in force as from MARCH 15, 2002.
(To allow time to advise all potential domestic passengers, we will grant a grace period up until March 31, 2002)
Please start to inform passengers immediately of this upcoming identification requirement.
11 March 2002
Werner List passes away
The MD of Olthaver & List, Mr Werner List passed away on 9 April, 5 days before his 81st birthday. The Olthaver & List group controls Namibia Breweries as well as the Namib Sun Hotel groups. The flagship of this group is the 4 star Mokuti Lodge situated at the eastern entrance to the Etosha National Park. Other well known hotels they own are the Strand Hotel at Swakopmund and Midgard Lodge near Windhoek where Mr. List spent most of his time when not in Windhoek.
Hennie Fourie
Trans Caprivi Highway Opened
The Trans Caprivi Highway was officially opened on 11 April. This road links central Namibia via Grootfontein, Rundu, Bagani & Katima Mulilo to the Chobe Game Reserve in Botswana and Victoria Falls in Zimbabwe. Tourists can now travel on high quality tarred road all the way from Windhoek to Vic Falls. This road, as well as the peace talks which is making good progress in Angola, should prove highly beneficial to the tourism industry of the Kavango and Caprivi regions of Namibia in the near future.
Hennie Fourie
Desert Express travels South
The well known Desert Express, Namibia's luxury train, for the first time travelled to the south of Namibia to visit Luderitz and various other attractions of Southern Namibia. This route will be has been introduced in addition to the traditional route between Windhoek and Swakopmund and the route to Tsumeb and the Etosha National Park which was introduced in 2001.
Hennie Fourie
Air Namibia in restructuring phase

After incurring significant losses during the past year, Air Namibia is once again going through a restructuring phase. Mr Gernot Riedel has been appointed acting MD of the airline and talks are under way with South African Airways and Comav to acquire shares in this airline. Comav is managed by Mr Andre Compion, a very successful private airline operator in Namibia. Comav at present operates nearly all the domestic flights of Air Namibia as a subcontractor.
Hennie Fourie
Coast to Coast tourism Project
A multilateral tourism development project was launched by the Tourism Ministers of the Southern Africa Development Community (SADC) at a meeting held in Angola on 12 April 2001. This project, named the Coast-to-Coast (C-2-C) Regional Tourism Initiative, stretches from Mozambique (Maputo) along the eastern coast to Namibia (Swakopmund/Walvis Bay) along the western coast. The principal aim of the C-2-C is the development and promotion of a package of tourism destinations along the Trans-Kalahari Highway, which is an established inter-regional transport corridor. It is envisaged that the C-2-C regional tourism initiative will provide a combination of tourism destinations along the Trans-Kalahari Highway that will capture the imagination of visitors who want to experience the diversity that this route has to offer. The project concept can be described as a unique experience similar to Route 66 in the USA and the Explorer Highway in Australia.
New lodges in Namibia
Hotel Pension Thule recently opened its doors in Windhoek. This establishment is situated on top of one of the most prominent hills in the Eros/Klein Windhoek part of the city. This site was formerly the home of the late millionaire Edmund Lafrenz, one of the most prominent former property developers of Windhoek. Two years ago it was bought by Wolfgang Egerer and his son Manfred, who decided to convert it into a luxury accommodation establishment. This establishment has an excellent restaurant, 12 en-suite rooms and outdoor attractions such as a swimming pool, seating to view sunsets and a large number of birds visiting this location.
Solitaire Country Lodge opened its doors to tourists on 1 July 2002 at the well known settlement of Solitaire, approximately 90 km north of Sesriem. In addition to 25 rooms with private facilities and a swimming pool, the lodge also provides a coffee shop, filling station, tyre repair services and a general dealer (providing fresh home baked bread daily). Here it provides services to the tourist on the edge of the Namib Desert in one of the most scenic and popular areas of Namibia.
To the south of Sesriem Wilderness Safaris is opening on 15 July 2002 a new camp, Little Kulala, on its 21 000 ha property bordering the Namib Naukluft Park. This is the only property which has a private entrance to the Sesriem/Sossusvlei portion of this Park. Eight thatched & canvas chalets with en suite bathrooms are provided on wooden platforms to provide maximum airflow, as well as three twin bedded canvas guide rooms with own bathrooms. This camp also has a lounge, pub, dining area and plunge pool. Early morning guided nature drives to Sossusvlei are provided and game drives and walks are also offered on this private reserve with incredible views, desert game and smaller desert fauna and flora.
Hennie Fourie
Caprivi again is opening up for tourists
Since the beginning of 2002, the Kavango an Caprivi regions in North Eastern Namibia have reported greatly increased numbers of tourists. This is mainly due to the fact that this area has once again been considered safe to visit by tourists due to the downscaling of the war in Angola, as well as its natural beauty and wildlife comparable to that of Northern Botswana. The fact that the military convoy has been discontinued during June 2002, has provided further impetus to this perception. (Visitors should however still travel on this road between Bagani and the Kwando river between dawn and dusk, not during night time). An information guide to this region, " En route to North Eastern Namibia" has also recently been published. This guide provides essential information for tourists on Bushmenland, Kavango, Caprivi and Vic Falls in Zimbabwe and should be popular with potential visitors to these regions.
Hennie Fourie
Dear TASA members,
We would gladly like to inform you that the Andoni Gate of Etosha is now finally open for use. This gate is located in the north-east of the park and is the gateway to the North-Central Region of Namibia. The official opening however will only take place next year.
NACOBTA Ondangwa
28 May 2003

Dear All Valued Travellers,
This is to inform everyone planning to travel to South Africa that a new law was passed a few weeks ago stipulating that all visitors to South Africa are required to have a minimum of two blank pages in their passport to enable the entry visa to be issued. If there is insufficient space in the passport entry will be denied and the person is likely to be detained pending return to their country of origin.
Confirmation has also been given from the South African High Commission – Mr. Titus that passports must be valid for at least 6 months anything under 6 months is at the travellers own risk. If a mother is travelling with her children then a letter of consent needs to be signed by the father and certified by the police. If the traveller does not want to get this letter, please advise them that it is at their own risk.
Juanita du Plessis
National Sales Manager
Rennies Travel Namibia

THE RED STONE RESTAURANT IS OPEN!!!
Dear Partners,
It is with true pleasure that we would today like to announce the opening of the "RED STONE" restaurant & cafeteria in Maltahohe which is situated on the grounds of OAHERA ART Center. The Red Stone restaurant & cafeteria is an open air establishment with a cosy dinning area covered with appropriate netting and surrounded with a little stone wall.
The Red Stone restaurant is open 7 days a week from 10:00am until 17:00 in winter and from 10:00am until 19:00 in summer. The meal setup consists of a choice between 2 daily menus with as a main course a choice of fish or meat dish which is priced at N$69.00, as well as alternative smaller menus between N$40.00 & N$50.00, a very popular snack is a cocktail dish of sandwiches & salad for 2 people for a price of N$45.00. In a word the Red Stone restaurant in Maltahohe offers 2 daily menus, lunches, light lunches, snacks and drinks to customers before they embark on their long trip into the Namib desert or to relax a while on their way out.
***IMPORTANT:
Groups bigger than 6 people must pre-book at following contact details:
Web site: click here
Other activities can also be enjoyed at OAHERA Center during or around a lunch, the now better known Daweb Cultural Group with a spectacular Nama / Tswana dancing show (must also be pre-booked), donkey cart rides, visit of our art & craft shop etc... At OAHERA Center & at RED STONE restaurant you can be assured that at all times your clients will enjoy a dedicated & friendly service as well as a pleasant and relaxing stop. (***Facilities available include 4 toilets)
Do not hesitate to contact us if you need any further information about the Red Stone restaurant.
Kind Regards
Anne Gyselinck & Brian Padwick
VAT REFUND
All VAT original invoices must be for a minimum amount of 250 Namibian dollars and show the exact amount of VAT charged.
News Release
Release Date: Monday 14 March 2005

Air Namibia flies to London from July

Yesterday at the ITB travel fair in Berlin, Air Namibia's Managing Director Kosmas H Egumbo announced to the Namibian travel trade and members of the international media that Air Namibia will introduce direct flights between Windhoek and London as from July. Earlier in the week Kosmas Egumbo and Andre Compion of Air Namibia concluded negotiations for the second long haul aircraft.
A similar McDonnell Douglas MD-11 aircraft to that currently used on the Frankfurt route will initially be used on the United Kingdom services until such time as the Airbus A340-300 is introduced. It is anticipated that the Airbus will take over these services in 2006.
Northbound flights will leave Windhoek's Hosea Kutako International Airport on Tuesday, Thursday and Saturday evenings, arriving London Gatwick the next morning. Return services will leave from the North Terminal Gatwick Airport London on Wednesday, Friday and Sunday evenings, arriving Windhoek the next morning. The inaugural northbound service will be operated on Saturday 2nd July.

Schedule:

Depart Windhoek 18h40
Arrive London 04h55
Depart London 21h30
Arrive Windhoek 07h45

End of Daylight Flight:
The flexibility offered by two identical long haul aircraft will allow Air Namibia to do away with the less popular Tuesday daylight operation between Windhoek and Frankfurt as from1 July and replace it with a Monday evening departure. This will increase the demand because passengers will then arrive Frankfurt early on Tuesday morning, in time to make convenient connections to other European centers.

Daily Flights in Each Direction:
The days of operation between Windhoek, Frankfurt and London are closely coordinated so that Air Namibia can offer a daily service, in each direction, between Namibia and Europe. Convenient connections at Hosea Kutako International Airport between their intercontinental flights and Air Namibia's regional services between Windhoek and Johannesburg, Cape Town and Luanda will make the new schedule attractive for traffic between the UK, Continental Europe and the whole of Southern Africa.

Convenient Times for Connections:
London's Gatwick Airport is situated South of London. It is served by the convenient 30-minute Gatwick Express rail service to Victoria Station, in the heart of the city. Express trains are operated every 15 minutes in each direction
The early arrival time of the Air Namibia flights will ensure speedy progress through immigration and faster baggage deliveries. Those who need to make use of road transport will be able to miss the early morning peak traffic.
The departure time of 21h30 from Gatwick Airport London will allow connecting passengers from other centers convenient feeder flight services and those who choose to make use of road transport will be able to miss the peak traffic.

Issued by: Ellison K. Hijarunguru
Manager: Air Namibia Corporate Communications
Life-threatening recklessness at the Canyon
Sven-Eric Kanzler

In the not-too-distant future the Fish River Canyon in southern Namibia might be opened to day visitors as well. Providing guided day hikes into the more than 500-metre gorge has been under consideration for quite some time and is intended primarily to improve access control. But it is not yet clear if and when such day hikes will become a reality.

The proposals were given fresh impetus in the middle of September when a German holidaymaker went missing in the canyon. The 63-year-old climbed down from Hiker's Point near the main lookout point at ten in the morning without water and despite very visible signposts prohibiting descent. His wife stayed behind. In the canyon he met a group of hikers who later saw him climbing up again. But he never arrived at the top.

Nature Conservation personnel, staff from the neighbouring Gondwana Cañon Park and members from the Police and Defence forces – including a helicopter – participated in the search, which was called off after nine days. With temperatures rising to over 40 degrees, the chances of finding the man alive were already very slim three days into the search. "This is the first time we've been unable to find a missing person," says Patrick Lane, Chief Control Warden for Southern Parks of Namibia. "It is broken terrain, and he might have sought shelter under a rock."

The cost of the search is estimated at more than N$240 000 (about 30 000 Euro): N$120 000 for the helicopter, N$14 000 for the rescue service SOS International, about N$80 000 for Nature Conservation, the Police and Defence Force and about N$25 000 for participating staffers of Gondwana Canyon Park and the provisions supplied by Cañon Lodge to the search parties. The missing man's wife is paying for the helicopter and the rescue service, while the Government and Gondwana Cañon Park have waived reimbursement.

This is not the first fatal incident in the Canyon. A young Frenchman lost his way and plunged to his death in February 2001. Since then day visitors are no longer allowed to climb down into the gorge. Offenders are fined N$300 (about 37 Euro) if they are caught. But many are unimpressed by the fine and don't take the ban seriously. They overestimate their fitness and ignore the danger, especially as the descent seems relatively easy. Usually it is still cool when they start and the path is well visible from the top. The way back is a completely different story: it is far more demanding, the sun beats down and heats up the rocks, you are perspiring a lot, feel thirsty and often find it difficult to identify the path from below. When you realise you're in trouble, it's too late.

Guests of the Gondwana Cañon Park are informed routinely when they arrive that descending into the canyon is life threatening and therefore prohibited. They are advised to hike along the canyon's edge instead or make a booking at Cañon Lodge for a scenic flight. Those who feel they have to climb down into the canyon can go on the 80-kilometre hiking tour from Hiker's Point to Ai-Ais in winter (mid-April to mid-September).
Border between two-country park soon to open
Sven-Eric Kanzler

The Ai-Ais/Richtersveld Trans-Frontier Park in southern Namibia and north-western South Africa will soon be a cross-border park not only in name but also in practice. Experts from both countries met at Cañon Village on 14 and 15 September to discuss steps for making the park more accessible to tourists. Talks are currently being held about opening the border crossing at Sendelingsdrift on the Gariep/Orange River to establish a direct link between the two parks. Both countries confirmed the joint conservation area in an agreement in July 2003.

The meeting concluded that more data was needed on geology, climate, plants and animals, but also on the population and land utilisation. "We extended the research area to include the entire lower course of the Gariep/Orange," explained Dr Fanuel Demas, Deputy Director of the Planning Department in Namibia's Ministry for Environment and Tourism. Thus a 30-kilometre strip north and south of the river, from its mouth right up to Augrabies Falls near Upington, is now included in the park. Demas was joined for the meeting by 17 representatives of the two countries' ministries of the environment, national parks, the Peace Park Foundation, the Biodiversity Monitoring Transect Analysis (BIOTA) and experts in geology, soil, water and fisheries, as well as delegates from local communities.

BIOTA

The Gariep Transfrontier Study Group was formed for collecting data. It answers to the Joint Management Board of the two countries, which in turn reports to the office of Peace Park Project Co-ordinator Dr Peet van der Walt in Pretoria. A large part of the financing may possibly be secured through the BIOTA Project. Sponsored by the European Union, it has been compiling extensive data on biodiversity in Southern Africa for years. "This initiative would fit in perfectly with BIOTA's phase III, which is about putting findings into action," said BIOTA Chairman Professor Norbert Jürgens. Decisions about possible subsidies are expected shortly.

Data on the land bordering the Gariep River's lower course is intended for zoning. Sections may be set aside for possible mining activities, with some parts being put under special protection due to the diversity or occurrence of unique plants and animals. Others may be ideally suited for tourism. The interests of local communities are also important.

Sendelingsdrift

The border crossing point at Sendelingsdrift south of Rosh Pinah holds a pivotal position for tourism. There is a simple ferry which, since Namibia's independence in 1990, has been used only by people who have obtained special permission. This is about to change. "We are looking into registering and insuring the ferry," Fanual Demas announced. "The mining companies Scorpion Zinc, Rosh Pinah and Namdeb have offered to finance a building with offices for border officials and nature conservation staff."

This border crossing would shorten the connection between the Namibian and the South African section of the Ai-Ais/Richtersveld Trans-frontier Park by about 300 km. Since the border currently has to be crossed at Noordoewer, the distance from Ai-Ais to Sendelingsdrift via Steinkopf, Port Nolloth and Alexander Bay is around 450 km, whereas it is only about 160 km from the Namibian side. But the ferry could also open a totally new route from Cape Town along the West Coast and across Richtersveld into southern Namibia. Another highlight on this route is about to become a reality: the Restricted Area is to be proclaimed a national park and opened up for gentle tourism.
Namibia: Another Gadget for Self-Drive Tourists
New Era (Windhoek)

3 August 2007
Posted to the web 3 August 2007

Wezi Tjaronda
Windhoek

Namibia has joined the few countries in the world that offer their self-drive tourists important information in the comfort of their rented cars.

First developed in neighbouring South Africa, Namibia became the second to have a radio station designed to give tourists information related to the geographical location the vehicle is in, but the first to cover the whole country.
Information from elsewhere indicates that Namibia is one of the most popular self-drive 4x4 destinations in the world.
Tourism Radio Namibia (TRN) is a new location-based information service that allows self-drive tourists to gain maximum pleasure out of their travel through Namibia. It comes in the form of a small device, which is easily installed into a vehicle's power source and uses Global Positioning System (GPS) technology to broadcast interesting information relevant to the area, which the self-drive tourist is travelling through.
"The service is offered throughout, from the Orange River to Katima Mulilo, and from Walvis Bay to Buitepos, southern Zambia and northern Botswana," said Tourism Radio Namibia Marketing and Sales Officer, Frans Burden, yesterday.
The device was first developed and launched in Cape town, South Africa and came to Namibia and Spain where research and information to be put into the device are ongoing.
In Namibia, Burden said, the process of loading all information would be complete this month.
The idea behind the radio, which is only broadcast inside the vehicle, is to inform self-drive tourists about Namibia and the sites they can look forward to seeing and road safety tips. The station also broadcasts fun and lighthearted shows that keep tourists informed and entertained.
The GPS intelli-point system also draws the tourist's attention to various points such as traditional restaurants, an accommodation spot and historical landmarks as the vehicle passes by.
Burden said the same intelli-point system alerts drivers about road hazards, high accident areas and other invaluable road safety information, as well as tourism-related information such as destinations, hotels, restaurants, service stations and internet cafés.
Although the device is still being developed, with the company still pre-recording information of all the popular tourist routes, Burden said car rental companies have shown great interest in the product.
However, the problem is that the company cannot meet the increasing demand, said Burden. He said the company plans to have about 1000 devices in place by early January 2008.
Swiss tour guide stabbed at Omaruru Lodge
The Namibian (Windhoek), Adam Hartman

23 April 2010
Tour guide Susanne Schafer, who was leading a group of 23 European tourists, was attacked and stabbed in her room at a lodge near Omaruru on Monday. She was taken to hospital where she was treated for the shoulder wound and stayed there overnight.
Taxi strike - Namibian Consumer
Divayi community holds peaceful demonstration - by Wilfred Nyambe

Published: January 10th, 2011

The Divayi community in the Mukwe Constituency of the Kavango region held a peaceful demonstration on Friday, demanding the immediate closure of the Ngepi Camp.

The villagers claimed that the owner of the Ngepi camp did not follow the correct procedures of acquiring the piece of land where he erected the camp as he did not consult the villagers and the Hambukushu Traditional Authority, for the land to be allocated to him.

They therefore called on the owner of Ngepi to vacate their ancestral land, as he is an illegal occupant.

The villagers who gathered in the flood plains, were not even deterred by the light showers received in the area and continued with their peaceful demonstration, carrying placards, singing and chanting slogans.

They are calling for the immediate closure of Ngepi Camp and that the owner should vacate the area immediately.

The villagers also claimed that the owner of the camp, has allegedly restricted them from entering his premises.

They further claimed that the camp owner does not allegedly want to employ some of the locals and they cannot even generate income from the camp by selling firewood and reeds as they are not allowed to enter the premises.

They therefore feel that the camp owner does not have their interest at heart, as they do not have direct benefits in the form of employment opportunities and income generating projects.

The disgruntled villagers further alleged that the few workers from Divayi village who were recruited in the camp were all dismissed for no apparent reason.

They further charged that workers from the Divayi village are being paid lower salaries compared to their fellow workers who come from other villages, although they perform the similar jobs.

Another concern raised by the villagers, is that during floods when the road leading to the camp gets flooded, he constructs new roads in between the villager's crop fields without their approval.

The villagers had already blocked the road leading to the camp, using chopped trees, which they laid across the road.

Their petition was received by the Ndiyona Constituency Councilor, Hildegard Mangundu, on behalf of the Mukwe Constituency Councilor, Christian Muriki who is currently out of the region.

Mangundu promised to forward the petition to the relevant authorities.

Meanwhile the owner of Ngepi Camp, Mark Adcock refuted the calims as baseless and devoid of any truth.

Adcock said regarding the land ownership issue, he is in possession of a letter signed by the Hambukushu Traditional Authority and the Ministry of Lands and Resettlement, stating his rightful occupation over the land.

In response to the villagers' claims of the camp not employing locals, Adcock said the Divayi community feel they are the only people entitled to work on the camp, but he maintains that he has the right to employ anyone, capable of working on the camp, including foreigners if such a need arises.

Adcock also explained that in the past, he had an open door policy, that allowed the villagers to enter the camp without any restrictions, but he became more strict after allegedly receiving death threats from the villagers, of which some allegedly led to cases of attempted murder inflicted on him and his workers by certain members of the community.

Adcock added that this prompted him to obtain a High Court order, restraining community members from entering the camp, interfering with the business operations of the camp or making any threats against him and his staff.

With regard to labour issues, he advised the community to make their complaints through the right channels, such as the Labour Office, the Office of the Ombudsman or through the regional council.

Pertaining to the villager's demand for him to vacate their ancestral land, Adcock said he is more than ready to leave the area, but will only do so if he was compensated the 25 million dollars, which is the value of the Ngepi Camp.

Adcock denied the villager's claims of him constructing roads between their crop fields, saying he used to have meetings with the owners of the crop fields, where he would compensate them a thousand dollars to construct a temporary road in their fields, just for period of floods.
29.06.11
Hambukushu leader opposes Ngepi Camp liquor licence
By: OLAVI HAIKERA
THE leader of the Hambukushu Traditional Authority, Chief Ervin Munika Mbambo, wants the liquor licence of Ngepi Camp revoked by the Rundu Magistrate's Court.

The Hambukushu Traditional Authority in April this year formally launched a court appeal against the decision to renew Ngepi Camp's special liquor licence.
Chief Mbambo argued in his affidavit that the Ngepi Camp owner, Mark Adcock, is an illegal occupant of the land, as he does not have a title deed or leasehold agreement from the Ministry of Lands and Resettlement and from the traditional authority.
The Hambukushu leader stated that his traditional authority cancelled the leasehold agreement with the Ngepi Camp owner in 2010.
"The reason for cancelling it was because the Ngepi Camp owner breached the agreement when he fenced off a piece of land illegally. We regard that action as illegal and a breach of the agreement," Mbambo said in his affidavit.
The court hearing of the appeal is scheduled for July 14.
Windhoek-based lawyer Norman Tjombe will represent Adcock, while the Hambukushu Traditional Authority will conduct its own defence.
Mbambo has been calling for the owner of Ngepi Camp to leave the area since early this year.
The camp is situated 210 kilometres southeast of Rundu in the Mukwe constituency of the Kavango Region.
The camp's special liquor licence, which was issued on March 16 this year, enables it to operate from 10h00 to 02h00 from Monday to Saturday, and between 10h00 and 12h00 on Sundays.
The liquor licence expires on March 31 next year.
People at the nearby Divayi village staged a demonstration in January this year, demanding the immediate closure of Ngepi Camp and the removal of Adcock from their ancestral land.
Ngepi Camp provides a campsite and accommodation facilities for tourists visiting the area.
– Nampa
22.08.2011
Elephant kills tourist
By: NICO SMIT
SPANISH tourist Jordi Blasi became the latest victim of an elephant attack last week which cost him his life.

The incident occurred at the Purros campsite in the Kaokoveld area on Thursday last week at approximately 17h00. Blasi and his wife were returning to their campsite, when he parked their vehicle too close to the campsite reception to pay for their accommodation.
The forty-seven year old Blasi then walked along a bush path through thick undergrowth where he came across two elephants. The Namibian is told that the elephants did not stomp on Blasi, but grabbed him with their trunks and threw him into the air no less than three times.
A source close to the incident said that a different group of tourists attempted to take photos of the elephants earlier in the day, which may have angered the animals. Apparently neither Blasi nor the elephants were aware of each other until it was too late.
Blasi allegedly fell close to their rental vehicle the third time he was thrown into the air, and The Namibian is told that the elephants approached the vehicle, coming relatively close to it, and Blasi's wife had to hide underneath a blanket in the car.
After some time, the elephants moved away and when other tourists inspected Blasi's body, they found that he was already dead. The source said that Blasi had been totally innocent in the incident and he had not provoked the animals.
The Barcelona resident's body and his wife were transported to Windhoek on Friday, and arrangements have been made for the body to be transported back to Spain.
All recent posts will be published at

Page created and serviced by



www.namibweb.com

Copyright © 1998-2023 namibweb.com - The online guide to Namibia
All rights reserved | JOIN | VIDEO PORTFOLIO | VIDEO/PHOTO COLLECTION
Telegram | YouTube | Blog
Page is sponsored by ETS & Exploring Namibia TV
Disclaimer: no matter how often this page is updated and its accuracy is checked, www.namibweb.com and ETS
will not be held responsible for any change in opinion, information, facilities, services, conditions, etc. offered by
establishment/operator/service/information provider or any third party