MONDAY:
Departure at 07h30 from Windhoek Station. Welcoming drink - juice, coffee and tea. Breakfast will be served from 09h00 onwards. Lunch will be served from 12h30 onwards. Late afternoon excursion near Keetmanshoop. Three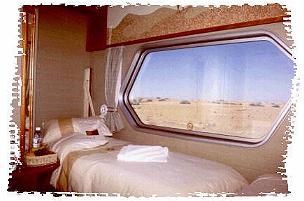 course dinner, accommodation on board.
TUESDAY:
Arrival at approximately 10h00 at Aus. Transfer by coach from Aus to Luderitz with expected arrival time at 11h30. Welcoming drinks, lunch and afternoon at leisure (see info pack provided in room). Seafood dinner and overnight at Nest Hotel Luderitz.
WEDNESDAY:
After breakfast, a guided excursion at 09h00 to Diaz Point. Lunch at Nest Hotel, check out, one hour visit to Kolmanskop ghost town, and transfer back to Desert Express in Aus. Expected departure time from Aus is 16h00. Three course dinner at 19h00 and 21h00, overnight on board.
THURSDAY:
Breakfast will be served from 08h30 onwards. Expected arrival time in Windhoek is at 11h30.
DEPARTURE DATES: ON REQUEST
BOOKING CONDITIONS

HOW TO BOOK:
All bookings are to be done in writing.
INSURANCE:
It is recommended that the passenger is in possession of valid travel insurance.
SMOKING: Only in the smokers' lounge, which is in the bar area but nowhere else. There are two sections: a smokers and non-smokers. The rest of the train, especially the restaurant and the
compartments are NO SMOKING ZONES.
Contact:


E-mail: info@namibweb.com
To book:
1) you can e-mail us requesting information and/or rates
Reservations are only accepted in writing: by fax or via e-mail.
Final availability confirmation: in writing: by fax or via e-mail.
Terms & Conditions, Payment options and Cancellation policy
Related links:
Accommodation in the area:
Page created and serviced by



www.namibweb.com

Copyright © 1998-2023 namibweb.com - The online guide to Namibia
All rights reserved | JOIN | VIDEO PORTFOLIO | VIDEO/PHOTO COLLECTION
Telegram | YouTube | Blog
Page is sponsored by ETS & Exploring Namibia TV
Disclaimer: no matter how often this page is updated and its accuracy is checked, www.namibweb.com and ETS
will not be held responsible for any change in opinion, information, facilities, services, conditions, etc. offered by
establishment/operator/service/information provider or any third party
Pictures, itineraries, description and logo: Copyright © Desert Express