Bwana Tucke-Tucke: Paul Graetz Tour
On the wheelsteps of the first crossing of Africa by motorcar 1907-1909. Historical adventure safari for self-drivers and travel companions from Dar-es-Salaam in Tanzania to Swakopmund in Namibia.
Itinerary This trip will be conducted on an annual basis - always from 10 August to 12 September with the only true Paul Graetz expert Mr. Carsten Möhle.
Tanzania: Dar-Es-Salaam-Mikumi-Kilosa-Kilimatinge-Tabora-Nyanza-Kigoma-Uvinza-Lake Katavi (10 days)
Zambia: Kituta-Kalombo Falls-Kasama-Shiva Ngandu-Kasanka-Kidalila Falls-Lusaka-Livingstone (9 days)
Zimbabwe: Victoria Falls-Hwange-Matopos (3 days)
South Africa: Johannesburg (3 days)
Botswana: Palapye-Sua Pan-Maun (4 days)
Namibia: Gobabis-Windhoek-Spitzkoppe-Swakopmund (4 days)
History
The following is a brief summary of the first crossing of Southern Africa by car, done by the German pioneer Paul Graetz from 1907 to 1909.
It was in 1907 when First-Lt. Paul Graetz ended his service with the East African Schutztruppe. During his tour of duty his orders were to build a road for motor cars from the coast to the border where he was stationed. At that time all heavy work was done by carrying the materials on black heads, consuming time and tremendous effort enduring heat, torrential rains, many cold nights and running the dangers of contracting malaria and black-water fever.
During his military service the young lieutenant grew to believe that the general use of motor vehicles could solve the problems of transport in Africa. So Graetz set to work to cross the continent from the East to the West by car. A fantastic idea involving hazards, obstacles and dangers. There were no mapped roads, nor were distances measured other than by hours on horseback. Parts of the country were infested with the deadly tsetse fly and plagued by mosquitoes. There were no filling stations anywhere and many waterless stretches. All previous attempts had failed, and both men and animals had fallen victims to the tsetse.
Dar-es-Salaam to Swakopmund
Graetz and his friend Von Roeder planned with utmost care. He ordered a car built to his special design at the Motoren -Werke Gaggenau in Germany, (today a branch of Daimler-Chrysler, where the famous Unimogs were assembled) and its chassis was constructed 30 sm. higher off the ground than normal. The motor works engaged a mechanic as a chauffeur, and he reached Dar-es-Salaam by boat.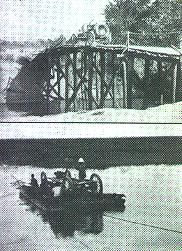 It was a great day when they landed, watched by doubting crowd. Everybody had learnt about a former effort by Troost in South West Africa, who had tried to fight the deep sands between Swakopmund and the interior with a locomotive power, ending in the well known "Martin Luther". Among the crowd at the harbour were a few predicting the same fate for this car.
Graetz published the book: Im Auto quer durch Afrika, relating the course of his expedition, which has become rare Africana. Although it went through a second edition, most probably it suffered the fate of being forgotten during the two World Wars. It reveals the valiant effort to open our sub-continent by one man with an unusual, selfless idea. Graetz planned not only the construction of the car in all details, the road courses, the waterless stretches, the conditions of the Kalahari, the mountains to be traversed, the rivers to be crossed with or without bridges or ferries and - most important - the petrol stations to be established beforehand at reasonable distances. This way done by a Boer and his ox - wagon, the places marked by a tree adorned with a cross - bar and the name "GRAETZ" painted on it. Graetz's book makes fascinating reading. The reality was overwhelming in all details. Graetz, Von Roeder, their chauffeur-mechanic and the faithful native Mzee were imperturbable. The many breakdowns happened in succession.
The first was burst cylinders soon after they had passed Morogoro. The chauffeur went back to Germany, sick with malaria and black-water fever and then was too sick to return with the cylinders. The motor works engaged another mechanic, not very experienced and, for safety's sake, sent their own engineer to survey the repairs. More delays occurred later in British East Africa. But whenever the expedition felt at its lowest point, unexpected help arrived. They engaged teams of oxens to trek the car; once a team of natives helped; the children of the country ripped bark from trees, wowed it into strong ropes and pulled the car.
When they followed roads made by ox-wagons they encountered another difficulty - the difference of the wheel base. When the car drove into the wagons rut, it had to be lifted to the higher side with much sweat and patience.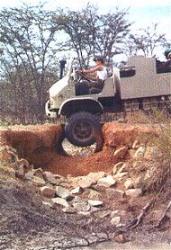 Three times out of five the petrol depots the expedition discovered that all the tins were empty. They had not been sealed tightly enough, and the valuable stuff had evaporated, luckily the oil and the spare tyres were in perfect condition. This happened in Northern Rhodesia, near a mission station. The Rev. Moffat, well known to South Africans, offered friendly hospitality, and sent messengers to Bulawayo for supplies.
During the wait they half despaired and doubts crept into their minds. When, after four weeks, they heard the monotonous singing of natives approaching, they must have felt like Columbus when he first glimpsed land! Grateful for Moffat's hospitality, they lost no more time. Graetz decided to change his original plan, and travelled to Udjiji, and from there down to Lake Ngami to Bismarckburg by boat.
At Bismarckburg a farmer arrived with fresh produce for sale and offered to go with the expedition. The chauffeur broke his contract and went home. This farmer had heard about the existence of motor cars, but had never seen one. He had its workings explained and learned quickly. Graetz taught him driving, and was always helpful, full of good humour and untiring. When they reached Bulawayo he wished to return home. There Graetz had the car thoroughly examined and chauffeur No. 3 was engaged. An experienced man, Henry Gould went with Graetz to the end in Swakopmund. He had excellent mechanical knowledge coupled with an intuition to repairs that seemed "not repairable" like broken shafts, broken steering wheels and a bent chassis.
Before this happened one of the most excruciating experiences was the crossing of the huge rock Kampi ya fundi in the middle of an otherwise plain landscape. Over this height even the native carriers had great difficulty traversing the cragged stones and chasms, with loads on their heads. Graetz decided to go over it - for to the left and right were swamps, both wide and impassable. The car was taken to pieces, except for the chassis, which had to stay in one piece.
All joined forces to dynamite a path wide enough for eight Askaris to toil with this heavy weight. They succeeded in crossing over in three days. Now the car was to be rebuilt to reduce its weight. No headlights, no exhaust pipe, no mudguards. One can imagine the noise, but to the men it was music after each breakdown.
When it came to the crossing of the Kalahari there were deep sands, heavy, torrential rains, mosquitoes, sleepless nights, hunger and thirst. Bechuanaland was the English protectorate under the Administrator, but it had its own king, Khama (a great admirer of Queen Victoria).
In Bulawayo Graetz learnt that his funds were exhausted. He had enjoyed no backing by the motor trade nor by any newspaper.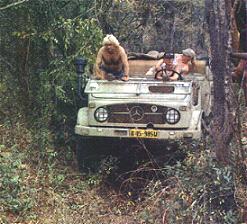 He had paid all the costs of his expedition, an estimated 75,000 Marks (1 pound - 20 Mark in former gold currency). The cold advise given him was sell the car and pay the debts from the proceeds. Sell the car - after 5,000 km of travel? Pondering the situation Graetz remembered the photos he had taken all along the way - landscapes, accidents and repairs. With the small amount left he paid his urgent debts and found a photographer willing to develop his pictures and giving him advance. Friends in Port Elizabeth, not wanting the general public to learn about his difficulties, started a collection resulting in sufficient funds for Graetz to continue his crossing to the Atlantic.
During all the stages of dismantling, through rivers, under heavy rains, being stuck in swamps Graetz had taken great care to preserve his photos. Now they might be his rescue. And they were. Shown on the screen in Johannesburg at a lecture, they met with good success. They illustrated all the accidents, the repairs in wild country, the broken spokes, bent wheel axles, but not the heat they suffered. Gould, the expert mechanic, always found means to straighten whatever was needed with patience and intuition.
The expedition eventually reached the English-German border at Rietfontein and Graetz halted the car, front wheels on German soil, back wheels still on the English side. Both flags were raised and the emblems stacked on posts. Graetz remembered with deep gratefulness the unstinted assistance they had received by every magistrate, policeman and civil servant en route.
From Rietfontein messengers were dispatched to the nearest town, Gobabis. Sterbe (of horses) and malaria had taken a heavy toll on both men and horses. They had to call for a new magneto, as even Gould could not bring it to spark. The few men at this outpost cared well for Graetz and Gould. During a period of thirst Gould had swallowed petrol in his despair and fell dangerously ill. Graetz nursed him day and night, fell asleep for 24 hours, got drenched in rain and crept into the tent, while Gould slept on, woke up shivering with a high temperature and needed more careful nursing.
Both men showed the strain of long months in clothes and a much needed hair-cut was given to make them look like civilized humans. As they were now rather "near" their final destination patience had grown thin and, to reach Gobabis, they went on by oxen. Gobabis was a comparatively big station with telephone connection to Windhoek. From there two magnetos were sent and the car was fit again for the last lap. The thick sand of the Nossob river promised no plain sailing. A hidden tree stump broke an axle. Windhoek's Commandant had another made from a cannon chassis. There were naturally a few receptions. Graetz found his uniform, sent in advance, dressed properly for the occasion but had his mind set on going on.
He was surprised by the streets of this "capital" in their poor and dusty condition. The urge to manage the last lap to the sea did not let him to rest longer than politeness demanded. With only minor mishaps, passing Okahandja, Karibib and Usakos, he entered the Namib Desert, an unexpected sight after the rich vegetation of East Africa. No vegetation could be seen there except for the milkbush, and a few struggling blades of grass. With all the noise of his car they managed the last dunes, and there before their eyes was "Martin Luther", and in the distance the Atlantic.
During these years of pioneering Graetz gained not only the experience rare of motor travel through unknown country, but also many wonders of beautiful sights. The expedition lasted 630 days. At the Hotel Kaiserhof Graetz received telegrams from King Edward and Kaiser Wilhelm, congratulating him on his success.
In all history many great feats of courage and endurance have been performed. They should all be remembered and Paul Graetz will never be forgotten.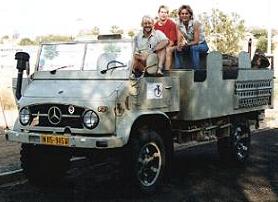 Mr. Carsten Möhle and his "Graetzmobil". November 1999, Windhoek
Reproduced with a permission from the copyright owner Mr. Carsten Möhle.
Copyright © Mr. Carsten Möhle and Bwana Tucke-Tucke
Page created and serviced by



www.namibweb.com

Copyright © 1998-2023 namibweb.com - The online guide to Namibia
All rights reserved | JOIN | VIDEO PORTFOLIO | VIDEO/PHOTO COLLECTION
Telegram | YouTube | Blog
Page is sponsored by ETS & Exploring Namibia TV
Disclaimer: no matter how often this page is updated and its accuracy is checked, www.namibweb.com and ETS
will not be held responsible for any change in opinion, information, facilities, services, conditions, etc. offered by
establishment/operator/service/information provider or any third party