Usakos
Town in Namibia
Erongo Region
Usakos (Damara: grab the heel, Otjiherero name: Okanduu) is a city on the banks of river Khan, 140 kilometres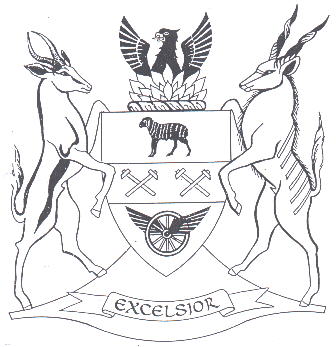 north-east of Swakopmund in the Erongo Region of Namibia. It is located on the B2 (Trans-Kalahari Highway), the main road between the Walvis Bay and Johannesburg. The town has 3,000 inhabitants and owns 58 square kilometres of land. Usakos was scheduled to be downgraded to "town" status before November 2010.

The settlement was founded in 1900 as a watering station for locomotives when railway construction workers from Otavi Minen- und Eisenbahngesellschaft (Otavi Mining and Railway Company) (OMEG) arrived here on their way from Swakopmund to Tsumeb. Surrounded by mountains, Usakos is quite picturesque. Certain spots around the town show the longest uninterrupted horizon in the world. It is the closest town to the Spitzkoppe, often referred to as the "Matterhorn of Namibia".
Usakos historical railway sheds and water towers
YouTube video of Camp Mara video, Omaruru area:
YouTube video of Tikoloshe Arts & Crafts Omaruru video:
Development and infrastructure

Usakos is the junction of the branch railways to Tsumeb and the Angolan border, Outjo and Grootfontein from the line to Windhoek.
Politics
Local authority results, 2010

In the 2010 local authority election, a total of 1,029 votes were cast in the city. SWAPO won with approximately 47% of the vote. Of the three other parties seeking votes in the election, UDF received approximately 31% of the vote, followed by RDP (17%) and COD (4%).
Notable residents

Usakos is the hometown of prominent politicians Alpheus !Naruseb and Tsudao Gurirab. Michael Goreseb represented the town politically as well.
The first town in the east of the Namib Desert on the main B2 road from Swakopmund, Usakos lies on the southern bank of the Khan River, nestled in the last hills before the Namib, at the edge of a vast expanse of gravel plains. The town originally developed around the railway workshops which were built to service the narrow-gauge Otavi line, completed in 1906. Unit 1960, the town prospered. Nowadays the town's main role is one of service centre to vehicles plying their way to and from Swakopmund / Walvis Bay and Windhoek. As a reminder of the town's heyday, Locomotive No. 40 stands in front of the railway station, one of three Henschel steam trains built in Germany for her colony's narrow-gauge railway.
Phone code: 064. Police: 10111.
Coordinates: 22°0'S 15°36'E
Country: Namibia
Region: Erongo Region
Constituency: Karibib Constituency
Established: 1900
Population (2010):
• Total: 3,000
Time zone: South African Standard Time (UTC+1)
Facebook group: https://www.facebook.com/groups/usakos.namibia
Contact & information:
E-mail: info@namibweb.com
Reservations are only accepted in writing: by fax or via e-mail.
Final availability confirmation: in writing: by fax or via e-mail.
Terms & conditions, Payment options and Cancellation policy
Page created and serviced by



www.namibweb.com

Copyright © 1998-2024 namibweb.com - The online guide to Namibia
All rights reserved | JOIN | VIDEO PORTFOLIO | VIDEO/PHOTO COLLECTION
Telegram | YouTube | Blog
Page is sponsored by ETS & Exploring Namibia TV
Disclaimer: no matter how often this page is updated and its accuracy is checked, www.namibweb.com and ETS
will not be held responsible for any change in opinion, information, facilities, services, conditions, etc. offered by
establishment/operator/service/information provider or any third party