Spitzkoppe Rest Camp, located off main B2 road to the coastal town of Swakopmund in Namibia, has recently been privatised.
Welcome to Spitzkoppe Rest Camp and experience camping next to famous Spitzkoppe Mountain!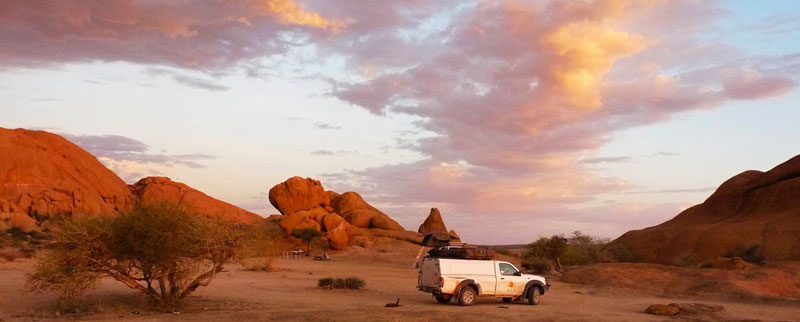 Experience this stunning, serene picturesque and ancient area by staying over at one of our chalets, or camping at one of the 40 camp sites.
Safe, secluded and away from the hustle and bustle of daily life, you will be completely engulfed by tranquility and serenity.
The Spitzkoppe Camp offers 3 thatched chalets (discontinued), which sleep 2 adults each and are fully equipped and self-catering (there is a braai area in front of each bungalow: bring own cutlery, crockery etc.).
12 new camping sites are being upgraded with running water, flush toilet, sleeping platform, solar electricity and a braai. Camp has a restaurant and an ablution block with showers. Views of Spitzkoppe and Pontok Mountains are magnificent and included in camping fee.
History of Namibia: Farm Spitzkoppies
Computerised and modern reception facilities, with EFT deposits, enhances the seamless experience.
The camping sites are managed by the Spitzkoppe Group, on contract from the community, with people from the community. Donkey cart rides make for an effortless, green, quiet and interactive experience with this mysterious mountain.
A day trip (with picnic basket) visits the 10 most outstanding sites in and around the mountain. No dogs are allowed at the camp.
YouTube aerial and ground video of Spitzkoppe:
Chalets at Spitzkoppe Rest Camp: DISCONTINUED

Our 5 chalets have been upgraded with linked ablution and self-catering features.

Camping at Spitzkoppe Rest Camp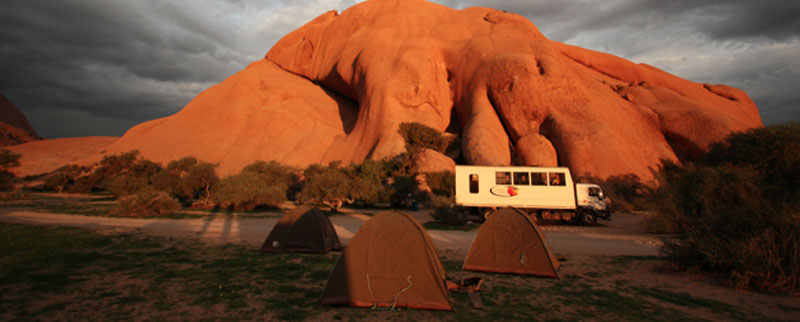 Camping at Spitzkoppe is world famous. A mountain oasis in the Namib desert, with unique over sized boulders and secret caves, allows the visitor to camp in complete peace and tranquility.
With the majestic Namibian "Matterhorn" as backdrop, and with the next camping site kilometers away, each visitor "owns" the mountain during his time with us.
Please peruse our gallery for photos depicting typical Spitzkoppe landscape, your camping environment.
Maximum 8 persons per site
Dry toilets at each campsite
Hot showers are available near reception
Rubbish removal from campsites daily by community with donkey cart
31 campsites available
Campsite numbers 2,3,4,5 are overlander only
YouTube aerial and ground video of Spitzkoppe Village:
GPS Coordinates of Spitzkoppe Rest Camp: -21.839548, 15.201605.

Please note that in strict compliance with the Namibian Heritage Act and Environmental Laws, a complete Environmental Impact Assessment of the whole Spitzkoppe Mountain, with a resulting Area Management Plan, has resulted in guidelines protecting our Mountain and Rock paintings.

Activities at Spitzkoppe Rest Camp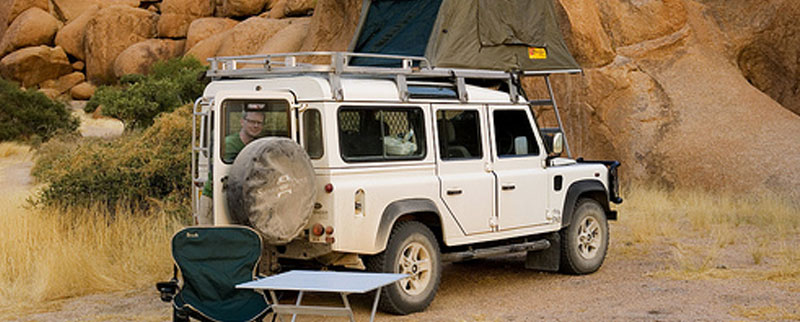 The Spitzkoppe Mountain is an isolated and unique environment on the interior fringe of the Namib desert. Not only does it showcase the most striking geological formations in Namibia, it also offers the biggest collection of diverse rock art sites in Namibia. Close to 40 sites clearly shows art from our hunter-gatherer ancestors, dating back to the introduction of livestock in the last millennium. To have visited Namibia, one must tick visiting the Spitzkoppe Rock Art on your list of "to do's". These sites can be visited by means of guided tours or by obtaining a permit at reception. Tours or self drive can also include visits to unique rock formations like the "bridge" or pools. A new 20 hectare game area is also being upgraded with secluded camping and access routes. A favorite activity is to take a guide with a donkey cart and visit, over a two hour period, the Bushman's Paradise and other historical sites. Maybe with a picnic basket?
In addition we have an abundance of hiking trails and bird watching excursions. The threatened Damara Tern, a small bird occurring mostly at Spitzkoppe, is a famous part of our Fauna and Flora. It is also possible that you might see a swarm of Namibian redfaced lovebirds in one of the huge fig trees at your campsite.
One special and internationally acclaimed feature of and a typical Spitzkoppe activity, is rock climbing. Individuals and teams from all over the world make use of the unique rock-face opportunities here, in routes of different grading, for you protection and relaxation. Spitzkoppe is the perfect place from where to experience and explore the rest of Damaraland. Swakopmund, Brandberg, Erongo, Uis and Henties Bay are all within a ninety minute driving distance. We are developing two and three day hiking trips, hot air ballooning, horse riding and much more for the future. We welcome your proposals to further appreciate this special place through activities.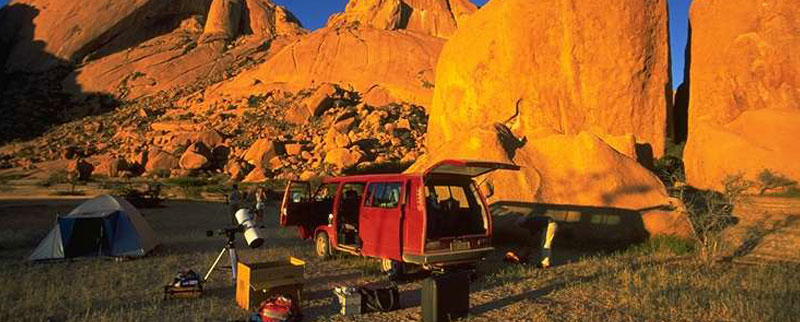 - Enjoy guided walks to the many rock art sites

- Go trekking on and around the mountain

- Go rock climbing (bring your own equipment)

- Bar with cold drinks available and light meals can be served on a pre-booked basis

- Services of local guides
Spitzkoppe Community Conservancy

In 1896, a trading post was built by the German Colonial Society at the foot of the Spitzkoppe. It was transferred later to the Farmer Jooste and a police station was built (Foundation walls still exist under Pontok 4).

In 1964, under the so-called Odendaal plan of the Odendaal Commission for the creation of home territories for the black population, the farm was expropriated with compensation. Multiple Damara families were moved here in early 1970's and a village with a church and a school developed.

The Spitzkoppe Community (currently ± 500people) has since lived in the area, eking out an existence through some livestock farming, small mining of semi-precious stones and craft manufacturing to be sold to tourists. The people are governed by the !OE ≠Gan Tradisional Authority under the present, highly successful leadership of Chief Immanuël ≠Nu-Axa/Gâseb.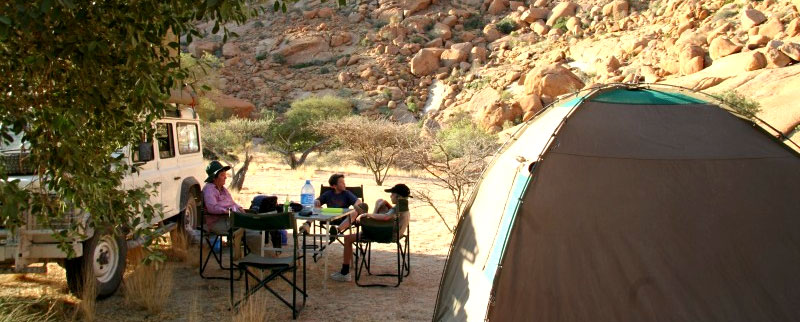 In May 1995, the Ministry of Environment and Tourism (MET) approved Namibia's Community-Based Tourism Policy. Then followed the Nature Conservation Act of 1996, which allowed for the formation of communal area conservancies. The Act granted communities, who formed conservancies, the authority to manage and utilize wildlife, and to grant certain rights in relation to tourism and to benefit from activities within their conservancy area. Spitzkoppe is situated within the #Gaingu Conservancy, a joint venture agreement was signed during mid June 2012 between the Spitzkoppe Community Development Association and Quiver Tree Investments 38cc, to lease and manage the campsite for a ten year period. A capital investment of N$ 1 million has been made to upgrade the existing infra-structure and profits are shared on a 50/50 basis.

The people live in an area with very limited water resources. Water scarcity places a constraint on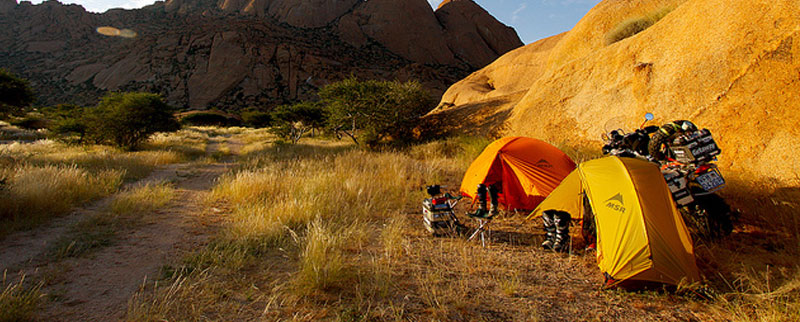 community income generation and development opportunities.
The existing water resources are over exploited and to ensure future water security, the community has to take sustainable water management into consideration in their daily lives and business ventures, including tourism. The private investor re-equipped an existing damaged borehole with a new solar pump installation to supply water to the Camp and Community as well as a new vegetable garden, which was developed to supply fresh produce and create another source of much needed income.
Elderly, retired members of the community are employed to maintain the garden.

The investor has also commissioned an Area Management Plan, derived and based upon a previously done EIA, also by the investor, and in conjunction with the Heritage Council of Namibia, act as custodians for the proper conservation of the area, including its wildlife, rock art and archeological treasures.
29 kilometres off the main B2 road (turn to D1918 road to Henties Bay and after 18 km to D3716) between Usakos and Swakopmund. The site is accessible with any sedan vehicle. GPS: S21.83977 E-15.20162.
Number of persons at camp site: maximum 8 pax.
Guided walks on request - visits to rock art sites. Rock climbing (bring own equipment), donkey cart rides, photography.
Camping site at the base of Spitzkoppe Mountain, toilets and showers are available at near the reception area. Bar with cool drinks.
Entrance fees are payable on arrival.
Brandberg Mountain, Swakopmund
Rates: on request
Camping: a variety of very secluded campsites around the mountain
Per site, maximum 8 persons per site
-
Thatched bungalows with 2/3 beds: DISCONTINUED
Meals per person
Breakfast
-
Lunch
-
Dinner
-
Contact & reservations:
E-mail: info@namibweb.com
Terms & conditions, Payment options and Cancellation policy
Related: Rock art in Namibia, Brandberg, Community based tourism
Page created and serviced by



www.namibweb.com

Copyright © 1998-2024 namibweb.com - The online guide to Namibia
All rights reserved | JOIN | VIDEO PORTFOLIO | VIDEO/PHOTO COLLECTION
Telegram | YouTube | Blog
Page is sponsored by ETS & Exploring Namibia TV
Disclaimer: no matter how often this page is updated and its accuracy is checked, www.namibweb.com and ETS
will not be held responsible for any change in opinion, information, facilities, services, conditions, etc. offered by
establishment/operator/service/information provider or any third party