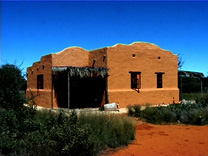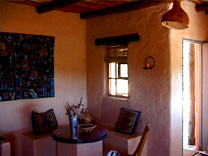 Begin and end your Namibia safari at Eningu, 65 km from Windhoek International Airport, peacefully located in the midst of the African bush savannah. The unique styled clay building blends perfectly with the russet-coloured sands of the surrounding Kalahari. Built of 120000 handmade clay bricks and creatively decorated, Eningu invites you with its rustic, comfortable atmosphere to relax.
While hiking or on a game drive you can have close encounters with a variety of game and birds. Enjoy a large swimming pool with whirlpool, a rooftop deck with telescope, an archery range, as well as exquisite fresh cooking and a wine cellar filled with selected South African wines. Our souvenir shop provides you with selected Namibian art and crafts.

Activities offered: Nature/game drive, Archery, badminton, telescopes, hide at waterhole for birding & game viewing, hiking trails.
Facilities: Eight en-suite rooms, restaurant, lounge, souvenir shop, swimming pool, whirlpool, wine cellar (underground, filled with SA wines), mosquito net, ceiling fan, heater, 24 hrs power and sundowner deck.
Rates per person per night: on request
Dinner, bed and breakfast
Single/double room
-
Triple or family room
-
Day room per person
-
Transfers
Notes: Rates are subject to change without prior notice should tax be increased or Government levies introduced. Rates include Value Added Tax.
Contact & reservations:
E-mail: info@namibweb.com
To book:
1) you can e-mail us requesting information and/or rates
Reservations are only accepted in writing: by fax or via e-mail.
Final availability confirmation: in writing: by fax or via e-mail.
Terms & conditions, Payment options and Cancellation policy
Related:
Accommodation in the area:
Activities in the area:
Page created and serviced by



www.namibweb.com

Copyright © 1998-2023 namibweb.com - The online guide to Namibia
All rights reserved | JOIN | VIDEO PORTFOLIO | VIDEO/PHOTO COLLECTION
Telegram | YouTube | Blog
Page is sponsored by ETS & Exploring Namibia TV
Disclaimer: no matter how often this page is updated and its accuracy is checked, www.namibweb.com and ETS
will not be held responsible for any change in opinion, information, facilities, services, conditions, etc. offered by
establishment/operator/service/information provider or any third party
Description: Copyright © Eningu Clay House Lodge