Arnhem Cave Rest Camp was named after Arnhem Cave - 4,5km in length - the longest in Namibia. It was officially declared a tourism attraction by the Namibian Ministry of Environment and Tourism in 1995. The cave was discovered in 1930 by the then owner of the Farm, Daniel Bekker and today, it is still in the same natural state as when it was found. The entrance to the cave is divided in two by a thick column of rock leading down into a gigantic cavern, large enough to park 90 school busses.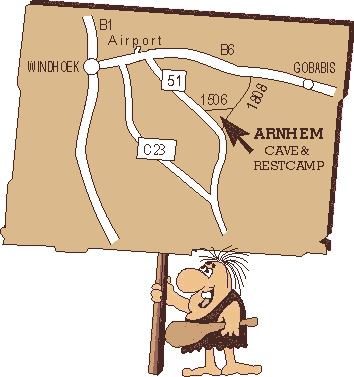 Six species of bats have been scientifically identified at Arnhem, including the Giant Leaf-nosed bat with a wingspan of more than 60 cm and weighing up to 150g. This is the largest insect eating bat in the world.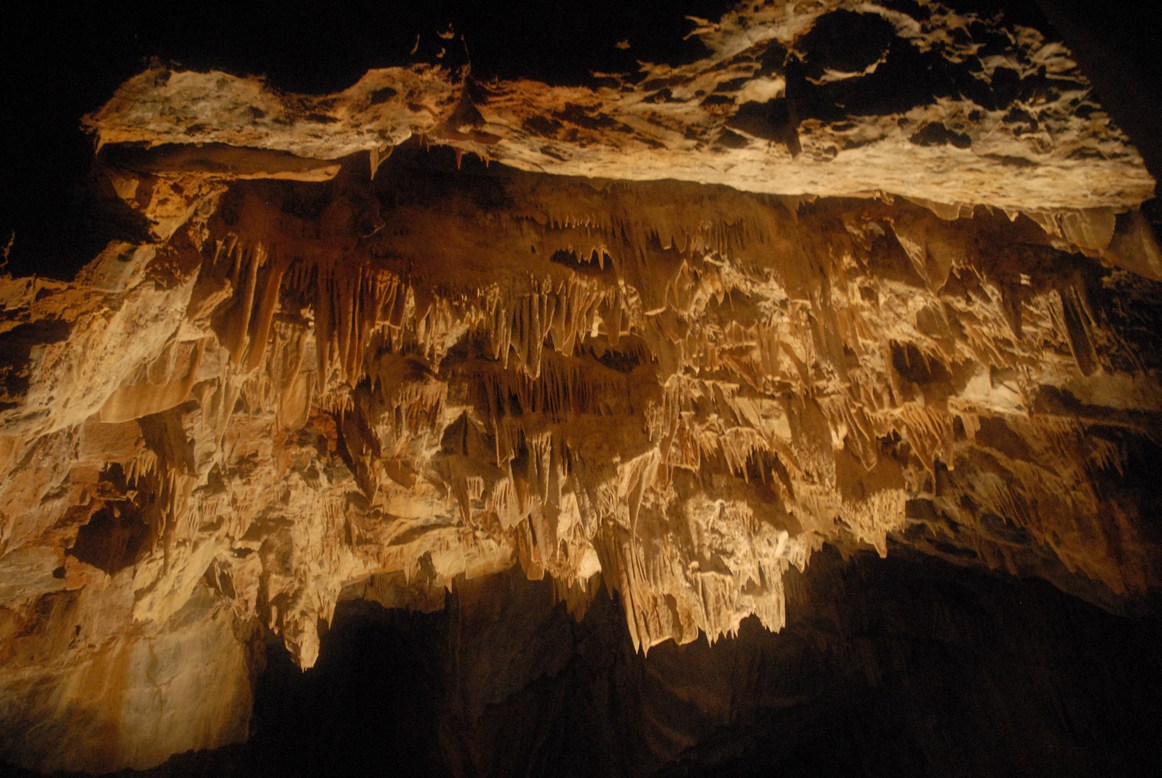 Arnhem Cave is situated only 85km from the Hosea Kutako International Airport near Windhoek, making it the ideal first or last stop during your visit to Namibia. A guided tour through the cave at your request, will probably leave you with your most memorable experience of caving. The duration of the tour depends on how far you would like to explore the cave.
No crawling is necessary and the tour could last up to three hours - if you desire.
For those less interested in caving and bats, Arnhem offers you many other interesting activities to indulge in while enjoying the beauty of Namibia in a safe and peaceful farm environment. There is a hiking trail and a swimming pool to cool down in on your return, a wealth of bird-watching opportunities and a thatched Lapa in which you can relax and enjoy refreshments. The Rest Camp consists of four double thatched chalets with en-suite showers and toilets, tastefully furnished for your comfort. In addition there are camping sites with grassed areas, barbecue or 'braai' facilities as they are known in Namibia, power points , clean and modern ablution blocks and a field kitchen. Guests can prepare their own meals or braai at the facilities that are available.
All accommodation is self-catering, no restaurant is available.
Rates per person per night: on request
Self-catering
Chalet
-
Self-catering chalet sleep 2 or family of 4
-
Camping
-
Tour to cave, phase 1, 1 hour
-
Tour to cave, phase 2, 2 hours
-
Notes: Rates are subject to change without prior notice should tax be increased or Government levies introduced. Rates include Value Added Tax.
Contact & reservations:
E-mail: info@namibweb.com
Reservations are only accepted in writing: by fax or via e-mail.
Final availability confirmation: in writing: by fax or via e-mail.
Terms & conditions, Payment options and Cancellation policy
Related:
Accommodation in the area:
Activities in the area:
Page created and serviced by



www.namibweb.com

Copyright © 1998-2023 namibweb.com - The online guide to Namibia
All rights reserved | JOIN | VIDEO PORTFOLIO | VIDEO/PHOTO COLLECTION
Telegram | YouTube | Blog
Page is sponsored by ETS & Exploring Namibia TV
Disclaimer: no matter how often this page is updated and its accuracy is checked, www.namibweb.com and ETS
will not be held responsible for any change in opinion, information, facilities, services, conditions, etc. offered by
establishment/operator/service/information provider or any third party
Description & images: Copyright © Arhem