Sossusvlei Mountain Homestead is situated 34 kilometres from Sesriem, the entrance to Sossusvlei within the heart of Namibia's Namib Desert. This is one of the most remarkable sites in the Namib Naukluft Park and the Namib Desert.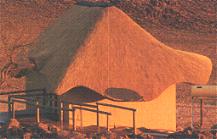 The camp is situated on the 21 000 hectare Kulala Wilderness Reserve with wonderful desert scenery. It affords access to Sossusvlei while also offering privacy and exclusivity. The property harbours vast desert plains and rugged mountains with views onto the dunes in the distance. The camp has been built near the top of a mountain, using natural materials of brick, rock, timber and thatch, and provides a refuge from the desert. There are only nine guest rooms, each with its own private plunge pool.
The rooms are superbly appointed and offer comfort and atmosphere. The en suite bathrooms also have panoramic views overlooking the plains below and have hot and cold running water, showers and flush toilets. The main living area is under thatch with a pool. There is an outdoor deck where guests enjoy dinner under the stars and a dedicated stargazing platform with a powerful telescope for those keen on admiring the night skies. The Namib is considered by many to be the finest stargazing area in Southern Africa.
On the edge of the oldest desert in the world, this is not a game rich area, however, whatever game we see is interesting and dramatised by the contrast between the desert and animals like springbok, gemsbok (Oryx) and ostrich who manage to survive in these harsh conditions. Night drives using spotlights offer sightings of Cape fox, aardwolf, black-backed jackals, bat eared foxes and spotted hyena.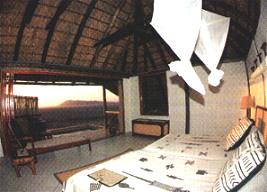 Directions:
Take the main road B1 going south, and turn right into the road C24 after Rehoboth. In about 36 km turn into the road 1261 going through Reemhoogte Pass (alternatively you can take other roads through one of the mountain passes to the Namib). Later you join road C14 and after Solitaire petrol station you turn into C36 road. The turn-off to Mountain Homestead is signposted around 20 km from turn-off onto the road to Sesriem.
Facilities and statistics:
Member of Hospitality Association of Namibia, 18 beds are available in the 9 bungalows, swimming pool, tours to Namib Naukluft National Park.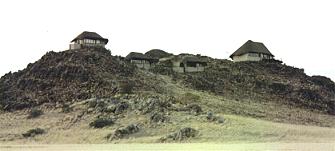 Activities:
Activities include an early morning excursions in 4x4 vehicles to the magnificent Sossusvlei dunes and the "vlei" itself at the end of the Tsauchab River - a dry river bed that flows only in years of exceptional rainfall. Breakfasts are served under the spreading camel thorn acacias in Sossusvlei before returning to camp in the midday via the nearby Sesriem Canyon. Afternoon activities are on the property ~ taking in the desert scenery and its unique fauna and flora. Wonderful early morning ballooning safaris are offered as an optional extra.
Rates per night per room, dinner, bed and breakfast: on request
Single/double/triple room
-
Activities per person, minimum 2 persons
Sundowner drives
-
Sossusvlei excursion
-
Naukluft excursion
-
Sundowner horse rides
-
Champagne breakfast horse rides
-
Sleepout horse rides, 1 night or longer, per night
-
Special meals can be booked in advance. Rates are subject to change without prior notice should tax be increased or Government levies introduced. Rates include Namibian Value Added Tax.
Facebook:
NAMIBIA:
https://www.facebook.com/groups/namibia.namibia
SESRIEM SOSSUSVLEI:
https://www.facebook.com/groups/sossusvlei
NAMIB-NAUKLUFT NATIONAL PARK:
https://www.facebook.com/groups/namib.naukluft
TRAVEL NAMIBIA:
https://www.facebook.com/groups/travelnamibia
DRONESBERG AERIAL PHOTO/VIDEO:
https://www.facebook.com/dronesberg
Contact & reservations:
E-mail: info@namibweb.com
Reservations are only accepted in writing: by fax or via e-mail.
Final availability confirmation: in writing: by fax or via e-mail.
Map of all three Kulalas and Mountain Homestead (Kulala Wilderness Reserve), Terms & conditions, Payment options and Cancellation policy
Page created and serviced by



www.namibweb.com

Copyright © 1998-2023 namibweb.com - The online guide to Namibia
All rights reserved | JOIN | VIDEO PORTFOLIO | VIDEO/PHOTO COLLECTION
Telegram | YouTube | Blog
Page is sponsored by ETS & Exploring Namibia TV
Disclaimer: no matter how often this page is updated and its accuracy is checked, www.namibweb.com and ETS
will not be held responsible for any change in opinion, information, facilities, services, conditions, etc. offered by
establishment/operator/service/information provider or any third party
Images, description and logo: Copyright © EcoLodgistix