Desert Camp is located in Sesriem area in southern Namibia. The Sossusvlei region remains a sight of unparalleled beauty, even more so after the rains. The desert plains have changed colour from rich green to pale oceans of swaying grass; silver in the rising sun and golden at dawn. The activities offered at the Adventure Centre; the Nature Drives, Sunset Drives, Quad Bike Excursions, Hot Air Ballooning and the Scenic Flights are all absolute highlights and should really be included in all accommodation packages. Other news on the area; the road leading from Sesriem to the 2x4 parking at Sossusvlei is in bad shape at this stage, with the first 30-35km really being tricky! The road is under construction and is closed to traffic along most of this stretch. Several detours of varying quality have been formed on all sides, resulting in people approaching from any side at any speed! All persons travelling this road are advised to drive slowly and to be alert. The next stretch after this section has been repaired and is good to travel on.
The gravel roads leading to Sossusvlei Lodge and the area are in good condition and are constantly under reconstruction. A rather strange sight is the two stretches of tarred road in the Kuiseb Canyon! If anything, it is a welcome change from all the dust while travelling along this route.
Facilities at Desert Camp
Swimming Pool: A chlorinated fresh water swimming pool available for use by guests 24 hours a day. Pool towels are available on request from Reception (guests are requested not to use room towels at the pool).
Bar: The Bar is open from 08h00 until late for soft-drinks and alcoholic beverages. A wide variety of mineral waters and cocktails are stocked to quench a 'desert thirst', as well as an extensive range of Southern Africa's finest wines. Well known Namibian and German beers and schnapps are also stocked. The service area includes the bar itself and area around the adjacent swimming pool.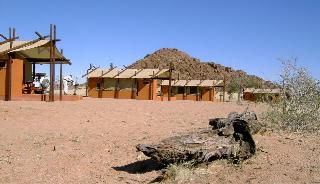 Curio Shop: The Curio or Souvenir shop is located at the base of the observation tower adjacent to Reception and is open from 08h00 till 17h00 daily. The shop stocks informative books about the area, peoples & animals, postcards, African art jewelry (including Bushmen signs & paw prints), Sossusvlei Lodge clothing & caps, films, camera batteries, sunglasses, sunscreen amongst other interesting items. Items purchased may be charged to the guest's room account or may be paid for in cash or by credit card (Mastercard and Visa accepted).
Courtesy Beverage Bar: Warm beverages and cold water are available at no cost to Lodge guests in the Reception area 24 hours a day. A wide range of teas, coffee, freshly brewed filter coffee and sweeteners are to be found here.
Guest Telephone Facility: Guests may make telephone calls from the Reception area. Place your call with the Reception Clerk and, once contact has been established, it will be put through to an accessible telephone for your convenience. Calls are timed and payment may be made in cash or charged to the guest's room account.
Laundry Facilities: Guests may hand in items of clothing for washing and ironing at the Lodge. A plastic laundry bag is to be found in the wardrobe of the room as well as a Laundry Slip that the guest is required to complete and submit along with the items.
Personal Safes: Each room has an electronic safe located in the wardrobe for safekeeping of any valuable personal possessions. Full instructions are provided.
Shop And Petrol Station: A small general dealer type shop with basic necessities is to be found at the adjacent Sesriem Camp (at the gate to the Namib-Naukluft Park) as well as a petrol station.
Unavailable Facilities
There are no telephones in rooms at the Lodge. Telephonic and data communication is via a satellite link.

There are no television receivers at the Lodge.

There is no commercial radio reception in the area.

In line with the Lodge's strict eco-friendly policy, there are no air-conditioning units in the rooms. Rooms are however equipped with rotary fans.

In order to avoid undue water wastage, no rooms are equipped with baths - only showers.
Rates per person per night, accommodation only: on request
Single/double
-

Meals per person (at Sossusvlei Lodge)

Breakfast / Lunch / Dinner
-
Seasons apply as follows:
High season: 01 July - 30 November, 24 and 31 December
Low season: 01 December - 30 June
Facebook:
NAMIBIA:
https://www.facebook.com/groups/namibia.namibia
SESRIEM SOSSUSVLEI:
https://www.facebook.com/groups/sossusvlei
NAMIB-NAUKLUFT NATIONAL PARK:
https://www.facebook.com/groups/namib.naukluft
TRAVEL NAMIBIA:
https://www.facebook.com/groups/travelnamibia
DRONESBERG AERIAL PHOTO/VIDEO:
https://www.facebook.com/dronesberg
Contact & reservations:
E-mail: info@namibweb.com

Reservations are only accepted in writing: by fax or via e-mail.
Final availability confirmation: in writing: by fax or via e-mail.

Terms & conditions, Payment options and Cancellation policy
Page created and serviced by



www.namibweb.com

Copyright © 1998-2023 namibweb.com - The online guide to Namibia
All rights reserved | JOIN | VIDEO PORTFOLIO | VIDEO/PHOTO COLLECTION
Telegram | YouTube | Blog
Page is sponsored by ETS & Exploring Namibia TV
Disclaimer: no matter how often this page is updated and its accuracy is checked, www.namibweb.com and ETS
will not be held responsible for any change in opinion, information, facilities, services, conditions, etc. offered by
establishment/operator/service/information provider or any third party
Description & images: Copyright © Taleni Africa Tourism Group