The Dune Hopper flying package tours to the Namib
Introducing a scheduled fly-in program departing daily from Windhoek and Swakopmund to NamibRand Nature Reserve and Sossusvlei. The packages ranging from 2 to 5 nights are offered with in cooperation with a several upmarket lodges and camps in the area. Additional two activities are present: hot air balloon trips and hiking trails.
Participating establishments:
Wolwedans Dunes Lodge (A)
The lodge aims at providing a unique experience close to nature without compromising comfort and style.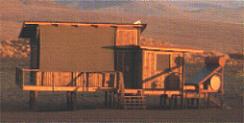 The entire lodge is constructed on a wooden platforms and overlooks panoramic vistas in all directions. The building style is a combination of wooden poles and large canvas blinds/windows that open to the desert beyond. Each of eight spacious chalets with en-suite bathrooms leads onto a private verandah and stretches of untouched sand. Careful selection of furniture, light coloured linen as well as selection of accessories give the lodge a distinct natural charm. A special attraction is "Mountain View Suite".
Providing living space in abundance (in addition to a normal chalet this retreat has a lounge with a mini bar facilities and a second verandah) the Suite is ideally suited for those who want to stay over for a several days.
The main complex - also built on stilts - consists of a bar and lounge, sundowner decks with a fireplace and a spacious dining room. Five chalets are directly accessible from the main complex by wooden walkways, easily accessible by elderly and handicapped guests.
Wolwedans Dune Camp (B)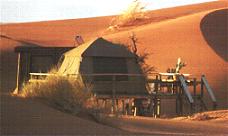 Located at the very edge of a 250-meter high dune, the camp overlooks the prominent Losberg Mountain towards the east. Heading west, the Chateau viewpoint - one of the reserve's most enchanting panoramas - can be reached by foot in less than five minutes. A sundowner in the dunes is an experience to share with someone close.
Guests stay in a comfortable tents pitched on a wooden platform. The camp can accommodate a maximum of 12 guests in a totally unspoilt setting. Each tent is furnished with a standard beds, bedside tables, suitcase rack and has a spacious verandah, private bathroom fitted with hot shower, washbasin and flush toilet. Meals are enjoyed at the central lapa.
A sundowner deck with a fireplace provides a relaxed atmosphere for exquisite star gazing.
For a guests staying for two nights the full day safari is a standard feature.

Wolwedans Private Camp (C)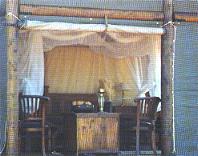 Located in the quiet seclusion of an idyllic valley, this splendid suite catering for just two guests, is the perfect getaway for honeymooners or individuals seeking uncompromising privacy and tranquillity.
The camp can also be booked with all services and activities included, for example private chef or personal guide.
The suite comprises a spacious bedroom with en-suite bathroom, a verandah and a lounge - combining a study, a living room arrangement, a dining area and a fully equipped open plan kitchen.

The building style is a combination of wood and canvas. A minimum stay is for two nights and available from 15 April to 15 October.
Sossusvlei Mountain Lodge NamibRand (D)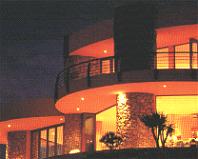 Set at the foot of ancient, black mountains lodge overlooks an expansive grass plain that leads into undulating sea of red sand dunes.
Each of the 10 luxury air-conditioned suites is constructed from natural mountain rock, blending in perfectly with the surrounding environment. Inside each spacious suite, a magnificent raised bedroom leads down to the sitting room and out into a private covered patio.
The main complex consists of an elegant lounge, reference library, cocktail bar, expansive verandah and dining room.
A special feature is the star gazing facility with a high-powered computerized telescope and comprehensive star charts.
Sossusvlei Wilderness Camp (E)

The camp, located on the top of a hill, provides a panoramic view of surrounding plains.
The development was planned in such a way that each chalet is completely private, making curtain unnecessary.
The en-suite bathrooms have both hot and cold running water, shower and flush toilet and each chalet features a private plunge pool.

Kulala Desert Lodge Sossusvlei (F)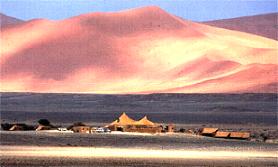 Hidden on the banks of the Tsauchab river, the lodge offers a splendid view of Sossusvlei dunes. From the verandah or swimming pool terrace guests enjoy delicious French cuisine served al fresco while watching the wildlife at the waterhole.
Guests are accommodated in twin bedded "kulalas" with comfortable beds, en-suite facilities and a verandah. The main lodge consists of a lounge with fireplace, bar and a dining room.

Sossusvlei Lodge Sesriem (G)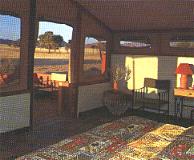 Located at the entrance to the Namib-Naukluft Park this "desert hotel" incorporates many innovative architectural features.
Each of 45 bedrooms has a view of the ridges of the Naukluft Mountains and across the vast plains dotted with camel thorn trees.
Furnishings at the lodge are hand-crafted with a distinct bushmen theme throughout.
Balloon trips:
(X1): flight only
PACKAGES
Directory page Windhoek city tours Lions, leopards and cheetahs Quad bike tours
Our safaris Flights and fly-in safaris Car rental Budget travel shop Adventure in Namibia
Contact & reservations:


E-mail: info@namibweb.com
Reservations are only accepted in writing: by fax or via e-mail.
Final availability confirmation: in writing: by fax or via e-mail.
Terms & conditions, Payment options and Cancellation policy
Page created and serviced by



www.namibweb.com

Copyright © 1998-2024 namibweb.com - The online guide to Namibia
All rights reserved | JOIN | VIDEO PORTFOLIO | VIDEO/PHOTO COLLECTION
Telegram | YouTube | Blog
Page is sponsored by ETS & Exploring Namibia TV
Disclaimer: no matter how often this page is updated and its accuracy is checked, www.namibweb.com and ETS
will not be held responsible for any change in opinion, information, facilities, services, conditions, etc. offered by
establishment/operator/service/information provider or any third party