Consider our 10 reasons to visit Namibia - it is actually good reasons to be in our country.
1. Uncrowded conditions. The Republic of Namibia is a large country with a sparse population and has one of the world's lowest population density - less than two people per square kilometer.
2. One of last remaining unspoiled areas in the world, diversity of habitats and large tracts of wilderness untouched by roads, telephone polls and civilization.
3. Sunny and dry climate with an average of 300 sunny days a year, hot in the interior and cool at the coast.
4. Modern and well - developed infrastructure and facilities, modern telecommunications and postal services, which are one of the most sophisticated in Africa.
5. Abundance of wildlife, excellent opportunities for game viewing and bird watching in numerous National parks, game reserves and private game farms.
6. Plenty of adventure activities: ocean and fresh water angling, hunting including "big five", quad biking at the coast, sand boarding in the Namib, white water rafting and canoeing on the Kunene and Orange (Gariep) rivers, diving in lakes in the north, rock lobster diving and kayaking at the coast.
7. A cultural diversity of Namibian society - eleven colourful population groups with annual festivals, gatherings, carnivals and exhibitions.
8. Extensive choice of travel - related services, accommodation, tour operators, tours, safaris and excursions offered for all ages, budgets and tastes.
9. Wealth of geological phenomena such as Spitzkoppe, Brandberg, Etjo, Burnt mountains, Organ pipes and Petrified forest in Damaraland, sand dunes of Sossusvlei, Fish River and Sesriem canyon, Arnhem cave, Giants' Playground and rock art sites at Twyfelfontein.
10. Safe country, low crime rate and politically stable environment.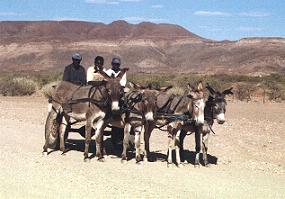 "Damaraland express". Donkey carts are traditional means of transport for Damara people living in the western part of Namibia
Directory page
Quad bike tours
The Southern Cross
Hunting
Fishing tours
Booking of resorts
Comparison shop
Shuttle service
Skeleton coast
Lions, leopards and cheetahs
Our safaris
Camping equipment hire
Chauffeur services
Car rental


Budget camping tours
Other products and services
E-mail