Brandberg Mountain & "White Lady"
Brandberg - Namibia's highest mountain, information and history.
The Brandberg with its highest peak Königstein (2606 m above sea level) is the highest mountain in Namibia and a National Monument.
The geological history of Brandberg is just as interesting as the thousands of rock art paintings and engravings on the mountain and its surroundings. The Brandberg itself is not a volcano but is a granite plug which was pressed out of the volcano's pipe and stopped at about 10 000 meters under the surface. That is why the granite of the Brandberg is younger than the Dolorite which lies around the Brandberg.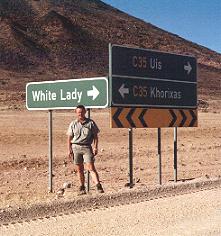 The Brandberg is an isolated massif reaching 2,606 meters (8,550 feet) which rises much higher than any other feature for hundreds of kilometers around. It is composed of a single mass of granite that rose through the Earth's crust some 120 million years ago.
Slightly south and to the west of the Brandberg is the much-eroded Messum Intrusion (Messum crater) which together with Doris crater were active at about the same time. Both of these intrusions reflect a period of extraordinarily widespread geological unrest in the Earth's history, which preceded the opening of the Atlantic Ocean and the effusion of vast volumes of basaltic lavas of the Karoo formation that form the Drakensberg plateau. Karoo lavas are exposed immediately to the west of the intrusion. Rocks forced aside by the upward movement of the intrusion are visible encircling the margin of the Brandberg, tilted sharply upward. Ancient gneisses, distinguished by their lineated texture, are conspicuous along the dry river valley in the center of the frame.
The existence of a set of lavas in South America of the same age and type as those of the Karoo was used for many years by some geologists as strong evidence that Africa and South America had once been united.
The Brandberg is better known for its rock paintings and carvings, of which the ''White lady'' is the best known. This painting, located in the Tsisab Ravine, is about 2000 years old and can be reached after about 1.5 hours walk. The visit to the painting is best to be done early in the morning or late afternoon to avoid extreme heat of the midday. The ''White Lady'' was presumably painted by San people. Dr. Reinhard Maack discovered the ''White lady'' in January 1918. He described the painting as follows: ''It is the most detailed rock painting I have ever seen!''. But he described the ''White lady'' as follows in his diary: ''The central point in the cave is a painting about 40 cm. high and painted in four different colours. The painting has a light flesh coloured face, dark brown upper body and arms with white flesh coloured hands and lower body with Egyptian Mediterranean style''. He also described the painting as a male dancer.
In 1955 Abbe Henri Breuil described the painting as that of White lady that has caused the knowledge worldwide of the White lady. It has also caused a lot of fables and illusions about the painting. The painting actually is not that of a ''White lady''. It is a image of a male, the white colour of the body, representing body paint, which suggests it is a medicine man.
More than 43 000 individual paintings were located in the Brandberg combining in around 1000 sites.
Although the Brandberg is not one of the highest mountains in the world, it is the highest in Namibia.
The Brandberg is an Eco system on its own with a plants like Brandberg acacia that grows on the Brandberg and within its surroundings.
Related: Rock art in Namibia, Brandberg mountain guides, Twyfelfontein Lodge, Attractions of Damaraland, Huab Lodge, Brandberg Rest Camp, Trail Hoppers Canyon hikes
Contact:
E-mail: info@namibweb.com
Page created and serviced by



www.namibweb.com

Copyright © 1998-2023 namibweb.com - The online guide to Namibia
All rights reserved | JOIN | VIDEO PORTFOLIO | VIDEO/PHOTO COLLECTION
Telegram | YouTube | Blog
Page is sponsored by ETS & Exploring Namibia TV
Disclaimer: no matter how often this page is updated and its accuracy is checked, www.namibweb.com and ETS
will not be held responsible for any change in opinion, information, facilities, services, conditions, etc. offered by
establishment/operator/service/information provider or any third party