Paula's Cave
Omaruru district

Omaruru Paula's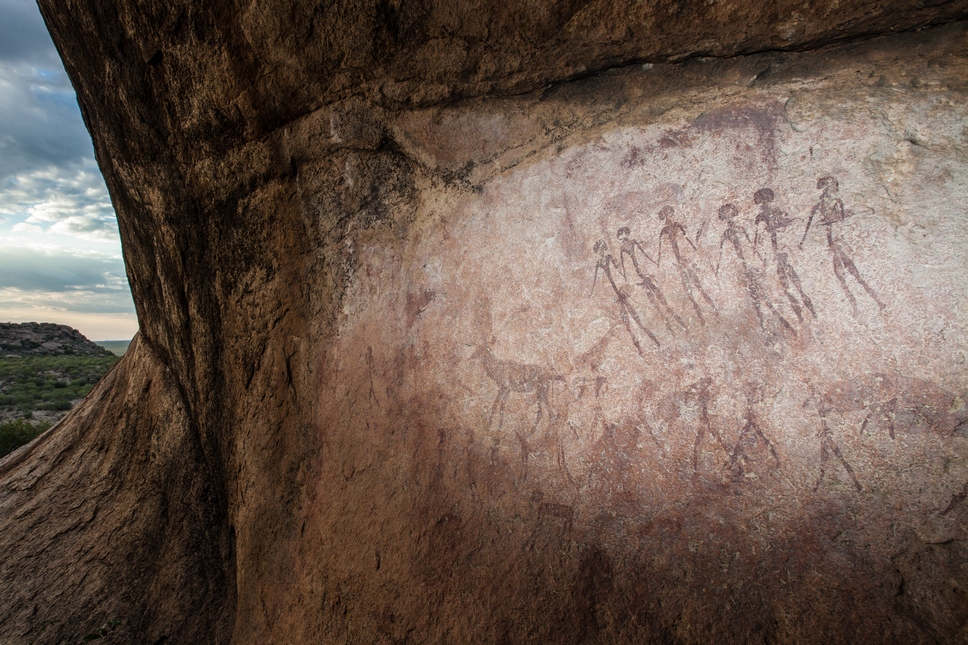 Cave - rock paintings in Erongo
Paula's Cave, rock paintings site and a National Monument, is situated in the Erongo Mountain Nature Conservancy.
The conservancy can be accessed approximately 3 km south of Omaruru from the Omaruru - Karibib (C 33) road.
Note: To visit Paula Cave prior arrangement with Erongo Wilderness Lodge have to be made and a 4x4 vehicle is required to reach the site.
Unfortunately, due to exposure to direct sunlight, water damage and human activity most of the paintings have weathered considerably.
Several of the lower paintings are badly faded and open to speculations as to what they may represent.

Paula Cave consists of an overhang on the side of a hill, that overlooks the surrounding landscape. As such it was an ideal shelter and observation post for early Bushmen. It is also believed that the site was of spiritual significance.
The back of the cave is decorated with rock art including:

red-haired humans with relatively long bodies
several animals such as elephants and rhino
a group of black men with arrows
a row of unarmed men holding hands and
a number of pregnant women

Paula Cave rock paintings was proclaimed a national monument on the 1 March 1951.
Facebook groups:
NAMIBIA: https://www.facebook.com/groups/namibia.namibia
TRAVEL NAMIBIA: https://www.facebook.com/groups/travelnamibia
Contact & information:
E-mail: info@namibweb.com
Terms & conditions, Payment options and Cancellation policy
Page created and serviced by



www.namibweb.com

Copyright © 1998-2024 namibweb.com - The online guide to Namibia
All rights reserved | JOIN | VIDEO PORTFOLIO | VIDEO/PHOTO COLLECTION
Telegram | YouTube | Blog
Page is sponsored by ETS & Exploring Namibia TV
Disclaimer: no matter how often this page is updated and its accuracy is checked, www.namibweb.com and ETS
will not be held responsible for any change in opinion, information, facilities, services, conditions, etc. offered by
establishment/operator/service/information provider or any third party
Description: Copyright © Big Sky Lodges