| | |
| --- | --- |
| Aubures Camping Helmeringhausen | |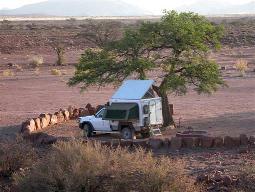 Both 4x4 trips at Aubures involve spectacular 4x4 roads, give a feeling for the rugged nature of the escarpment region and provide breathtaking views of the escarpment itself and from the top of the Rooirand Escarpment westwards across the mountains and plains of the ProNamib. Travellers may see kudu, springbok, gemsbok, klipspringer and a variety of birds (including Ruppel's Koraan and Black Eagle). The domain of leopard, the dassie rat and the girdled lizard (among other mammals and reptiles). Stunted Karoo savanna scrub on the highest parts of the escarpment. Various microclimates have provided records of unusual and isolated colonies of insects (butterflies, moths, solifuge spiders).
Directions to Aubures
From Helmeringhausen: Take the C13 in the direction of Aus for 4 km. Turn right onto the C27. The Aubures turnoff is well signposted on the right, 53 km from Helmeringhausen. The Aubures farmhouse is 5 km from the main road.

From Maltahöhe: Take the C19 westwards for 19 km, then carry on on the C14 for 17 km. Turn right onto the D824 (Duwisib road) for 11 km, turn left onto D831 for 16 km, turn right onto D 826 for 36 km, drive past Duwisib to Farm Betta (petrol available). At Betta turn left onto the C27 and follow this for 50 km to the signposted Aubures turnoff on the left.
Rates per night: on request
| | |
| --- | --- |
| Half-day guided 4x4 trip up the Rooirand Escarpment: per person | - |
| BFull-day guided 4x4 circular drive up and along the Rooirand Escarpment: Includes picnic lunch; per person | - |
| Camping per person | - |
Contact & reservations:
E-mail: info@namibweb.com

To book:
1) you can e-mail us requesting information and/or rates

Reservations are only accepted in writing: by fax or via e-mail.
Final availability confirmation: in writing: by fax or via e-mail.

Terms & conditions, Payment options and Cancellation policy
Page created and serviced by



www.namibweb.com

Copyright © 1998-2024 namibweb.com - The online guide to Namibia
All rights reserved | JOIN | VIDEO PORTFOLIO | VIDEO/PHOTO COLLECTION
Telegram | YouTube | Blog
Page is sponsored by ETS & Exploring Namibia TV
Disclaimer: no matter how often this page is updated and its accuracy is checked, www.namibweb.com and ETS
will not be held responsible for any change in opinion, information, facilities, services, conditions, etc. offered by
establishment/operator/service/information provider or any third party
Description & images: Copyright © Aubures Camping