Otjibamba Lodge Otjiwarongo

Closed for an indefinite period
Otjibamba Lodge is a popular stopover on the way to northern Namibia and Etosha. The Lodge is situated 4 km south of to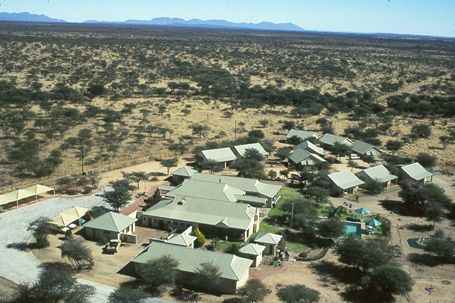 wn Otjiwarongo and 800 m from the main B1 road which runs from Windhoek to Outjo. Otjibamba is tastefully designed in an afro-colonial style.
Rooms are laid out as air-conditioned chalets, which offer privacy, space and comfort. Each double room has two double beds, en-suite bathroom with WC, bath and shower, desk, comfortable chairs and a veranda overlooking the bushveld. All rooms have telephone and TV facilities. Parking directly in front of the rooms. Well-kept garden and large swimming pool. Bar and superb cuisine served in the A-La-Carte-Restaurant.
Otjibamba nestles within its own private game ranch which harbours game species such as giraffe, zebra, eland, Oryx, kudu, ostrich and others. Visitors can either drive through the park or explore one of the marked walking trails.
Rhenish mission station ruins at Waterberg:


Otjibamba is the ideal place to relax for a day or two. Rates are very affordable and family-friendly. Excellent value for money.

Rates per room per night: on request
Bed and breakfast
Single/double room
-
Facebook:

NAMIBIA: https://www.facebook.com/groups/namibia.namibia

TRAVEL NAMIBIA: https://www.facebook.com/groups/travelnamibia

OTJIWARONGO: https://www.facebook.com/groups/otjiwarongo

DRONESBERG AERIAL PHOTO/VIDEO: https://www.facebook.com/dronesberg

Contact & reservations:
E-mail: info@namibweb.com



Reservations are only accepted in writing: by fax or via e-mail.
Final availability confirmation: in writing: by fax or via e-mail.

Terms & conditions, Payment options and Cancellation policy

Page created and serviced by



www.namibweb.com

Copyright © 1998-2023 namibweb.com - The online guide to Namibia
All rights reserved | JOIN | VIDEO PORTFOLIO | VIDEO/PHOTO COLLECTION
Telegram | YouTube | Blog
Page is sponsored by ETS & Exploring Namibia TV
Disclaimer: no matter how often this page is updated and its accuracy is checked, www.namibweb.com and ETS
will not be held responsible for any change in opinion, information, facilities, services, conditions, etc. offered by
establishment/operator/service/information provider or any third party
Description & images: Copyright © Otjibamba Lodge