Bullsport Guest Fam: the name "Büllsport" means "Bull's pass" and was given to the farm when this was the only passage through the Naukluft Mountains for Ox wagons and stock herds. The size of the farm is 10.000ha. The mountains make up 4.000ha. The farmhouse is 1400m above sea level. The sparse vegetation found in the area is related to the limited rainfall (80-180mm/year). The Tsondab River, a dry river, passes the farmhouse.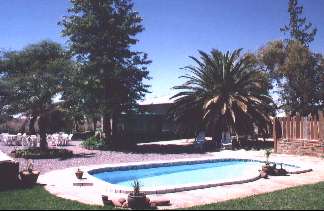 Nestled at the foot of the mountains and surrounded by many acacia trees, the farmhouse forms a beautiful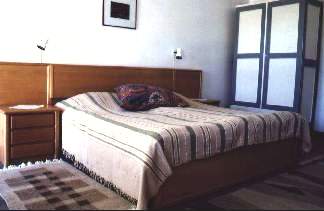 setting. Extensive stock farming with goats, karakul sheep and some cattle is practiced. The protected Hartman Zebra, Greater Kudu, Springbok, Oryx antelope and Klipspringer are some of the game the visitor can view on the Farm. Ernst Sauber is the third generation of the Sauber family in Namibia. His grandfather came in 1897 as a trader to Namibia and settled in the vicinity of Büllsport. Ernst's wife Johanna came to Namibia in 1989. Being an agricultural engineer, she adapted very quickly to the farm life. With the drought not loosening its grip on the south-western parts of Namibia for many years, Ernst and Johanna looked at alternatives.
The farmhouse, built in 1930 was renovated to offer seven double bedrooms, all with private facilities. Electricity around the clock (powered by a solar system), comfortable furniture and a swimming pool meet today's standards for the international guests. Meals made from farm products are served at the big family table where many interesting discussions take place.
Rock arch total time 3,5 hours.
Guided excursion into Naukluft Mountains, visiting the rock arch in the Naukluft. Drive takes about 1 hour to top of Devils Gorge, followed by a 60 minutes hike to the Rock arch and back to car, drive to Büllsport 1 hour.
Sossusvlei - min. of 3 persons.
Guided excursions in our comfortable Landover 110, incl. Sesriem Canyon, Dune 45 and 2 hours stay in Sossusvlei. Picnic under the trees in Sossusvlei. Departure 10.30h a.m. along road 854 passing the Zaris Mountains, back at Büllsport 7.30h p.m. over Solitaire, thus having a full round trip around the Naukluft at optimal light/shadow conditions.
Hiking trails: rates on request
Quiver Tree Gorge Trail: +- 6 hours
Bogenfels Rock Arch Tour: +- 3 hours
Rates per room per night: on request
Dinner, bed and breakfast

Single/double/triple luxury or standard rooms
-

Activities per person

Naukluft Plateau hike
-
Rock Arch
-
Scenic farm and game drive +/- 2 hours
-
Children 6-14 years old
-
Camping:
The camping is exclusive for one group at any given time and for true nature lovers. The clients may not make use for the guest farm amenities. For meals and tours on request the in-house guest do have priority. The site is 4 kms away from the guest farm locality tugged away in the mountains, with sedan access. Only one group at a time, maximum: up to 8 tents/10 persons.
2 showers (hot water if wood is brought along or bought in the shop), 2 flush toilets, 2 sinks for cleaning of cutlery and lapa with roof for shadow. The rate shared site, per person: on request
Exclusive site, per group: on request
FACILITIES OFFERED
ROOMS: 6 X STD DOUBLE/TWIN, 1 FAMILY SLEEPING 4, 1 TRIPLE, 6 X LUX DOUBLE/TWIN, EXTRA BEDS AVAILABLE FOR CHILDREN SHARING DOUBLE ROOMS, SWIMMING POOL, LAUNDRY SERVICE, LIBRARY, LOUNGE, BAR
Sossusvlei - Day Trip: Minimum 1 Person Maximum 6 Persons: rates on request
Price: 1 - 2 persons
Per extra person
Children: 0 - 5 years free; 6 - 14 years
-
Children 15 years and older
100%

Performance: - Transfer Guest Farm to car park in front of Sossusvlei and back with VW Microbus

4 x 4 Transfer to Sossusvlei and back with shuttle
Picnic at the border of Sossusvlei or at the car park in front
Sandwiches, Fruits, Vegetable, Cool drinks, Coffee, Tea
Admission fee to Sossusvlei
Facebook groups:
NAMIBIA:
https://www.facebook.com/groups/namibia.namibia
SESRIEM SOSSUSVLEI:
https://www.facebook.com/groups/sossusvlei
NAMIB-NAUKLUFT NATIONAL PARK:
https://www.facebook.com/groups/namib.naukluft
TRAVEL NAMIBIA:
https://www.facebook.com/groups/travelnamibia
DRONESBERG AERIAL PHOTO/VIDEO:
https://www.facebook.com/dronesberg
Contact & reservations:
E-mail: info@namibweb.com
Reservations are only accepted in writing: by fax or via e-mail.
Final availability confirmation: in writing: by fax or via e-mail.
Terms & conditions, Payment options and Cancellation policy
Page created and serviced by



www.namibweb.com

Copyright © 1998-2023 namibweb.com - The online guide to Namibia
All rights reserved | JOIN | VIDEO PORTFOLIO | VIDEO/PHOTO COLLECTION
Telegram | YouTube | Blog
Page is sponsored by ETS & Exploring Namibia TV
Disclaimer: no matter how often this page is updated and its accuracy is checked, www.namibweb.com and ETS
will not be held responsible for any change in opinion, information, facilities, services, conditions, etc. offered by
establishment/operator/service/information provider or any third party
Images, logo & description: Copyright © Bullsport Guest Farm