Tsondab Valley Scenic Reserve & Desert Farm
Solitaire
The 17000 ha property (ca. 170 sq km) is a panoramic piece of desert & dune landscape on the edge of the Namib Naukluft Park. Safari operator AFRICAN Blue Sky SAFARIS is based here.
Solitaire car wrecks outdoor museum: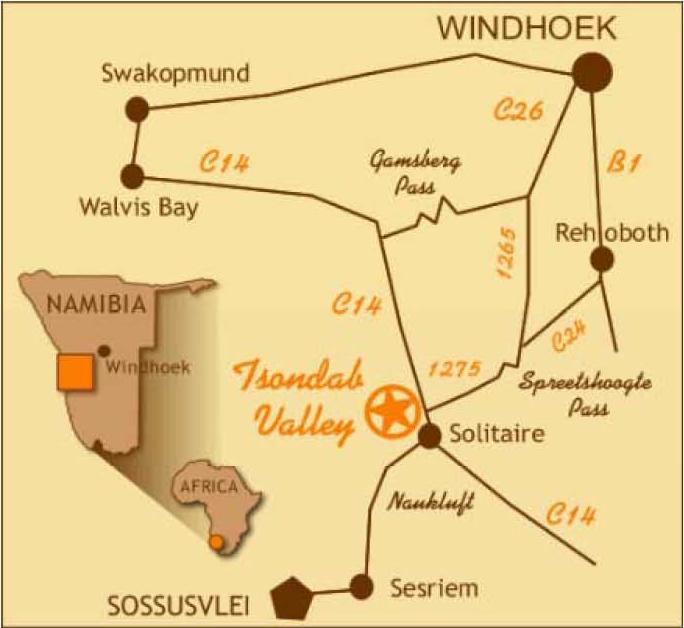 Tsondab Valley is not just another night stop, but rather a special destination on your Namibia journey that has the following services and activities to offer:

• guest accommodation: half board (DB&B) or full board; all bungalows with roof terrace and dune view with the opportunity to spend a night under the stars!

• camping

• scenic flights over Namib Desert & Atlantic Coast (shipwrecks!) + tailor made fly-in safaris

• dune drives

• walking & hiking (Secret Canyon and much more!)

• very unique sceneries, motives & film - photo locations for professionals and amateurs

• conveniently situated on the main road C14 connecting Namibia's major tourist attraction Sossusvlei with the costal towns of Walvis Bay & Swakopmund.

At Tsondab Valley owners have built in accordance with nature.

Our 5 en-suite guest bungalows will easily resist any intractability of nature with high ceilings and massive walls. Additionally, they give a nice appearance in the surrounding desert landscape.

Our open dining area with bar impresses with breathtaking views over the Camelthorn Valley & red sand dunes as well as the nearby floodlit waterhole.

During the hot time of the day our guests enjoy a refreshing bath in the large natural pool (8x12 m).
Let us introduce you to a variety of delicious dishes - preferably Namibian game - of lodge's superb German-Namibian cuisine.

The premises consist of 3 separate campsites, conveniently situated under acacia trees with wind protection, water tab, movable fireplace & stone table. Exclusive views over the Camelthorn Valley & dunes from every site!

Visitors especially appreciate our open-air showers (hot & cold water), which are skillfully integrated into the caves as part of the limestone plateau underneath the farmhouse. Open views to the stars & dunes plus intimacy in harmony with nature guaranteed!

Tsondab Valley's unique landscape with petrified dunes, marble mountains, sand dunes, vast plains and especially the Camelthorn Valley just underneath the Lodge offers a great variety of walking and hiking options.

A few of the most popular routes are as follows:

• Secret Canyon: Discover our ancient petrified dunes on foot. In this 50 m deep and approximately 2 km long canyon you will always find some shade to take a good rest.
Route from/ to Lodge: around 8 km.
Walking time from/to Lodge: around 4 hours.

• Option: Canyon Shuttle
You may reduce the walking time by 2 hours by making use of lodge's shuttle, which takes you one way to or from the entry point of the Secret Canyon - or even both.

Shuttle rates on request.

• Climbing of Panorama Mountain: The view from the peak is truly unforgettable. Share your impressions with other guests and take down a note into our "book of summit"...
difference in altitude with Lodge: around 150 m.
Route from/to Lodge: around 3 km
Walking time from/to Lodge: approximately 2.5 hours.

• Camelthorn Walks: Choose your own route through the Camelthorn Valley. Take a closer look at the huge, ancient Camelthorn trees, the sand dunes on the opposite side of the valley (around half an hour walk from the Lodge) or the Small Canyon. You will always have the Lodge in sight for your safe way back.

Lodge's camping guests are invited to join hosts:

• at the Bar
• for a swim in our natural pool or
• for an unforgettable dune drive (please book in advance)

For your personal desert experience join for a drive through the dune valleys of Tsondab nature reserve.

For example we lead you through the Camelthorn Valley up to The Secret Canyon; over vast desert plains with spectacular views to the Naukluft Mountains.

Tsondab Valley dune drives - a guaranteed 4x4 adventure with beautiful pictures and memories to take home!
Rates per person per night dinner, bed and breakfast: on request
| | |
| --- | --- |
| Single or double en-suite bungalow | - |
| Camping: Adult, no meals | - |
Facebook:
NAMIBIA:
https://www.facebook.com/groups/namibia.namibia
SESRIEM SOSSUSVLEI:
https://www.facebook.com/groups/sossusvlei
NAMIB-NAUKLUFT NATIONAL PARK:
https://www.facebook.com/groups/namib.naukluft
TRAVEL NAMIBIA:
https://www.facebook.com/groups/travelnamibia
DRONESBERG AERIAL PHOTO/VIDEO:
https://www.facebook.com/dronesberg
Contact & reservations:
E-mail: info@namibweb.com

Reservations are only accepted in writing: by fax or via e-mail.
Final availability confirmation: in writing: by fax or via e-mail.

Terms & conditions, Payment options and Cancellation policy
Page created and serviced by



www.namibweb.com

Copyright © 1998-2023 namibweb.com - The online guide to Namibia
All rights reserved | JOIN | VIDEO PORTFOLIO | VIDEO/PHOTO COLLECTION
Telegram | YouTube | Blog
Page is sponsored by ETS & Exploring Namibia TV
Disclaimer: no matter how often this page is updated and its accuracy is checked, www.namibweb.com and ETS
will not be held responsible for any change in opinion, information, facilities, services, conditions, etc. offered by
establishment/operator/service/information provider or any third party
Description: Copyright © Tsondab Valley Desert Farm