Sitatunga Camp Maun
Ngamiland
Delta Rain, running Sitatunga Camp in Maun, are specialists in 3 day mokoro safaris. Hosts early morning departure on day one takes us on a relaxing drive through the mopani forest into the Okavango Delta. At the local village you will be introduced to your guides and mokoro polers. After you are comfortably settled in your dug out canoe, you then continue up the pristine channels of the Okavango Delta. The Mokoros travel up the channels that are created during the dry season when the wild animals walk in herds as a straight line, creating trails th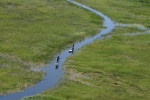 at are devoid of vegetation. When these areas flood they fill with water and form channels suitable for the Mokoros. Quite often the channels are still used by wild animals, especially wandering elephant and herds of water loving antelope such as red lechwe. The channels divide the Delta into small islands, on one of which you will set up your camp. These islands are grazed by animals such as zebra, giraffe, elephant etc until predators, such as Lion, come hunting followed by scavengers, such as jackals and hyena.
Don't worry, all of the trips that establishment run are lead by qualified guides who have lived in the delta their whole lives, so you will be well looked after. Delta Rain has been here for over 10 years doing these trips and there are a few little extra things that establishment have implemented to ensure your safety and to make sure that a good time is had by all. Establishment use a private concession area that is run by a trust of local people. The nice thing about working directly with the trust is that establishment support the Indigenous people at a 'grass roots' level. It makes it that much nicer when you can actually see the benefits going right back into the community. In this concession area there are two rivers that establishment can use, the Boro and the Ditshipi rivers. Delta Rain has radio contact with both of these rivers, so just in case something was to go wrong establishment will be able to be reached in an emergency. Establishment are the only company operating mokoro trips into the delta that has direct radio contact with the mokoro stations.

Botswana has a large variety of habitats, which are home to an astounding array of animal and bird life. From the vast expanse of the Kalahari Desert that provides a huge contrast with the crystal clear waters of the Okavango Delta. To the sheer rock faces of Tsodilo Hills, which feature the ancient san rock paintings. Botswana is also home to tens of thousands of migrating zebra, and flamingos that seasonally congregate on the worlds largest salt pans, the Makgadikgadi Pans. Each of these areas are unique in beauty and all provide a true wilderness experience. Delta Rain offers mobile safaris through out Botswana and Africa. Include other African Countries to your itinerary. Zambia, Mozambique, Namibia, Zimbabwe and South Africa are all easily accessible and can combine to ensure you have a truly fantastic African experience.
| | | | |
| --- | --- | --- | --- |
| | | | |
Rates per room per night, accommodation only: on request
| | |
| --- | --- |
| Camping, per person | - |
| Cabins, shared ablutions, per twin room | - |
| Chalets, en-suite, per twin room | - |
Facebook groups:
NAMIBIA: https://www.facebook.com/groups/namibia.namibia
BOTSWANA: https://www.facebook.com/groups/botswana1
DRONESBERG AERIAL PHOTO/VIDEO: https://www.facebook.com/dronesberg
Contact & reservations:
E-mail: info@namibweb.com

Reservations are only accepted in writing: by fax or via e-mail.
Final availability confirmation: in writing: by fax or via e-mail.

Terms & conditions, Payment options and Cancellation policy
Page created and serviced by



www.namibweb.com

Copyright © 1998-2023 namibweb.com - The online guide to Botswana
All rights reserved | JOIN | VIDEO PORTFOLIO | VIDEO/PHOTO COLLECTION
Telegram | YouTube | Blog
Page is sponsored by ETS & Exploring Namibia TV
Disclaimer: no matter how often this page is updated and its accuracy is checked, www.namibweb.com and ETS
will not be held responsible for any change in opinion, information, facilities, services, conditions, etc. offered by
establishment/operator/service/information provider or any third party
Description & pictures: Copyright © Delta Rain