Melissa's Guest House
Oase Guest House & Onjowewe Film House
Kamanjab
Oasis Garni Guest House was renamed to Melissa's Guest House.
Oasis Garni Guest House was the first accommodation establishment in Kamanjab, northern Namibia. The building was originally a grocery and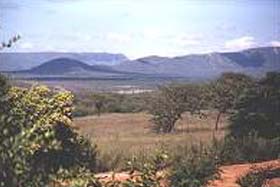 clothing store that the first owner renovated into the Guest House. The Burger Family bought the Guesthouse in 1998. Since then it has been their main goal to make all their clients feel welcome with true African hospitality.

Your guests will be able to relax in one of the 20 en-suite rooms after their long journey. In the evening they can enjoy dinner at the A'la Carte Restaurant and afterwards have a drink in the beer garten.

Oase Garni Guest House is the ideal stop over from Swakopmund on your way to Opuwo or the Etosha National Park.
YouTube video: Swakopmund - Epupa Falls flight to Himba village:
When staying at Oase Guest House you can visit the Himba Village on the family farm. The two Burger brothers - Jaco and Eben - have been adopted by the Himba tribe more than 14 years ago.
Jaco has adopted more than 28 Himba children from poor and alcoholic families unable to provide for them.

Accommodation available at the Oase Guest House
- 5 En-Suite Double Rooms
- 8 En-Suite Twin rooms
- 3 En-Suite Family Rooms

Facilities available at the Oase Guest House
- A'la Carte Restaurant
- Beergarten & Bar
- Splash Pool
- Internet Facilities
- Laundry Service

Activities Available at the Oase Guest House
- Himba Village Excursion
- Rock Engravings at the Peet Alberts Koppies
- Traditional Donkey Cart Rides
- Healing Hands Beauty Salon & Mini Spa

Travel to Oase Garni Guesthouse by Car
From Khorixas drive on the C35 until you reach Kamanjab. Turn right into Gemsbok Road and continue past the Supermarket to the Guest House

From Opuwo / Palmwag / Outjo turn onto the C35 going Into Kamanjab. Drive down the C35 until you reach Gemsbok Street on your left hand side. Turn left and Continue until you reach the Guest House on the right.
Best available rates per room per night: on request
Bed and breakfast
Single | double room
-
Family room (1 double and 2 single beds)
-

Activities per person

Jaco's Himba tour
-
Children policy accommodation only:
Children of all ages in own room: full rate
Himba Visit
Situated about 20 km outside of town, a guided tour around the village will, not only give you an in depth insight into the life and ways of the last traditional tribe in Namibia, the Ova-Himba, but an amazing photographic opportunity as well.
You will experience the milking ceremony, the smoke bath, be informed on the beliefs around the holy fire, ancestors, and herbal medicine.
You will also learn about the jewellery and hairstyles to imitate the status of each tribe member and their close relationship with nature, their cattle and children.
Your guide Jaco, is an Afrikaans-speaking white male who has lived with his Himba family within the Himba Culture now for several years and speak the language fluently.
He was adopted into the Himba Culture by an old chief, Tjsikume Bhahona, who lives in the mountains at Ongkongo near Opuwo.
After spending a lot of time with his new adopted family, Jaco decided to return home to the farm of his father just outside of Kamanjab where he still had herds of Nguni Cattle, goats and some sheep.
Chief Tjsikume has later asked Jaco if some of his people can come live on the farm to help him look after his goats and cattle.
Part of the family then moved to the farm and built a traditional village to stay true to their culture.

The income generated from these excursions, helps to sustain the tribe from day to day, buying food and supplies, medicine (if necessary) and taking care of the children adopted by Jaco from various families unable to support them, some of them needing books and clothing for school.

Please take note that the village is not for show or a human zoo, you will be allowed inside these amazing peoples' home and have a cultural exchange.
Please respect their lives and ways as they would respect yours and in this way help preserve their culture and traditions.

Only pre-booked trips for overnight guests: departures at 08h00, 10h00 and 16h00.
---
Onjowewe Film House:

"House in the Rocks"

Situated on the family farm, this unusual house in the North-West of Namibia was built on the cattle farm of Mr Burger in 2004 as a set for the movie "The Trail" or better known as "La Piste". Since then the Burger family has renovated and revamped this magical house into an overnight experience for travellers.

Not your typical lodge, and definitely for the more adventurous! There is No electricity and light in the evening are provided by paraffin lamps, bamboo torches and candles, which creates a surreal and magical ambience.

Definitely a very popular spot for Honeymooners! The house consist of an open plan living and dining area, 2 Double en-suite rooms and 1 Double room with open air shower and bathroom facilities.
Braai Facilities and a well equipped kitchen, a swimming pool and deck where you can relax and watch the stars during the evening.
Located within walking distance from Himba Orphan village.

There are 2 options offered:

Self-catering
(Guests bring their own food and drink which they can prepare themselves in a fully equipped kitchen. Hot water for the showers will be provided in the evening and there is staff on stand by to help with the requirements of the guests.)
Rate per person per night: on request

Full Board
Guests are welcomed by our friendly staff for afternoon coffee and cake, followed later by sundowners drinks & snacks and a wonderful home cooked meal in traditional African and Afrikaans style. Drinks will be provided for the guests own account and a full farmers breakfast is served in the morning)
Rate per person per night: on request

Please note that we do not have any signs indicating the turn-off to Onjowewe as bookings are essential and should there be any guests booked, to respect their privacy.

Duncan's camp site:

Situated on the family farm, 20 km from Kamanjab lays a beautiful secluded campsite nestled between large granite boulders. Hosts offer hot / cold showers and clean ablution facilities. The campsite is also walking distance from the Himba Village and ideal for the more adventurous.

Facebook:

NAMIBIA: https://www.facebook.com/groups/namibia.namibia

DAMARALAND: https://www.facebook.com/groups/damaraland

KAOKOLAND: https://www.facebook.com/groups/kaokoland

DRONESBERG AERIAL PHOTO/VIDEO: https://www.facebook.com/dronesberg

Contact & reservations:
E-mail: info@namibweb.com



Reservations are only accepted in writing: by fax or via e-mail.
Final availability confirmation: in writing: by fax or via e-mail.

Terms & conditions, Payment options and Cancellation policy

Page created and serviced by



www.namibweb.com

Copyright © 1998-2023 namibweb.com - The online guide to Namibia
All rights reserved | JOIN | VIDEO PORTFOLIO | VIDEO/PHOTO COLLECTION
Telegram | YouTube | Blog
Page is sponsored by ETS & Exploring Namibia TV
Disclaimer: no matter how often this page is updated and its accuracy is checked, www.namibweb.com and ETS
will not be held responsible for any change in opinion, information, facilities, services, conditions, etc. offered by
establishment/operator/service/information provider or any third party
Description & images: Copyright © Oase Guest House & Onjowewe