Kalkrand

The main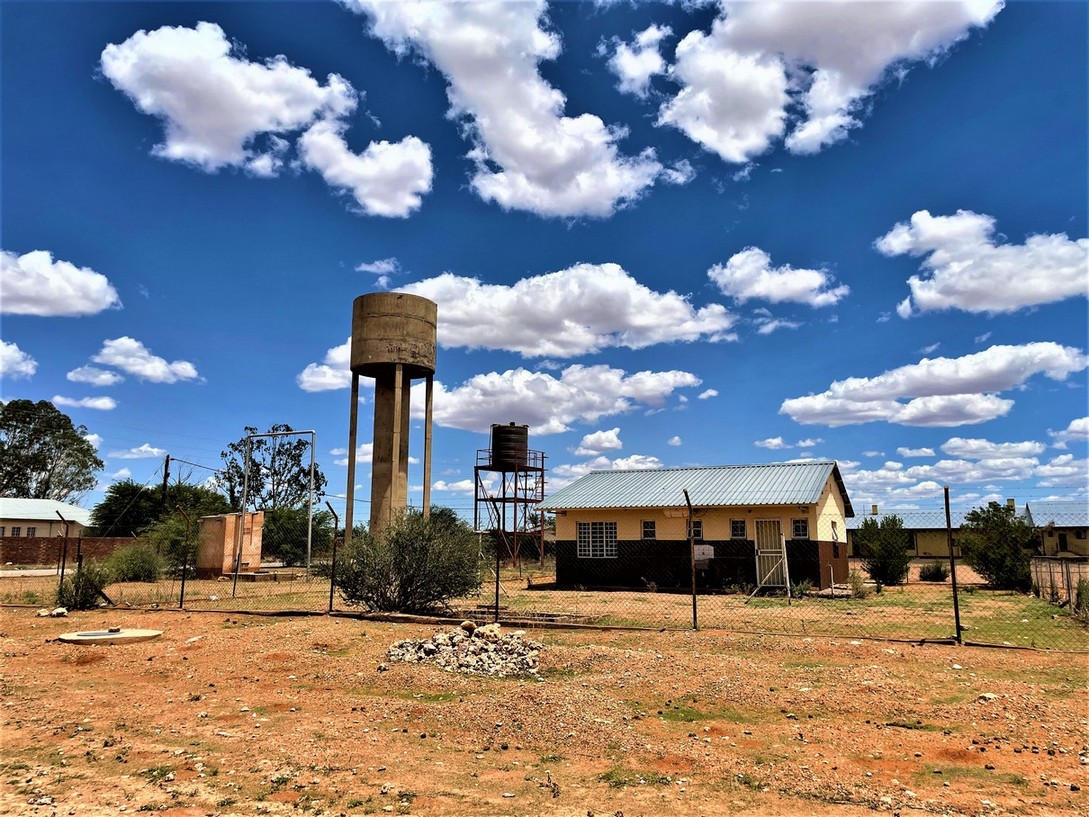 Namibia's highway B1 passes through the ranching land of the Baster community south of Rehoboth, before reaching the village of Kalkrand with its Shell garage, bottle store and takeaway stand, small clinic and about 20 houses.
Kalkrand is governed by a five seats village council. Village is quite small but its general dealer, fuel station, school, police station and public clinic comfortably sustains the local farming community and it is located on national highway connecting Namibia and South Africa.
Accommodation options near Kalkrand settlement: Intu Afrika Game Reserve, Bagatelle Kalahari Game Ranch, Teufelskrallen Tented Lodge.
Monument at Kub, Kalkrand area
The Monument commemorates the battle at Kub between the Nama and the German forces on 22 November 1904. It is situated on the Farm Voigtskub, a few hundred metres east of the road between Kalkrand and Maltahöhe along the Fish River.
YouTube video of Kalkrand, Namibia:
About 20 km north of the Kalkrand, at the Duineveld Crossroads (Blokwater area, GPS: -23.94187 17.483065), there is a number of roadside stalls where springbok skin rugs are sold by locals from Duineveld.
The skins themselves are bought from commercial farmers and then stitched together and lined with karakul fur before being sold. The sale of these rugs plays an important role in the economy of the village. "Kalk" means lime or calcium and "Kalkrand" means lime ridge.
We met Eldro, one-legged man with a prosthesis, selling skins - mainly springbok and mats made from springbok, cow and wildebeest skins and wool to support himself and his family. He has to walk daily five kilometers from Duineveld settlement to B1 road and 5 km back to sell skins to support his family. The community purchases the skins from the farmers ("boere" in Afrikaans), tan and stitch it and prepares it for sale in a community tannery. The prices are very low comparing to many shops and markets in Namibia.
YouTube video: selling skin rugs at Duineveld - B1 crossing:
Eldro's cell: +264 818 641904, he is from Duineveld settlement. His padstall (makeshift shop) is about 20 km north of the Kalkrand driving towards Rehoboth, at the Duineveld Crossroads (Blokwater area, precise GPS: -23.94187 17.483065).
To print this page press Ctrl-P
Contact & information:
E-mail: info@namibweb.com
Reservations are only accepted in writing: by fax or via e-mail.
Final availability confirmation: in writing: by fax or via e-mail.
Terms & conditions, Payment options and Cancellation policy
Page created and serviced by



www.namibweb.com

Copyright © 1998-2023 namibweb.com - The online guide to Namibia
All rights reserved | JOIN | VIDEO PORTFOLIO | VIDEO/PHOTO COLLECTION
Telegram | YouTube | Blog
Page is sponsored by ETS & Exploring Namibia TV
Disclaimer: no matter how often this page is updated and its accuracy is checked, www.namibweb.com and ETS
will not be held responsible for any change in opinion, information, facilities, services, conditions, etc. offered by
establishment/operator/service/information provider or any third party