About Bagatelle

Bagatelle Lodge lies on the edge of the Southern Kalahari in the mixed tree and shrub savanna.
The ranch is characterised by huge red sands dunes running parallel, and in a northern-westerly to south-easterly direction. The valleys in between the parallel dunes are commonly known as 'streets'.
YouTube video of Kalkrand, Namibia:
This 'Spirit of Africa' atmosphere, coupled with service delivered with graciousness and charm, in an unashamedly luxurious setting, will be the hallmarks of this establishment, providing excellent value and unforgettable memories for the discerning traveller.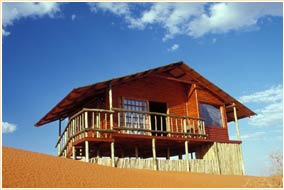 The Kalahari – an ancient living desert

A harsh land, a land of relentless sun and scaring wind – a land of great thirst and mystery. After the first rains, a land transformed into exquisite beauty with the dunes erupting in a blaze of colour!

The Kalahari conjures up different images in the minds of different people. Some see it as a scratching desert. Others see it as their future, built on cattle and sheep, ostriches and wildlife. The Kalahari is all of this, but also something more.
Activities & Facilities

Facilities

The design and décor, materials and furnishings gardens and natural settings, all combine to ensure our guests live their dream of an African safari.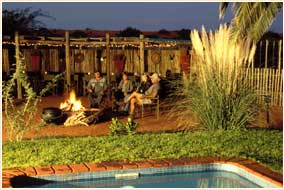 A rambling old farmhouse was extensively altered, upgraded and renovated to not only serve as a residence, but also as the main nerve center of the Lodge.

An entrance hall leads to the reception, lounge, dining room, bar & cellar, library and office. The main dining area is an enclosed porch of enormous proportions.

There is a swimming pool and recreation area with a pool table and hammock. An open air lapa for outdoor meals captures the atmosphere of an African Safari.

Although two styles of bungalows are provided, both have the same standard of luxury and finish quality. Four chalets, constructed of wood and on stilts are built on top of a Kalahari Sands Dune, with unsurpassed views to the Southwest.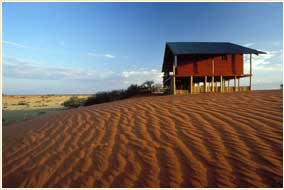 The other six bungalows are built in the street or valley between the dunes. These chalets are built of 'hay balls' with walls 600mm thick, the insulation and atmosphere are equally fantastic.

The main difference between the two styles of chalets besides the construction method, is the fact that the bungalows have a bath and shower, while the 'hay ball' chalets only have a shower. The level of finish is the same for all bungalows, with fans, air conditioners, shower, toilet, vanity basin, writing desk, coffee table, chairs, bed lights, bar fridges, quality linen and décor that will exceed your expectations.

Activities

We have a well stocked, small library with a broad selection of books mainly on Africa and matters relayed to African florae and fauna.

Additionally, our video library contains over 100 videos on African wildlife.

Relaxing next to the sparkling swimming pool and soaking up the hot African sun is something to be experience. Relax in the comfortable hammock or play some pool.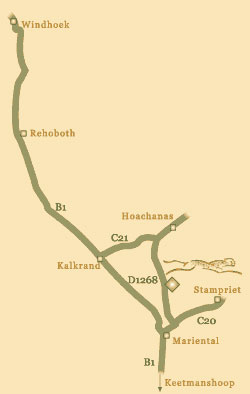 Our 'Nature drive' during the early morning and late afternoon will enable you not only to view our diversified animal and bird life, but also the unique dune topography and vegetation.

A traditional sundowners on a red Kalahari sand dune will be the perfect way to watch the sun sink away into the distant dunes.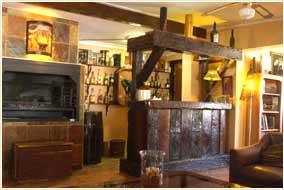 So how does the agricultural farming community make a living in this harsh, unforgiving and ancient living desert? It will be our pleasure to show you our sheep and cattle farming operations and explain what is entailed to keep the ranch going as a viable concern.

Our chef stands ready to tease and appease your taste buds, morning noon & night. Coffee, tea, snacks and drinks are available all day long from our honour bar.

Relax with a cold one, binoculars and book on our viewing platform overlooking a natural waterhole, and watch our cheetah at play.

In association with the cheetah conservation fund, we are the custodians of cheetah kept in an enclosure right next to the recreation area. The facility was built exceeding the requirements laid down by the Ministry of Tourism and wildlife and under the guidance of the cheetah conservation fund.

These captive cheetahs are not able to be released into the wild, and have to remain in captivity for the rest of their live. Our aims is to ensure that this happens in a way that ensures the best quality of life for these speedsters of the African savanna.
Garden Court rooms:
Rates per night: on request
Accommodation: Bed & Breakfast or Dinner, Bed & Breakfast
Dune Chalets - / person / night sharing
Strohbale Chalets - / person / night sharing
Family room (Strohbale only), maximum 3 adults
Garden Court rooms - / person / night sharing
Transfers from and to Whk Int Airport: vehicle/transfer (max 4 pax)
Transfer from Bagatelle Kalahari Game Ranch to Mariental landing strip
Per person (return) - max 4 pax / vehicle
Activities
AM Guided Walk
AM Scenic Drive (approx 2 hours)
Sundowner Drive - incl. sundowner drink, starts: Winter - 15:00 Summer - 16:30
Cheetah feeding, starts: Winter - 16:30 Summer - 17:00
Camping, per person per night, maximum 6 persons per site
Facebook:
NAMIBIA: https://www.facebook.com/groups/namibia.namibia
TRAVEL NAMIBIA: https://www.facebook.com/groups/travelnamibia
KEETMANSHOOP: https://www.facebook.com/groups/keetmanshoop.namibia
MARIENTAL: https://www.facebook.com/groups/mariental.namibia
DRONESBERG AERIAL PHOTO/VIDEO: https://www.facebook.com/dronesberg
Contact & reservations:
E-mail: info@namibweb.com
Reservations are only accepted in writing: by fax or via e-mail.
Final availability confirmation: in writing: by fax or via e-mail.
Terms & conditions, Payment options and Cancellation policy
Images:
Page created and serviced by



www.namibweb.com

Copyright © 1998-2023 namibweb.com - The online guide to Namibia
All rights reserved | JOIN | VIDEO PORTFOLIO | VIDEO/PHOTO COLLECTION
Telegram | YouTube | Blog
Page is sponsored by ETS & Exploring Namibia TV
Disclaimer: no matter how often this page is updated and its accuracy is checked, www.namibweb.com and ETS
will not be held responsible for any change in opinion, information, facilities, services, conditions, etc. offered by
establishment/operator/service/information provider or any third party
Logo: Copyright © Bagatelle