| | |
| --- | --- |
| The Desert Homestead & Horse Trails | |
The Desert Homestead lies three kilometers north-west of the C19 and D854 roads junction, approx. 32km southeast of Sesriem. The wide grassy valley is sheltered by the Nubib, Tsaris and Naukluft mountains with a view reaching the distant dunes of the Namib Desert in the west.
In this exquisite position, we offer simple but stylish accommodation in thatched chalets which were designed with the fragile beauty of this remarkable environment in mind.
The Desert Homestead will ensure you an unrivalled respite from the desert extremes. Tranquil surroundings, Alfresco dining, delectably fresh farm cuisine, refreshing dips in the pool, stunning sunsets and sunrises are the basic pleasures at our lodge.

And meandering across endless plains or discovering ancient water courses on a beautifully groomed steed is a magical and alternative way to appreciate our surroundings. The final remnants of each day sees nature at her most profound. Rugged landscapes bathed in hues of pastel ... a truly humbling experience.
You will experience a friendly and welcoming atmosphere at Desert Homestead. The living areas of the Main Lodge are all open plan, encouraging guests to move around freely. The most prominent feature is the well sheltered verandah where you can have a leisurely breakfast, lunch and dinner, candle-lit even on windy evenings. Inside, you will find a cosy lounge with ethnic African decoration and comfortable leather sofas. Satellite TV is available in an separate room. The bar is attended by a friendly, well educated and communicative barkeeper. And, here you can also chat to hosts, Melissa and Andrew.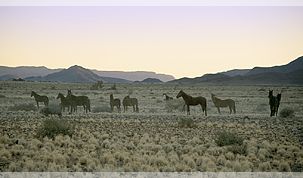 Desert Homestead offers creative farm style cuisine with fresh vegetables from our desert gardens. The swimming pool in front of the main building is good for a refreshing dip and well utilized throughout the year.

Accommodation is offered in rustic thatched chalets, all lined up in a good distance from each other between the main lodge and the open grassland.
Horse back activities: The Desert Homestead has excellent riding horses, all docile and easy to handle. You can choose between several outriders options. Most popular are our sunrise and sunset rides.
The Sunrise Ride: Guests meet for tea, coffee and biscuits at sunrise and then drive across to the stables. Once the horses and riders are ready and comfortable, the ride begins. The scenery varies quite dramatically, from dry river beds to massive Camel Thorn trees, to mountain paths and wide open grassy plains. After about two hours of riding, guests discover a breakfast table under a camel thorn tree, with a delicious spread of cheeses, cold meats, fresh bread and muffins, yogurt, muslin and fruit platters. Fresh orange juice and percolated coffee, of course. After a leisurely breakfast, guests mount up and ride for another hour back to the stables.
The Sunset Ride: Afternoon tea and coffee are enjoyed on the lodge verandah, after which guests are driven across to the stables. Once horses and riders are ready and comfortable, the adventure begins. Riders wind their way across the grassy plains, and through ancient water courses and eventually up a steep mountain track, where a friendly barman with a selection of cocktails awaits them. Once the gin and tonics and snacks have been enjoyed with yet another magical desert sunset, guests once again mount up, and slowly make their way back to the stables.

Hosts also offer a sundowner drive in the evenings which includes a leisurely nature drive, slowly winding up a mountain, and culminating in gin and tonics and snacks, before venturing home again.
Rates per room per night: on request
Bed & breakfast

Single/double/triple room

-
Activities
Sundowner drives
-
Sossusvlei excursions
-
Naukluft excursions
-
Champagne breakfast rides
-
Sundowner rides
-
Sleep out rides (1 night)
-
Longer sleep out package/per night
-
Notes:
Rates are subject to change without prior notice should tax be increased or Government levies introduced. Rates include Value Added Tax.
Facebook:
NAMIBIA:
https://www.facebook.com/groups/namibia.namibia
SESRIEM SOSSUSVLEI:
https://www.facebook.com/groups/sossusvlei
NAMIB-NAUKLUFT NATIONAL PARK:
https://www.facebook.com/groups/namib.naukluft
TRAVEL NAMIBIA:
https://www.facebook.com/groups/travelnamibia
DRONESBERG AERIAL PHOTO/VIDEO:
https://www.facebook.com/dronesberg
Contact & reservations:
E-mail: info@namibweb.com
Reservations are only accepted in writing: by fax or via e-mail.
Final availability confirmation: in writing: by fax or via e-mail.
Terms & conditions, Payment options and Cancellation policy
Page created and serviced by



www.namibweb.com

Copyright © 1998-2023 namibweb.com - The online guide to Namibia
All rights reserved | JOIN | VIDEO PORTFOLIO | VIDEO/PHOTO COLLECTION
Telegram | YouTube | Blog
Page is sponsored by ETS & Exploring Namibia TV
Disclaimer: no matter how often this page is updated and its accuracy is checked, www.namibweb.com and ETS
will not be held responsible for any change in opinion, information, facilities, services, conditions, etc. offered by
establishment/operator/service/information provider or any third party
Images & description: Copyright © The Desert Homestead and Horse Trails