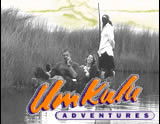 Umkulu Adventures
Company Profile
Welcome to Umkulu Adventures, one of Africa's leading adventure companies. Established in 1997, we specialise in overland, safaris and river rafting tours throughout Southern Africa.

The name "Umkulu" is pure African, derived from the Zulu (an African tribe) language. Used figuratively, it means "big chief" or "the big one", and is used as a sign of respect or authority in their language.

At Umkulu Adventures, we believe that "adventure" should be synonymous with comfort and reliability. We have therefore endeavoured to add the highest levels of professionalism, reliability and comfort to our tours, vehicles, equipment and guiding style, making them an ideal adventure holiday for a wide range of travellers.

The owners of Umkulu Adventures, Hennie Prinsloo and Werner Schultz, are actively involved in all aspects of the company and regularly lead tours, which ensures that our high quality standards are maintained and improved, therefore improving the value of our products for the client. One of the few companies that were formed by experienced freelance guides.

Our guides are one of the most important aspects of our company. They are experienced professionals in their field, with a passion for Africa, the life-style and its people. Aside from the "normal" guiding qualifications, Umkulu Adventures employs a rigorous in house training program, making them some of the best trained in their field.

We are a small company with a big name and a "hands on" approach, offering a more personalised tour with a level of professionalism and enthusiasm rivalled by none.

What is an Overland Safari?
An Overland Safari is an organised tour that takes independent travellers in a custom built truck through different adventures and routes. Overlanding is not for the faint hearted. The combination of travellers accompanying an overland tour is different in culture, age, race, and adventure. This is an ideal way to participate in a budget conscious adventure where people meet fellow passengers and fellow travellers along with local African people. Overlanding ensures that your independent travelling will be experienced on the true African way. Due to our routes and itineraries you will have exposure to all facets of Africa and its divers beauty. We will guide you to be independent whilst travelling in a group. There is never a dull moment on an African Overland Adventure. Come and join Umkulu Adventures on an unforgettable outdoor adventure of a lifetime. All that's needed is you and your sense of Humour.

Vehicles
Our overland tours are conducted in custom-built overland vehicles manufactured in South Africa by a SABS approved truck body builder. Our Mercedes Benz trucks are serviced after each tour and specially designed for comfort on these long overland safaris. Trucks on the 21-Day Cape Town to Victoria Falls route are fitted with glass windows, minus 40-fridges, a full onboard kitchen, long-range fuel tanks and a 210 Litres water tank, making them self-sufficient for the vast areas covered. Each client has an individual bucket seat with a personal locker attached.

Our safaris are custom-built open 4x4 vehicles, specially designed to maximise game viewing.

Camping Equipment
Our spacious two-man dome tents have built-in mosquito nets and ground sheets specially designed for the outdoor conditions of Africa. Trucks are fully equipped with the necessary cooking equipment, cutlery and crockery. Clients need only bring their sleeping bag and items of personal nature on tour. We also supply two cooler boxes for the client's personal drinks and camping chairs with backrests for their comfort. Comfortable foam mattresses are supplied free of charge.

Meals
Although overland tours are participation tours, our guides still prepare your trip meals. Dinners are normally prepared on an open fire and consist of different African dishes, braai's, bakes, stews and salads. A normal day's meal will comprise of a breakfast, a light lunch and a well-balanced dinner. We do cater for special diets such as vegetarian, lactose intolerant, diabetic etc.

Some of the tours advertised, operate on a food kitty system due to the areas visited, which has proven to be a better option.

We pride ourselves on the quality and quantities of our meals prepared on tour.

Our Guides
The passion for our adventure Overland safaris are carried through by our passionate guides All our tours are lead by a minimum of 2 guides per truck.

We operate on a driver / guide system. Each guide has a code 10 drivers' permit and a Professional Drivers Permit (PDP). They are THETA and DEAT accredited and have valid First Aid Certificates. Therefore both guides are capable of doing the same work making our tours safer and providing the clients with top quality service. We believe in a team and at Umkulu adventures 2-driver guides work on the same team to ensure your satisfaction on our adventures in Southern Africa.
Pre–Departure Information

Passports and Visas

A valid passport is required for the duration of the expedition with at least 6 blank pages for entry/exit stamps and necessary visas. Please ensure that you have all the necessary visas for entry into the countries that you will be visiting. Umkulu Adventures will not be held responsible if you are denied entry into any of the countries should the necessary visas not have been obtained.

Insurance

Travel insurance is compulsory. No client will board without travel insurance.
Health

On most expedition's malaria prophylaxis are essential. Please consult your GP or travel clinic for updated advice on which tablets you should take. Insect repellents, coils, clothing and netting are also recommended for protection against bites. Vaccination may be required for some of the more exotic destinations; please check with your GP or travel clinic for updated requirements for the countries being visited.
Although a medical kit is available on board we advise all clients to bring their own personal kits, a suggested list of necessary medication will be supplied upon request. Please ensure that you take your own specialized medication for any ailments.
Luggage / Baggage
Travel as light as possible. Each passenger is limited to one backpack/canvas kit bag/soft suitcase (MAX 12 kg) plus a small cabin bag for items required during the day. Umkulu Adventures reserves the right to refuse any luggage over 12–15 kg.
Currency

Best currency for Cape to Vic Falls is South African Rand and US$ . Vic Falls to Nairobi route is US$ dollar the best. US$ cash and travellers Cheques are best to travel with . American Express Credit cards are not accepted . Credit cards are welcome , however you will need cash for over the counter purchasing.
All credit card payments will be charged with a 5% surcharge. We suggest that you bring extra cash for optional activities.
Kitlist
Jeans
Shorts/ T-shirts / Sundress
Sweaters / Tracksuit
Swim Wear
Anorak and warm jersey
Sun Hat / Cap / Sunglasses
Trainers/ Hiking Boots
Strops / Sandals
Towel, Toiletries and Toilet Paper
Camera + Bag + Extra Film
Bio-Degradable Soap
Torch with extra batteries
Sleeping Bag
Binoculars
Sarong
Pocket Knife
Music Tapes
Pad Locks
Water Bottle / Purifying Tablets
Sewing Kit

VALID PASSPORT AND VISAS
Personal Medical Kit
Mosquito Net – optional
Sterile Dressing / Bandage
Malaria Tablets
Eye Drops
Insect Repellent
Fungal Infection Powder
Anti – Diarrhoea
Needle
Anti Septic Cream / Powder
Lip Balm / Sun block
Painkillers
Extra Contact Lenses / glasses
Re-Hydrate Satchels
(or prescription)
Please state all Medical Conditions to your guides.
ie. asthma, diabetes, allergies, special diets, etc.
Tours:
Reservations:
E-mail: info@namibweb.com
Please fill in our booking form and fax it back indicating a method of payment or e-mail us.
Reservations are only accepted in writing: by fax or via e-mail.
Final availability confirmation: in writing: by fax or via e-mail.
Terms & conditions, Payment options and Cancellation policy
Related:
Page created and serviced by



www.namibweb.com

Copyright © 1998-2023 namibweb.com - The online guide to Namibia
All rights reserved | JOIN | VIDEO PORTFOLIO | VIDEO/PHOTO COLLECTION
Telegram | YouTube | Blog
Page is sponsored by ETS & Exploring Namibia TV
Disclaimer: no matter how often this page is updated and its accuracy is checked, www.namibweb.com and ETS
will not be held responsible for any change in opinion, information, facilities, services, conditions, etc. offered by
establishment/operator/service/information provider or any third party