| | |
| --- | --- |
| | Overland safaris |
The Mpumalanga area is one of great contrast, bordered in the west by the towering escarpment with lush indigenous forests, crystal-clear streams and plunging waterfalls, and then falling away into the flat Lowveld indigenous bushveld, home to one of the richest diversities of fauna and flora in the world. Various private reserves and the renowned Kruger National Park are located in this area, and we spend time both in the park and on our own private reserve bordering the park. Being privately owned we are able to conduct walking trails and open vehicle drives on our property.
DAY 1: JOHANNESBURG - BUSH CAMP
We depart in the morning to travel the interesting road through Mpumalanga. Along the way we visit Dullstroom, Long Tom Pass, Sabie, a waterfall, the quaint historic town of Pilgrim's Rest, Bourke's Luck Potholes and the Blydepoort Nature Reserve. Thereafter we travel down the escarpment to the Lowveld bushveld where we overnight in our rustic DRIFTERS BUSH CAMP bordering the Kruger Park. D
DAY 2: BUSHVELD CAMP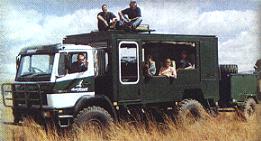 The tented camp is rustic, totally blending in with the surrounding bush. We start the day with a cup of coffee and rusks, before setting off on a game walk. We walk for approximately 3 hours to return to camp for a late morning brunch. The walks are led by a Drifters guide and tracker.
It can be relatively hot around midday, so we usually have a siesta with time to relax. Thereafter we conduct an open vehicle game drive, which develops into an extensive night drive. This provides us with the opportunity of viewing nocturnal animals, otherwise not normally seen. This evening we enjoy a hearty bush braai and an evening's relaxation. Fall asleep to the sounds of the wild. Brunch D
DAY 3: KRUGER NATIONAL PARK
We leave our bush camp in the morning to travel the short distance to the world-renowned Kruger National Park, to spend the whole day game viewing. Enjoy a picnic lunch. Accommodation is in one of the park's rest camps. Camping or bungalows. B L D
DAY 4: HAZYVIEW
After another extensive game drive following breakfast, we leave the park and head for the sleepy settlement of Hazyview. We overnight in the DRIFTERS HAZYVIEW INN, a log cabin situated spectacularly on stilts in subtropical indigenous forest right on the Sabie river. Swimming and lovely forest walks. B L D
DAY 5: JOHANNESBURG
After a relaxing start we depart to arrive in Johannesburg in the late afternoon. B
DEPARTURES
COSTAL EXPLORER
7 - DAY OVERLAND SAFARI
Cape Town to Durban
Dates and rates
IMPORTANT INFORMATION
This tour involves a fair amount of walking, so a small day-pack and walking shoes are advisable. Clients should also be prepared for rapidly changing weather conditions. Our price includes transport from Cape Town and back, food, coffee, tea, fruit juice at breakfast, all accommodation, permits and park entry fees, group equipment, Cango Caves, Ostrich Farm, boat and train trips and a professional guide.
The price does not include alcohol and soft drinks, tips, curios and optional extras.
South Africa enjoys a spectacular coastline, starting with the cold Atlantic currents and storm battered rocks of the beaches around Cape Town through to the crystal clear, warm Indian Ocean and unspoiled white sandy beaches of Durban. On this tour we endeavor to explore this coastline thoroughly, and to enjoy the many nature reserves and activities encountered en-route. This tour is designed for active clients who wish to make the most of the time available, we cover vast distance, but also include walks and other activities.
Bungalows, Inns and Hotels are used on this tour, some basic but always comfortable, all are chosen for their location. This tour requires a certain amount of fitness and flexibility; it is not suitable for those seeking a five star, luxury tour.
DAY 1: CAPE TOWN - DE HOOP NATURE RESERVE
Departing from the Drifters Cape Town Inn at 08h00, we follow the rugged coastline through the numerous fishing villages to Hermanus, well known for offering the finest land based whale watching in season. Our next stop is the southern most tip of Africa, Cape Agulhas, where the warm Indian and cold Atlantic oceans meet. This afternoon we will spend time game watching in the De Hoop Nature Reserve, acclaimed for its unique fauna and flora and spectacular scenery. We spend the night in bungalows. D
DAY 2: GARDEN ROUTE - OUDTSHOORN
An early start, we leave the coast, crossing the mighty Outeniqua mountains and entering the dry Karoo interior. We follow the famed Route 62 toward Oudtshoorn where we visit the Cango Caves, one of the world's great wonders. We will also visit a commercial Ostrich farm to learn more about these huge flightless birds. Late this afternoon we traverse the Outeniqua Pass and then travel through the Lake District en-route to our Log Cabins hidden in the heart of the Knysna forest. Our home for the next two nights will be the Drifters Knysna Inn. B L D
DAY 3: KNYSNA
This morning we will enjoy a boat cruise on the Knysna Lagoon in the Drifters Ski Boat. Weather permitting, we will cruise through the Heads and out into the open ocean in the hope of spotting whales, dolphins, sharks, and other marine life that frequents this stretch of coast. We return to Knysna village and have the some time free to explore this quaint woodcutter's town, or to simply relax at the Waterfront. Dinner tonight will be own expense, enjoyed in one of the towns many restaurants. Return to the Drifters Knysna Inn for the night. B L
DAY 4: TSITSIKAMMA - PORT ELIZABETH
Heading for the Tsitsikamma National Park, we pass through the holiday town of Plettenberg Bay, and negotiate the deep ravines and high lookouts of the "Old Passes Road". At Tsitsikamma we enjoy a short hike along the rugged coast and a visit to the suspension bridge that crosses the Storms River before continuing our journey to Port Elizabeth. On arrival we check into our hotel near the seafront and then set off to explore the many Cafes, Pubs, and Restaurants in the surrounding area. Tonight's meal will be own expense. B L
DAY 5: ADDO ELEPHANT PARK - EASTERN CAPE
This morning is spent game driving in the Addo Elephant Park, renowned for its herds of African Elephant, Black Rhinoceros, Cape Buffalo, Dung Beetle's, and other interesting species. Leaving the park in the afternoon, we continue to our next stop where we overnight in comfortable bungalows. B L D
DAY 6: WILD COAST
Today we travel into an area that was designated as a Tribal Homeland during the apartheid era (Transkei). Nelson Mandela was born here, and our route takes us past both his birthplace and the holiday house that he had built to replicate his prison house. This afternoon we arrive at our remote, secluded Coffee Bay resort where we spend some time on the beach and enjoying the surf. To stretch our legs we will conduct a walk to "Hole in the Wall" a unique rock formation created by the constant pounding of the waves. B L D
DAY 7: DURBAN
A long drive today, we pass through Umtata and then wind our way through the scenic hill's of the Eastern Cape, dotted with rural villages where women work in the fields and men tend their cows as they have for centuries. Our journey then takes us past the many resorts of the Kwazulu - Natal south coast before we enter Durban, South Africa's holiday city, and home to Africa's largest harbour. Our stop tonight is just north of Durban at the Drifters Dolphin Coast Inn, situated literally on the beach, this is the perfect place to unwind after the many days of traveling. Tonight we enjoy a celebratory meal at a local restaurant (own expense). B L
DAY 8: TOUR ENDS
The tour ends this morning after breakfast, however clients wishing to stay on at the Drifters Dolphin Coast Inn may book extra nights in order to enjoy this superb stretch of unspoiled beach.
Clients wishing to travel to Johannesburg may join the guide today at a cost of R300-00 (payable directly to the guide), but Drifters will not be under obligation to provide this service, and although we intend to be back in Johannesburg by 18h00, we can not always guarantee this.
DEPARTURES
This course is designed for those who want to combine a very active holiday with a learning experience. Because of mass tourism nowadays it is often difficult to find a product that truly caters for the fit and adventurous who are prepared to take a few risks. The amount of knowledge that one wishes to absorb on this course is up to the individual as the subject matter is vast. We will have a few lectures and an examination afterwards. However, the level of fitness required is not negotiable. This is a tough course and we will not jeopardise others' enjoyment for the sake of the unprepared. This course is not recommended for anyone over the age of 45 years.
DAY 1: JHB - DRAKENSBERG (HUT)
Leaving the DRIFTERS JOHANNESBURG INN at 09h00, we head eastward via Harrismith to our first stop overlooking the magnificent Sterkfontein Dam. After a brief discussion on the Vaal/Tugela water scheme, we continue to Retiefklip where we cover some of the more recent history of South Africa. After a 4x4 transfer to our final stop for the day, the DRIFTERS DRAKENSBERG INN, we will do a short walk and will prepare for the following days of hiking. D
DAY 2 - 4: DRAKENSBERG HIKING (camping)
After a short drive, we begin our 3-day hike into the natural wilderness area of the Berg. Each day we cover approx. 15KM with steep gradients, and clients need to be fit, as once started there is only one way out. Sleeping at night is in caves and each participant must carry his share of the supplies. Topics covered on the hike will include mountain fauna and flora, mountain leadership, and general hiking techniques. On day 4 we return to the campsite for a welcome shower.
DAY 5: DOLPHIN COAST (HOTEL)
An early start, we head directly to the coastal town of Umdloti. We will spend a night at the DRIFTERS DOLPHIN COAST INN and will cover various aspects of coastal ecology and marine biology. B L D
DAY 6 -7: ZULULAND BUSH CAMP (camping)
Leaving the coast, we begin our journey through the hills of rural Zululand to the DRIFTERS ZULULAND CAMP. Situated in a private reserve bordering False Bay, this Inn provides the ideal base for exploring the diversity of Zululand. The two days will be spent visiting Hluhluwe/Umfolozi Game Reserve, walking in False Bay National Park, visiting a Zulu village, and generally learning about the local fauna and flora.
DAY 8-9: SWAZILAND (camping)
Travelling north, we enter the Kingdom of the Swazi where we spend a full day on the Great Usutu River learning the guiding skills of kayaking and rafting. We camp for the two nights. B L D
DAY 10: KRUGER NATIONAL PARK (camping)
Leaving Swaziland, we enter the Kruger Park, home to some of Africa's most incredible wildlife. Our entire day will be spent viewing animals in their natural environment. Tonight we camp in one of the parks rest camps, where we may have the option of a night drive (own expense). B L D
DAY 11: HAZYVIEW (HUT)
After an early morning game drive in the park, we exit and travel the short distance to the DRIFTERS HAZYVIEW INN. The afternoon will be spent studying birds and butterflies in the sub-tropical riverine forest surrounding the Inn. B L D
DAY 12 - 15: BALULE GAME RESERVE (camping)
These last days of the course will be spent in the bushveld of Balule, a private game reserve bordering the Kruger Park. This is "Big 5" country, and our time here will be spent learning about spoor, trees, birds and many other aspects of nature. We will visit the Swadini Reptile Park for an in depth course on reptiles, and will conduct lessons in firearms, 4x4 driving, abseiling and other interesting subjects necessary for field guiding.
It is here also that we conduct the final exam, which will cover all of the subjects learned during the course. B L D
DAY 16: JOHANNESBURG
Today we head back to Johannesburg via the Bourkes Luck Potholes, Blyde River Canyon and Pilgrims Rest. We arrive in the evening, far healthier and wiser for the experience. B
DEPARTURES
For those that wish to experience the highlights of southern Africa with the convenience of flying in and out of Johannesburg. This tour will show you the best parts of five countries, and endeavors to highlight the contrasts that make up this region. From the desert landscapes of Botswana to the lush forests of Zambia, the tea plantations of Malawi to the deserted beaches of Mozambique, you will experience built up cities and rural homesteads, good highways and dirt tracks. This tour also concentrates on some of the finest Game Reserves in Africa, including Chobe, Luangwa and Kruger where you will see a huge variety of animals all in their natural environment. An open and flexible approach is essential for this tour.
DAY 1: JOHANNESBURG – NATA
Departing from Johannesburg, we head directly to the Botswana border. On completion of immigration formalities we continue to Nata, an oasis- like camp on the edge of the vast Makgadigadi salt pans. Tonight we familiarise ourselves with the tour procedures over a catered meal (own expense). Camp the night.
DAY 2: CHOBE RIVER
This morning we enjoy a short excursion onto the fragile crust of the salt pans. During the rainy season, huge flocks of water-birds are attracted to the pans, a sight not to be missed. We then continue up to the mighty Chobe river where we share a night at a unique camp with the herds of Elephant that are attracted by the water. B L D
DAY 3 – 4: VICTORIA FALLS
After an extensive morning game drive within the Chobe National Park, we cross the border and head for Victoria Falls, to spend two nights in comfort at the DRIFTERS VICTORIA FALLS INN. During our stay here we will view the spectacular Falls and the other highlights of this "Africa's adventure capital". Those seeking adrenaline may wish to try the Bungi jump, White Water Rafting or a variety of aircraft flips (own expense). One night we will eat at a local restaurant, (own expense). B D
DAY 5: GWABI CAMP
Crossing the original railway bridge, we have a last view of the Falls before entering Zambia. Our journey today takes us through southern Zambia and then down into the Lower Zambezi Valley to Gwabi, where we will camp the night. Relax at the pool this afternoon in preparation for the upcoming days of canoeing. B L D
DAY 6 - 8: ZAMBEZI CANOE
The Zambezi river needs little introduction, a mighty river winding its way through some of the best wilderness areas in Africa, this provides for what can only be described as the finest canoe adventure in the world. What better way to see big game at close quarters than from a canoe.
We will spend two nights camping wild on the banks of the river. On the third day we are transferred by boat back to Gwabi for a welcome shower and a catered meal (own expense) B L D
DAY 9: LUANGWA RIVER
Reunited with our vehicle we travel through the capital of Lusaka and then along the "Great East Road" to our next camp on the banks of the Luangwa River. B L D
DAY 10 – 11: SOUTH LUANGWA NATIONAL PARK
Our next stop is the Luangwa National Park, where we spend two nights camping on the banks of the river, well known for its impressive Hippo population. During our stay here we will partake in an extensive game drive in the park in search of the elusive Leopard and other species that make this park one of Africa's best. Optional Night Drive (own expense). B L D
DAY 12 – 13: LAKE MALAWI
Crossing into Malawi today, our first stop is Lilongwe, the capital. After stocking up with groceries and curios, we continue to Lake Malawi, an impressive inland freshwater sea. The snorkeling is a highlight, as are the sandy beaches and friendly locals. We spend two nights here, camping literally on the beach. B L D
DAY 14 – 15: MULANJE MASSIVE
Turning south, we head for Mulanje, an impressive mountain of granite rising some 600m above the surrounding forest and lush tea plantations. We will spend two nights camping at the base, and will enjoy a hike to the summit from where the views are exceptional. B L D
DAY 16: CATANDICA
Travelling via Blantyre, today we enter Mozambique. Our journey takes us through the Tete corridor, across the Zambezi river and alongside the mountains that form the border with Zimbabwe. We camp wild tonight in the remote region of Catandica. B L D
DAY 17 – 18: VILANCULOS
The tropical beaches of Mozambique have to be seen to be believed, bays lined with coconut palms, where the warm crystal water of the Indian Ocean softly laps at the white sand, Robinson Crusoe would feel at home here. We spend two nights at one of the best beaches, and will enjoy a boat trip to the Bazaruto archipelago, excellent snorkeling, beach walks, and simply relax under the African sun. One evening we sample the local seafood at a local restaurant. (own expense) B L D
DAY 19 – 20: INHAMBANE
Continuing down the coast, our next stop is the small town of Maxixi. We spend two nights here allowing us to take a dhow taxi across the bay to Inhambane, one of the oldest trading ports of southern Africa. We will spend the day exploring the markets and bustling streets of this former trade centre. B L D
DAY 21: MAPUTO
Today we cross vast coastal floodplains and drive through forests of cashew nuts toward the capital city. Our camp tonight is at a rustic lodge just outside of Maputo. B L D
DAY 22: HAZYVIEW
Maputo boasts an interesting, almost latino culture of street cafes and markets, and we will spend time this morning exploring these and the other attractions of this once grandiose city. This afternoon we cross back into South Africa and make our way to the DRIFTERS HAZYVIEW INN. B L D
DAY 23: KRUGER NATIONAL PARK
No visit to Africa would be complete without Kruger. We spend the entire day viewing animals in this premier National Park, and then camp in one of the park's rest camps. Tonight we celebrate with a meal in the camps restaurant (own expense). B L
DAY 24: JOHANNESBURG
After an early morning game drive, we leave the park to make our way back to Johannesburg. We arrive back at the DRIFTERS INN in the late afternoon. B
DEPARTURES
South Africa is a haven of spectacular scenery, abundant wildlife, diverse cultures and first world norms, topped with a healthy and invigorating climate. These qualities, as well as a relatively cheap currency, make it an adventure destination not to be missed. A country virtually the size of Europe with over 3000 kilometres of unspoiled coastline, boasting climatic differences from searing hot desert to snow-capped peaks, and varied cultures, from the primitive Bushman to the most Western of ways. We visit the highlights, but leave the beaten track to explore the great outdoors, often walking or hiking. The tour involves camping but mostly bungalows and inns are utilised. This demands a certain amount of fitness and flexibility: not for the 5-star luxury safari folk.
DAY 1: JOHANNESBURG – BUSHVELD CAMP
Departing early from Johannesburg, "City of Gold", we head east to the spectacular Mpumalanga area. We visit an awesome waterfall as well as the quaint gold-mining pioneer village of Pilgrims Rest, the intriguing Bourke's Luck Potholes and the Three Rondavels, towering above the Blyde River Canyon Nature Reserve. Finally we descend from the escarpment in the steps of the early explorers to the Lowveld bushveld where we overnight in the tented DRIFTERS BUSHVELD CAMP, within the Balule Nature Reserve, bordering the Kruger Park. Fall asleep to the sounds of the wild. D
DAY 2: BUSHVELD CAMP
Being privately owned, our bush camp allows us the freedom of walking amongst the game and of viewing the animals from an open vehicle with both day and night drives. All major game species are prevalent, including the renowned "Big Five". BRUNCH D
DAY 3: KRUGER NATIONAL PARK
We leave our bush camp in the morning to travel the short distance to the world-renowned Kruger National Park, here we spend the entire day viewing animals in their natural environment. We enjoy a picnic lunch and then a night in one of the park's rest camps. B L D
DAY 4: HAZYVIEW
Leaving the park after an extensive morning's game drive, we wind our way to the sleepy settlement of Hazyview, and then on to the DRIFTERS HAZYVIEW INN, a log cabin situated spectacularly on stilts in indigenous subtropical forest on the banks of the Sabie River. Try a tube ride, or relax with swimming and forest walks. B L D
DAY 5-6: SWAZILAND/ZULULAND
Travelling south through the Kingdom of the Swazi, our journey takes us into an area of spectacular scenery, and past numerous traditional homesteads and curio markets. On entering Zululand, the area once ruled by the famed Shaka Zulu, we are surrounded by a region of Game Reserves and impressive fields of sugar cane. We spend the next two nights at the DRIFTERS ZULULAND CAMP, a rustic camp situated in the sand forest on our private game reserve near Hluhluwe. During our stay we will hike through the forest along the banks of Lake St Lucia, do a game drive in the renowned Hluhluwe Game Reserve, and enjoy a traditional Zulu experience. B L D
DAY 7: DOLPHIN COAST
A short drive today, we travel to one of the worlds finest coastlines, where the unrelenting waves of the Indian Ocean continuously pound deserted beaches. Our next night will be at the DRIFTERS DOLPHIN COAST INN, situated literally on the beach. Our time here will be spent exploring the nearby lagoon and simply enjoying the beach and warm ocean. Tonight we enjoy a traditional fish braai. B L D
DAY 8 - 9: DRAKENSBERG
After a short visit to the holiday city of Durban, we travel back to the majestic Drakensberg mountain range, "Barrier of Spears". On reaching the foothills we transfer to a 4X4 vehicle, and then enjoy an exciting drive on mountain tracks up to the Lesotho border and the DRIFTERS MOUNTAIN INN where we spend two nights. We will stay in log cabins and will spend time hiking and exploring the wonders of this National Heritage Site. Pony trekking is also available. B L D
DAY 10: BLOEMFONTEIN
After a 4 x 4 transfer back to our vehicle, we climb the Oliviershoek Pass to view the turquoise waters of Sterkfontein Dam, then on to the Golden Gate National Park, well known for its towering sandstone cliffs and wealth of unique wildlife. This night will be spent in the most centrally located city in South Africa, Bloemfontein. Tonight we eat in a local restaurant (own expense) B L
DAY 11 - 12: KAROO
Exploring lesser-known gravel roads, we head into the dry karoo interior. We will travel via quaint and remote farming villages including Nieu Bethesda to the DRIFTERS KAROO INN. Our home for the next two nights will be in original stone cottages on a traditional farmstead nestled against the Sneeuberg . During our stay here, we will enjoy an extensive walk in the mountainous terrain, home to a variety of interesting plants, animal and bird life. B L D
DAY 13- 15: GARDEN ROUTE
An early start, we head for the pioneer town of Graaff-Reinet where we spend time visiting the Africana Museum and strolling around the town meeting the locals and admiring the unique architecture. We then cross the mighty Outeniqua Mountains, barrier between the dry interior and the lush coastal Garden Route area. We arrive at the secluded DRIFTERS KNYSNA INN where we will spend the next three nights in cosy log cabins hidden in the heart of the forest. Our days here will be spent exploring this renowned region and its many attractions. We will walk in the forest in search of the elusive Knysna Lourie, we will travel the "old passes road" to the Tsitsikamma Coastal National Park where we will walk part of the acclaimed "Otter Trail". On our return journey, those with suicidal instincts may try the world's highest bungi jump at 216 metres. (own expense). We will visit sun-kissed beaches, and will enjoy a boat trip on the DRIFTERS SKI BOAT around the Knysna Lagoon and through the Heads in search of dolphins and whales. One night we will enjoy a meal in the vibrant woodcutter town of Knysna. (Own expense). B L D
DAY 16 - 18: CAPE TOWN
This morning we will visit the magnificent Lake District, then travel through the farming region of Swellendam , before heading to the coast where we follow the "Whale Route" around the Hottentots Holland Mountains. Arriving in the "Mother City" of Cape Town in the late afternoon, we check into the DRIFTERS CAPE TOWN INN, which is situated on the Sea Point beachfront. Cape Town is undoubtedly one of the most beautiful cities in the world, and we will spend two days visiting Cape Point, Hout Bay, the Waterfront, secluded beaches, a wine farm and many more highlights. We will also hike up Table Mountain. (Lunches and dinners in Cape Town are own expense). B
This tour ends at 16h00 on day 18, however clients are welcome to extend their stay by booking post-tour nights at the DRIFTERS CAPE TOWN INN. If arranging an onward flight on this day, please allow time for an airport transfer and for check-in procedures (up to three hours).
DEPARTURES
Reservations:
E-mail: info@namibweb.com
Terms & conditions, Payment options and Cancellation policy
Pictures:
Related:
Page created and serviced by



www.namibweb.com

Copyright © 1998-2023 namibweb.com - The online guide to Namibia
All rights reserved | JOIN | VIDEO PORTFOLIO | VIDEO/PHOTO COLLECTION
Telegram | YouTube | Blog
Page is sponsored by ETS & Exploring Namibia TV
Disclaimer: no matter how often this page is updated and its accuracy is checked, www.namibweb.com and ETS
will not be held responsible for any change in opinion, information, facilities, services, conditions, etc. offered by
establishment/operator/service/information provider or any third party
Pictures, itineraries, description and logo: Copyright © Drifters