Felix Unite Orange River canoe adventures
Amanzi River Camp - canoeing and river trips
Orange River - Nama Canyon and Fish Eagle section
Aerial video: Noordoewer & Orange River
River adventure on the Orange River through the Nama Canyon and Fish Eagle section is more than merely a river ride. This stretch is perfect for those who have already done our section from Provenance to Aussenkehr. Here you will be transported to Aussenkehr and will be taken out at Sendlingsdrift (for the Nama section) and Fish river mouth (for the Fish river section). The river is similar to the standard section, yet the rock features are awesome and the rapids are slightly different and few more. We will give you days of relaxation, visual beauty, incredible sunsets, nights filled with fun around the campfire and peaceful sleep under the stars. You will encounter exciting rapids such as ''Liquidation'', ''Spook and diesel'', ''Eliminator'' and many more.
Location. Noordoewer, Richtersveld area, Namibia. Approximately 100 km north of Springbok, 680 km from Cape Town. The minimum group's size is 10 participants.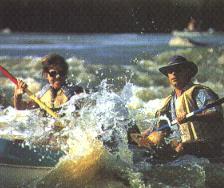 We supply all canoeing equipment including life jackets. Experienced guides will accompany you providing catering and safety instructions. All catering is handled by our guides and included in the overall price. Liquor and soft drinks are excluded. Please note that glass bottles are not allowed on the river for conservation reasons. We also supply buckets to keep all your clothes, cameras, etc. dry. Coolboxes are provided for a drinks.
The weather. Generally days are sunny. Between November and March it is extremely hot. During winter months it can get chilly especially in the night. Warmer clothes and sleeping bags are required.
What must you take?
Wet gear: costume, shorts, hat or peak, track shoes, long sleeved shirt, t-shirts, waterproof windbreaker.
Dry gear: track suit, underwear, sleeping bag, minimal toiletries, towel.
Drinks. Bring your own liquor and soft drinks.
General: camera, knife, fork, spoon, mug, plate, torch, toilet paper, sleeping mat, insect repellent, sun protection lotion.
For ecological reasons clients should understand that whatever goes into the boats with us at the beginning of the trip comes out at the end. A portable toilet will be carried by the guides as well as refuse bags.
ORANGE MENU
BREAKFASTS: BACON AND EGGS, CEREALS, TOASTED SANDWICHES, PORK SAUSAGES, SCRAMBLED EGGS, TOAST, PANCAKES.
LUNCHES: CAULIFLOWER SALAD, RICE SALAD, PASTA SALAD, COLD MEAT, CHEESES BREADS, SANDWICHES.
DINNERS: CHICKEN 'A ' LA "FELIX", SPAGHETTI BOLOGNAISE, ROAST LAMB, CHOPS AND WORS, WITH SALADS.
DESSERTS: FRUIT SALAD AND CUSTARD, ICE-CREAM.
PLEASE NOTE THE ABOVE MENU IS SUBJECT TO CHANGE WITHOUT NOTICE
First and third Thursday of every month. Minimum of 10 guests. Any less and trips are cancelled with full refunds.
All equipment rentals: 18 participants minimum.
How to get there: click for map
Pella Mission to Good House expedition

This is five day adventure on a section of Orange river that has greatest variety of types of river. This section has been opened to try and reduce the impact of overcrowding on the Richtersveld National Park.
Pella to Good House is not a section of the river that the man in the street can attempt without a good possibility of getting lost. Specialised guiding expertise and a sound infrastructure are required to negotiate the complicated maze of channels, rapids and the falls. Twenty years ago, two friends exploring the area each took a different split in the river, planning to meet at the next island. They saw each other five days later in Springbok!
This is not just another river trip, but more of an expedition. By using aerial photographs from a helicopter, it has been possible to chart a route, which has no more risk to clients than a hiking trail.
Pella itself is of considerable historic interest, as it was built by missionaries at the turn of the century. Unbelievably, two Roman Catholic priests actually constructed a Cathedral in the middle of the desert, and without any formal training in building construction.
The concentration of bird life such as Goliath Herons, Bitterns, Rosy-faced lovebirds and an abundance of Fish Eagles in one stretch of water is breathtaking.
The operator supplies the infrastructure and all equipment, including lifejackets, 2 man Mohawk canoes, paddles etc... professional, knowledgeable river guides, excellent five star meals and camaraderie.
First and third Thursday of every month. Minimum of 10 guests. Any less and trips are cancelled with full refunds.
Minimum age is 6 years old.
Day tours from base camp near Noordoewer:
NO CHILDREN U/6 PERMITTED ON THE ORANGE RIVER
Children between the ages of 6 and 8 years old must be accompanied by an adult in the boat.
MAXIMUM GROUP SIZES 30 PAX
New Year Rates & Dates for the Orange River: on request
RIO KUNENE 10 DAY RIVER SAFARI EXPEDITION:
Location: Northern and north western
Namibia 10 - day Safari Expedition
Departures: Min 16 pax : GROUP BOOKINGS ONLY
Includes: Etosha National Park, Ovamboland,
Kunene River Valley, Kaokoveld
Season: May to Oct
Rate: ex Windhoek: on request
(subject to change)
NAMIBIAN BIRDING TRIP with Prof Phil Hockey:
Location: Northern Namibia
Departures: Min 16 pax : GROUP BOOKINGS ONLY
Rate: on request ex Windhoek
Best available rates (BAR) per person: on request
Standard 4 days & standard 6 days tours
CANOE HIRE:
Equipment supplied:
2 person Mohawk canoe, 2 Paddles, 2 lifejackets,
4 x 20L storage buckets, 1 cooler box
Notes:
Standard 4 days tour starts on the 1st and 3rd Thursday of every month. Special rates for students are available (minimum 24 participants). Booking/indemnity form is here. Please download it, print out, fill in and fax us back.
Facebook:
NAMIBIA: https://www.facebook.com/groups/namibia.namibia
TRAVEL NAMIBIA: https://www.facebook.com/groups/travelnamibia
NOORDOEWER: https://www.facebook.com/groups/noordoewer
DRONESBERG AERIAL PHOTO/VIDEO: https://www.facebook.com/dronesberg
Contact & reservations:
E-mail: info@namibweb.com
Reservations are only accepted in writing: by fax or via e-mail.
Final availability confirmation: in writing: by fax or via e-mail.
Terms & conditions, Payment options and Cancellation policy
Images:
Page created and serviced by



www.namibweb.com

Copyright © 1998-2024 namibweb.com - The online guide to Namibia
All rights reserved | JOIN | VIDEO PORTFOLIO | VIDEO/PHOTO COLLECTION
Telegram | YouTube | Blog
Page is sponsored by ETS & Exploring Namibia TV
Disclaimer: no matter how often this page is updated and its accuracy is checked, www.namibweb.com and ETS
will not be held responsible for any change in opinion, information, facilities, services, conditions, etc. offered by
establishment/operator/service/information provider or any third party
Pictures, itineraries and logo: Copyright © Felix Unite