Ongongo Camp Site
Warmquelle
Location of Ongongo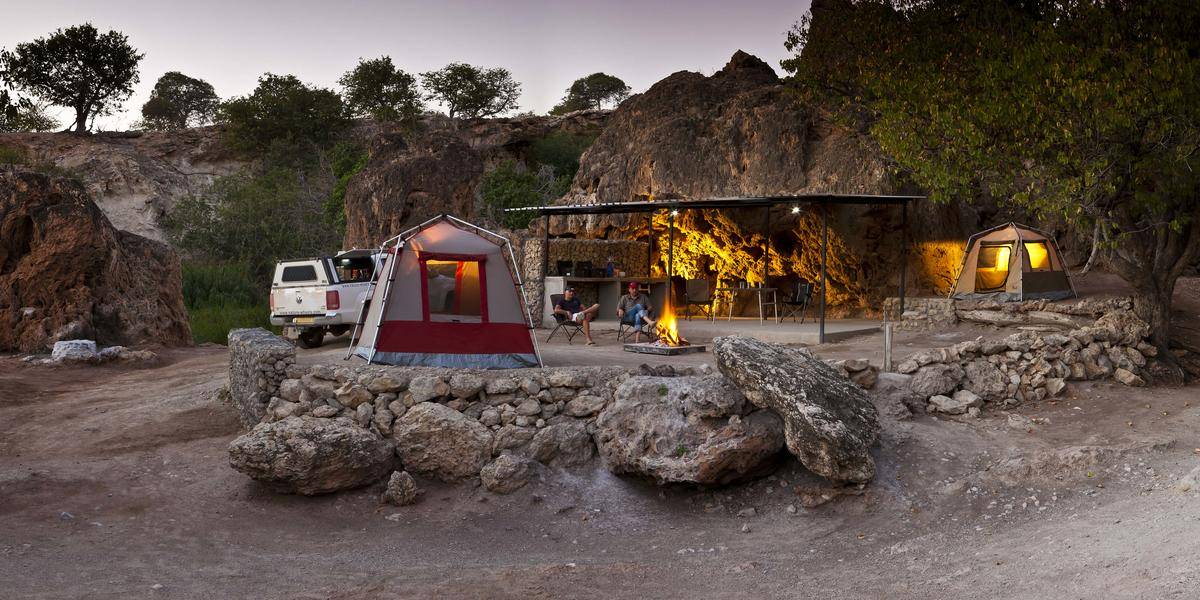 Camp: 6 km from Warmquelle Village, approximately 18 km south of Sesfontein and 95 km north of Palmwag Lodge.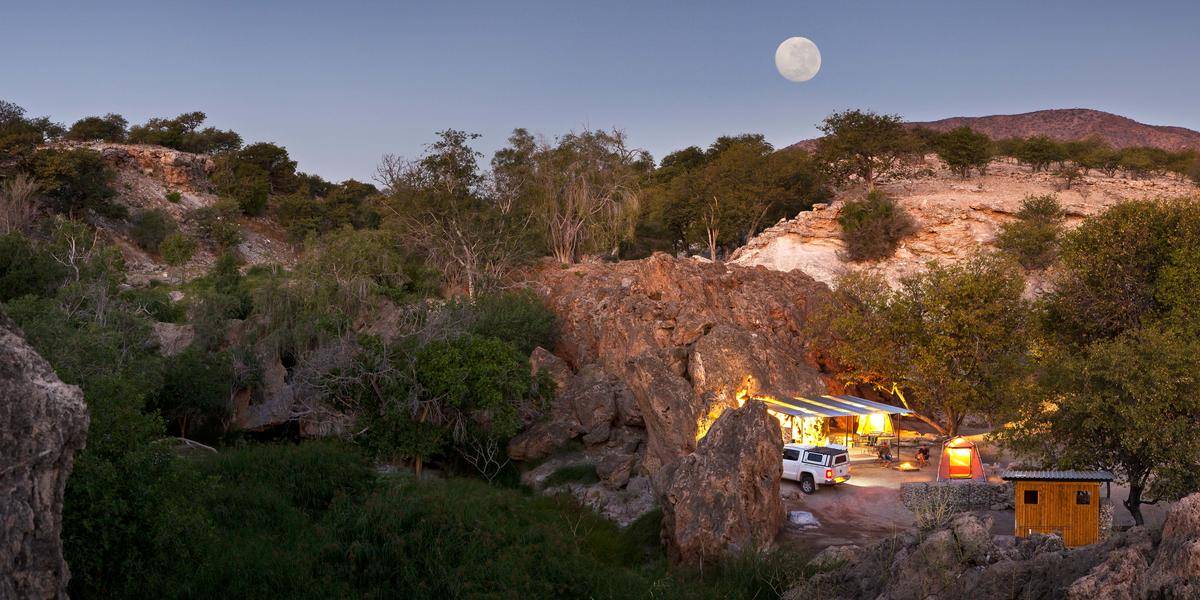 From the main Palmwag - Sesfontein D3706 gravel road, at Warmquelle Village look out for a sign on the right hand side of the road indicating a turn to the right.
Follow this track up the valley for approx. 6 km and you will find the Ongongo Camp.
Access is by 2 x 4 vehicle, but with caution as the road is rocky and takes some time to negotiate.
2 x 4 drivers are not advised to take their vehicles into the gorge, which is 4x4 access only. Vehicles can be left in a parking area at the top and equipment carried down.
YouTube video: Swakopmund - Epupa Falls flight to Himba village:
Why visit the Ongongo Camp?

Enjoy this tranquil site, its memorable scenery and the small natural swimming pool - a rare bonus for travellers visiting Namibia's rural areas.
What can you experience at Ongongo Camp?
Enjoy a swim in the crystal clear pool
Go walking in the hills around Ongongo
View the birdlife attracted by the natural spring
YouTube video: Himba Village:
What facilities are available at Ongongo Camp?
A variety of secluded campsites with braai area, some with shade structure
Toilets and cold showers
Shade house at top of cliff for day visitors
Cool drinks
Services of local guides (on request)
Lovely camp sites with shade netting
Neat and clean toilets and showers (warm showers)
Natural swimming pool
Firewood
Lovely Africa Views
Walking trails
Friendly staff and much, much more...
Rates per person per night, camping only: on request
En-suite tents, veranda and fireplace, accommodation only

Camping
Himba tours, 2.5-3 hours, per person
-
Meals per person, advanced reservations only
Breakfast | Dinner
-
Day visitors
Fees are payable on arrival
Facebook:
NAMIBIA: https://www.facebook.com/groups/namibia.namibia
KAOKOLAND: https://www.facebook.com/groups/kaokoland
DRONESBERG AERIAL PHOTO/VIDEO: https://www.facebook.com/dronesberg
Contact & reservations:
E-mail: info@namibweb.com

Terms & conditions, Payment options and Cancellation policy
Page created and serviced by



www.namibweb.com

Copyright © 1998-2024 namibweb.com - The online guide to Namibia
All rights reserved | JOIN | VIDEO PORTFOLIO | VIDEO/PHOTO COLLECTION
Telegram | YouTube | Blog
Page is sponsored by ETS & Exploring Namibia TV
Disclaimer: no matter how often this page is updated and its accuracy is checked, www.namibweb.com and ETS
will not be held responsible for any change in opinion, information, facilities, services, conditions, etc. offered by
establishment/operator/service/information provider or any third party
Description & images: Copyright © Ongongo Camp & NACOBTA