Bitterwasser Lodge is situated between Uhlenhorst and Hoachanas, it was founded by the Namibian farmer and glider pilot, Peter Kayssler. He used the Bitterwasser saltpan with its diameter of 3 kilometres as a runway system.
As one of the world's leading soaring centres, Bitterwasser offers soaring, scenic flights with a gliders, microlights or motorized planes, as well as nature drives, a swimming pool and biking.
YouTube video of Kalkrand, Namibia:
Bitterwasser Lodge gives visitors an ideal opportunity to experience the unspoilt beauty of Namibia on the edge of the Kalahari Desert, with the comfort of a beautifully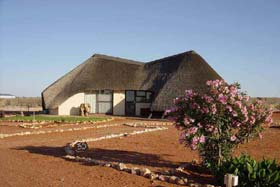 situated lodge. There are 13 rondavels (huts), 22 air-conditioned bungalows and a homestead on the dunes - all in the Af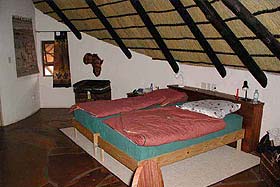 rican style. A total of 80 guests can be accommodated at once. The restaurant at Bitterwasser serves mouth-watering cuisine. Bitterwasser is a luxury lodge in Namibia.
Soon, the extraordinary thermal conditions of the Kalahari Desert became world famous. Not only incredibly fast, but also exceptionally long glider flights have been and are flown regularly in Bitterwasser.
From Windhoek or Mariental on the B1 Main road to Kalkrand, there onto the C21, Gravel road to Hoachanas which is approximately 60km situated East from Kalkrand. From Hoachanas onto the C15, Gravel road to Uhlenhorst, 8 km from Hoachanas Bitterwasser Lodge is situated.
Distance from Windhoek approximately 260 km
Distance from Mariental approximately 140 km
Rates per room per night: on request
Bed and breakfast/dinner, bed and breakfast/full board
Single/double standard room
-
Extra bed
-
Activities
Nature drive with sundowner
-
Nature Drive
-
Notes: Rates are subject to change without prior notice should tax be increased or Government levies introduced. Rates include Value Added Tax.
Facebook:
NAMIBIA: https://www.facebook.com/groups/namibia.namibia
TRAVEL NAMIBIA: https://www.facebook.com/groups/travelnamibia
KEETMANSHOOP: https://www.facebook.com/groups/keetmanshoop.namibia
MARIENTAL: https://www.facebook.com/groups/mariental.namibia
DRONESBERG AERIAL PHOTO/VIDEO: https://www.facebook.com/dronesberg
Reservations are only accepted in writing: by fax or via e-mail.
Final availability confirmation: in writing: by fax or via e-mail.
Terms & conditions, Payment options and Cancellation policy
Page created and serviced by



www.namibweb.com

Copyright © 1998-2024 namibweb.com - The online guide to Namibia
All rights reserved | JOIN | VIDEO PORTFOLIO | VIDEO/PHOTO COLLECTION
Telegram | YouTube | Blog
Page is sponsored by ETS & Exploring Namibia TV
Disclaimer: no matter how often this page is updated and its accuracy is checked, www.namibweb.com and ETS
will not be held responsible for any change in opinion, information, facilities, services, conditions, etc. offered by
establishment/operator/service/information provider or any third party
Description & images: Copyright © Bitterwasser Lodge & Flying Centre