Aba-Huab Camp Damaraland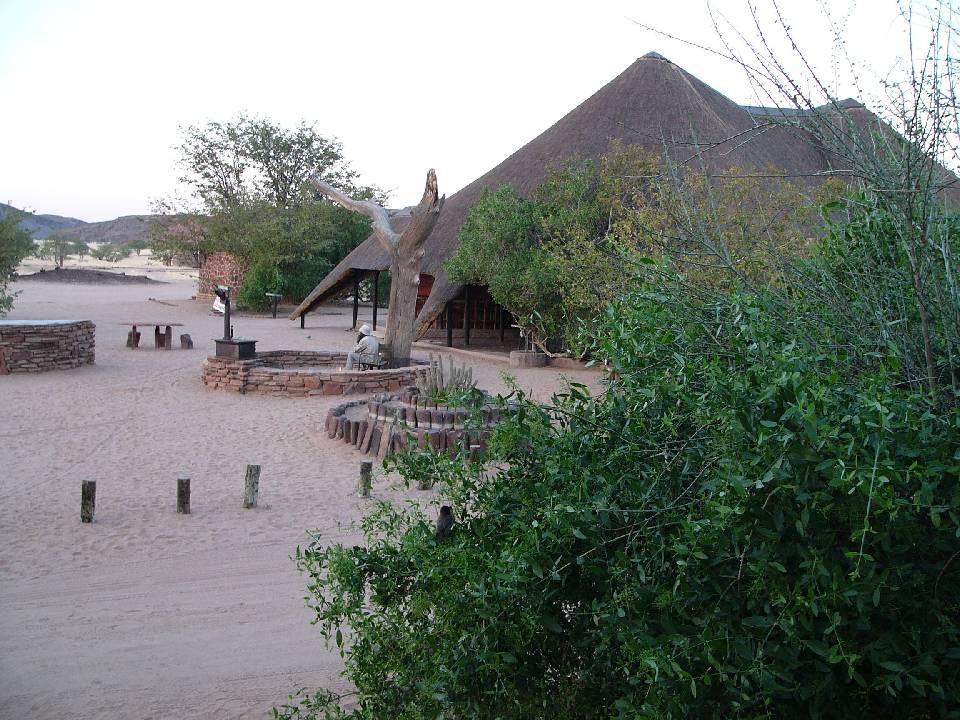 Approximately 9 kilometres before Twyfelfontein on D3254 road. From Khorixas on C39 towards the coast, turn to the left on D3254. Aba-Huab camping site is about 15 km further on. From the coast C35 to Uis, turn on D2612. Camping site is about 80 km further on.
The shaded bank of the seasonal Aba-Huab River near Twyfelfontein is just the place for anybody who loves camping. Take a look at the famous rock engravings, get to know the culture of the Dama people and perhaps even spot a desert elephant.

Attractions near Aba-Huab Camp
A mere 15-minute drive from Twyfelfontein, one of Namibia's most important national heritage sites, Aba-Huab Campsite is the ideal base from which to explore this world famous area of ancient rock engravings.

The campsite also offers a number of activities other than viewing rockart. Enjoy walks in the Aba-Huab riverbed and on the fringe of the Namib for some game watching - you might even see desert Elephant stroll past...

Sights in the vicinity of Aba-Huab Camp

Twyfelfontein Rock Art (15 min)
Burnt Mountain and Organ Pipes (20 min)
Petrified Forest (45-60 min)
Daureb Mountain Guides at Brandberg (1 hour 45 min)

The restaurant at Aba-Huab Camp and bar are fully licensed. Traditional dishes of the Dama people will be prepared for you on request. The Aba-Huab management will also be happy to arrange performances of traditional singing and dancing for the culturally-minded.

The total capacity of Aba-Huab Campsite is up to 120 guests. Various campsites equipped with fire places, tables, benches and running water are scattered along the seasonal Aba-Huab River. There are four ablution blocks with hot showers and flush-toilets. Two of the blocks are built in a style which blends into nature. Each camp site has a power point.

Thatched 'A-frame' shelters are also available for accommodation, as well as rooms and tents which need to be booked in advance.
Facilities: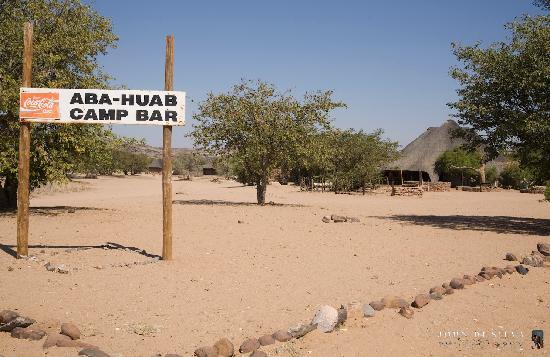 Camping sites along the banks of Aba-Huab dry riverbed which can accommodate up to 60 persons, 2 ablution blocks with flushing toilets and showers. Bar with cool drinks.
Visits to Twyfelfontein with local guides, walking and hiking, game viewing (Damaraland elephants), traditional dances.
Twyfelfontein, Burnt Mountain, Organ Pipes, Petrified Forest.
Facebook:
NAMIBIA: https://www.facebook.com/groups/namibia.namibia
DAMARALAND: https://www.facebook.com/groups/damaraland
KAOKOLAND: https://www.facebook.com/groups/kaokoland
DRONESBERG AERIAL PHOTO/VIDEO: https://www.facebook.com/dronesberg
Community based tourism, Rock art in Namibia
Rates per person per night, accommodation/camping only: on request
Camping: standard sites
Adult
-
Tents/fully equipped: discontinued
Single/double
-
Vehicles fees: payment on arrival only
Contact & reservations:
E-mail: info@namibweb.com
Terms & conditions, Payment options and Cancellation policy
Page created and serviced by



www.namibweb.com

Copyright © 1998-2024 namibweb.com - The online guide to Namibia
All rights reserved | JOIN | VIDEO PORTFOLIO | VIDEO/PHOTO COLLECTION
Telegram | YouTube | Blog
Page is sponsored by ETS & Exploring Namibia TV
Disclaimer: no matter how often this page is updated and its accuracy is checked, www.namibweb.com and ETS
will not be held responsible for any change in opinion, information, facilities, services, conditions, etc. offered by
establishment/operator/service/information provider or any third party
Image: Copyright © omniplan.hu