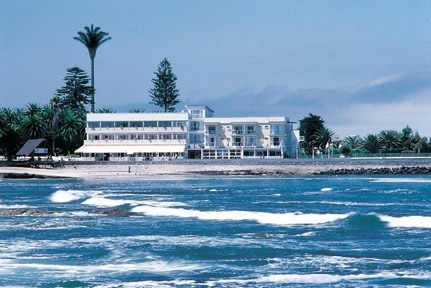 Strand Hotel Swakopmund
Namib Sun Hotels
Main accommodation - Western & Coastal Region
Swakopmund
Beachfront
The Strand Hotel has a prime location on a palm-lined shore on the main beach front of Swakopmund, in walking distance from the centre of town. The Hotel's verandah cafes and restaurants provide an ocean view, matched only by the excellent and varied cuisine. Currently hotel expands by building a new section to accommodate more guests. The hotel is located next to Mole, a launching place for fishing and sightseeing tours. Swakopmund Museum is located nearby as well as Promenade, the oldest park at the coast. A public swimming pool is a walking distance from the hotel. Activities and transfers (optional) can be organized & booked.
The hotel is closed for renovations till further notice
Rates, bed and breakfast: on request
Sing

le room back facing

-
Sing

le

Sea facing room
-

Double room

back facing
-

Double

Sea facing room
-
Suite
-
Notes:
Rates are subject to change without prior notice should tax be increased or Government levies introduced. Rates include Value Added Tax.
Contact & reservations:
P.O. Box 3127 Windhoek, Namibia
Fax: +264 61 244558
E-mail: info@namibweb.com
To book:
1) you can e-mail us requesting information and/or rates
Reservations are only accepted in writing: by fax or via e-mail.
Final availability confirmation: in writing: by fax or via e-mail.
See also: Terms & conditions, Payment options and Cancellation policy
Related links:
Accommodation in the area:
Activities in the area:

Page created and serviced by



www.namibweb.com

Copyright © 1998-2013 NamibWeb.com - The online guide to Namibia
All rights reserved
Disclaimer: no matter how often this page is updated and its accuracy is checked www.namibweb.com and ETS will not be held responsible for any change in opinion, information, facilities, services, conditions, etc. offered by establishment/operator/service/information provider or any third party
Rates, picture & description: Copyright © Namib Sun Hotels