Guest Farm Scheidthof
Dordabis
The Guest Farm is situated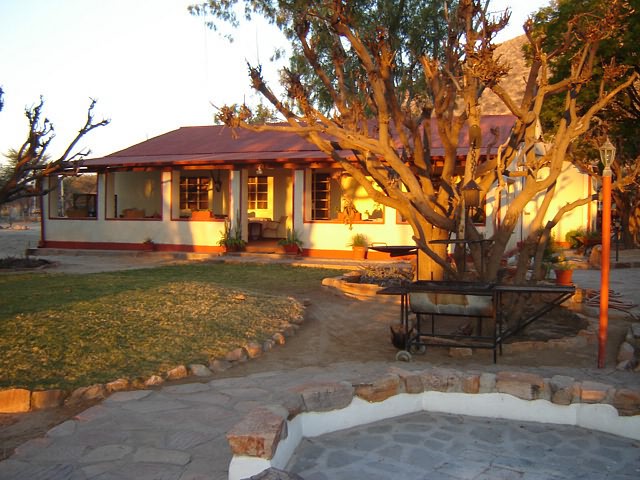 alongside the Scheidthof Mountains, at the edge of the Kalahari. Take pleasure in the countryside vibes of Farm Scheidthof in Namibia.
Benefit from unforgettable impressions and take part in the every day life of a German Namibian farmer in between cattle, horses, sheep, dogs and plenty of wild life.
Discover the diverse fauna and flora of the area and let the day end round a crackling camp fire, with a cold beer and biltong, whilst gazing at a stunning sunset across the Kalahari dunes.
Hosts offer 4 comfortable double rooms and 1 single room, as well as a dining room with a small lounge and total privacy.
Farm Scheidthof is an ideal stopover for arriving and departing guests as well as for guests travelling to Botswana and into the south of the country.
Hosts also function as an independent tour operator and therefore take pride in organizing and optimizing your planned tour.
Farm Scheidthof is a family-run guest farm, which is located 120 km from Windhoek, and 80 km from Windhoek Hosea Kutako International Airport. The farm is peacefully located in the midst of the African bush. Hosts offer a range of outdoor activities for the whole family, who can enjoy the country atmosphere of everyday life on our farm and are treated as part of the family. Whilst hiking or on a game drive, you can have close encounters with a variety of game and birds. Escape the every day city life and become part of a real African dream.
Rates per person per night: on request
Bed and breakfast
-
Dinner, bed and breakfast
-
Full board
-
Meals per person
Breakfast | Lunch | Dinner
-
Camping
Per adult
-
Activities per person
Game drives, per vehicle
-
Horse riding excursion 3 hours
-
Horse riding lesson 45 min
-
Transfers per vehicle, one way
Scheidthof - Windhoek or vice versa
-
Windhoek International Airport - Scheidthof or vice versa
-
Contact & reservations:
E-mail: info@namibweb.com



Reservations are only accepted in writing: by fax or via e-mail.
Final availability confirmation: in writing: by fax or via e-mail.

Terms & conditions, Payment options and Cancellation policy

Page created and serviced by



www.namibweb.com

Copyright © 1998-2023 namibweb.com - The online guide to Namibia
All rights reserved | JOIN | VIDEO PORTFOLIO | VIDEO/PHOTO COLLECTION
Telegram | YouTube | Blog
Page is sponsored by ETS & Exploring Namibia TV
Disclaimer: no matter how often this page is updated and its accuracy is checked, www.namibweb.com and ETS
will not be held responsible for any change in opinion, information, facilities, services, conditions, etc. offered by
establishment/operator/service/information provider or any third party
Description & images: Copyright © Guest Farm Scheidthof