| | |
| --- | --- |
| Okambara Game & Elephant Ranch | |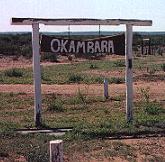 Okambara Game Ranch is located around 150 km east of Windhoek.
Activities
On the approximately 15.000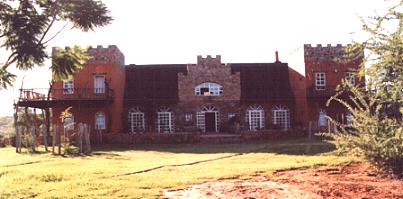 hectares of the Okambara Resort you can watch elephants, rhinos, giraffes, hyenas, cheetahs, different antelopes, zebras and ostriches every day. We take you on photo tours as well as safaris. Saddle horses are available for children – of course for adults as well. Donkey cart rides, breathtaking night walks, grill evenings under the dark-blue shimmering sky secure an unforgettable
vacation for the whole family.
From Windhoek International Airport Okambara is situated approximately 1 hour's drive in eastern direction. You will be picked up from the airport. Vaccinations are not necessary. At an altitude of 1500 m climatically very favourable, the farm lies in the malaria-free area. Due to Namibia's geographical location, your trip merely comes to a time lag of just an hour.
Your hosts, family Schmitt, would welcome you in truly personal way: the meals are home-made and served on outside veranda overlooking small farm dam often visited by elephants. The ranch can take maximum of 16-18 guests. Swimming pool is available.
3rd elephant baby on Okambara:
Within 3 years, after 2005 and 2006, also in 2007 an elephant baby was born !! Nearly at the same time as his/ her sister Lisa and brother Leo !!
With the parents and aunts Okambara now habitats 8 elephants, 10 rhinos and also several cheetahs and leopards (where you can join for feeding).
For all who are interested to visit and see all three cubs (and of course the other animals), join us at one of the daily game drives. Staff can arrange a shuttle service to Windhoek International Airport.

Elephant day tour: minimum 2 persons, daily from Windhoek, departure: 09.00. Price: on request. Inclusive of transfer, lunch, game drive and pick-up from your hotel.
Rates per night: on request
Dinner, bed and breakfast or full board
Per person per night
-
Children
Activities per person
Transfer from/to Windhoek airport
-
Transfers to/from Windhoek/Windhoek International airport: on request
Notes:
Rates are subject to change without prior notice should tax be increased or Government levies introduced. Rates include Value Added Tax.
Contact & reservations:
E-mail: info@namibweb.com
Reservations are only accepted in writing: by fax or via e-mail.
Final availability confirmation: in writing: by fax or via e-mail.
Terms & conditions, Payment options and Cancellation policy
Related:
Accommodation in the area:
Activities in the area:
Page created and serviced by



www.namibweb.com

Copyright © 1998-2017 NamibWeb.com - The online guide to Namibia
All rights reserved
Page is sponsored by ETS & www.namibweb.com
Disclaimer: no matter how often this page is updated and its accuracy is checked www.namibweb.com and ETS will not be held responsible for any change in opinion, information, facilities, services, conditions, etc. offered by establishment/operator/service/information provider or any third party
Description: Copyright © Okambara Game Ranch