Accommodation Namibia - Central Region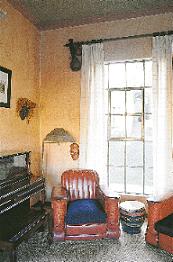 Closed for an indefinite period

Villa Verdi is located in Windhoek, 4 Verdi Street. An oasis in the heart of the city, Villa Verdi offers comfortable rooms which are individually decorated in ethnic styles. You can relax in the secluded gardens, around the large swimming pool and enjoy views of the Auas Mountains. Whether its for business or pleasure, Villa Verdi is the ideal stop over prior to your venture into the unique scenic beauty of Namibia.
Video Windhoek & central region

Villa Verdi Guesthouse set the standards for boutique accommodation in Windhoek. Unique décor and personal service are the hallmarks of this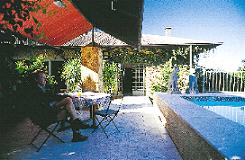 city oasis that welcomes you with warm Namibian smiles.

The villa consists of 13 standard rooms, 3 apartments and one luxury suite, set a comfortable five minutes walk from the city centre with its collection of stately buildings, bustling shopping centres, beer gardens and tourist attractions.
Surround yourself with the inspiring Auas Mountains, martini views and the incredible natural treasures chest that characterises the region. Surrounded by lush, tropical gardens, Villa Verdi is a tranquil haven situated within 10 minutes walking distance from the centre of Windhoek. The cool central lounge, decked out in comfortable African décor, is a central meeting point for guests.

The sparkling pool offers instant relief from the African heat and is the central hub of the hotel. Each room has been individually appointed utilising locally handcrafted art to complete the overall ethnic look.
Staff can arrange a shuttle service to Windhoek International Airport.
Meals (per person):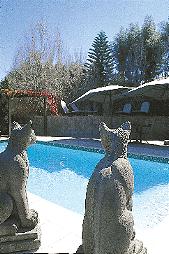 Dinner: Bookings can be made for dinner from a set menu and must be pre-arranged before 14.00 daily.

Rates bed and breakfast, per night: on request
Standard/luxury rooms
Children's policy:
Children under 3 years are free of charge.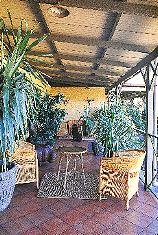 Children 3 - 11 years old sharing the room with their parents: on request
Children 12 years and older: full/adult rate

The above rates for children include breakfast.
Notes:
Check-in time: 13.00, check-out time: 10.00. Special meals can be booked in advance. The swimming pool of Villa Verdi is not fenced. Rates are subject to change without prior notice should tax be increased or Government levies introduced.
Special SADC residents rates: on request
Facebook:
NAMIBIA:
https://www.facebook.com/groups/namibia.namibia
WINDHOEK:
https://www.facebook.com/groups/windhoek.namibia.africa
KATUTURA:
https://www.facebook.com/groups/katutura
DRONESBERG AERIAL PHOTO/VIDEO:
https://www.facebook.com/dronesberg
Contact & reservations:
E-mail: info@namibweb.com
Reservations are only accepted in writing: by fax or via e-mail.
Final availability confirmation: in writing: by fax or via e-mail.
Terms & conditions, Payment options and Cancellation policy
Page created and serviced by



www.namibweb.com

Copyright © 1998-2023 namibweb.com - The online guide to Namibia
All rights reserved | JOIN | VIDEO PORTFOLIO | VIDEO/PHOTO COLLECTION
Telegram | YouTube | Blog
Page is sponsored by ETS & Exploring Namibia TV
Disclaimer: no matter how often this page is updated and its accuracy is checked, www.namibweb.com and ETS
will not be held responsible for any change in opinion, information, facilities, services, conditions, etc. offered by
establishment/operator/service/information provider or any third party
Rates, images & description: Copyright © Leading Lodges of Africa