Gobabis
Town in Namibia
Omaheke Region
Gobabis is a town in eastern Namibia. It is the regional capital of the Omaheke Region, and the district capital of the Gobabis electoral constituency. Gobabis is situated 200 km (120 mi) down the B6 motorway from Windhoek to Botswana. The town is 110 km (68 mi) from the Buitepos border post with Botswana, and serves as an important link to South Africa on the tarred Trans-Kalahari Highway. Gobabis is in the heart of the cattle farming area. In fact Gobabis is so proud of its cattle farming that a statue of a large Brahman bull with the inscription "Cattle Country" greets visitors to the town. Gobabis borders the Kalahari Desert, and is traditionally in the land of the Herero people.

History
Etymology and pre-colonial history

The area around Gobabis and along the Nossob River had a strong population of elephants. The settlement itself was a base camp for ivory hunters and a trading post for elephant tusks.

In 1856 a mission station was established by one Friederich Eggert of the Rhenish Missionary Society. In the latter half of the 19th century and the early 20th century several conflicts flared up between the Mbanderu and the Khauas Khoikhoi, as well as between the settlers and the indigenous people. Gobabis is in an area where the Herero and the Nama people fought wars against one another, as well as with settlers from the Cape colony that occupied the land.

According to oral tradition, the earliest name for the settlement in this area was the Khoekhoegowab word khoandabes, the place where the elephant came to lick. This reason for this name is speculated to be that elephant tusks that would crack in the dry and hot climate of the Omaheke were at times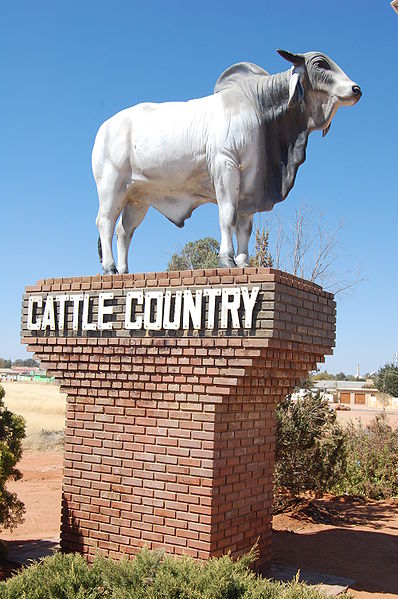 stored right in the settlement's well. The Herero called the place Epako.

Later the settlement was referred to as "Gobabis" by the Whites, this expression was likely derived from goba (argue, quarrel) and bis (place): The place where people quarreled. A common earlier interpretation of the name, khoa (Elephant) -bes (place), Elephant fountain, was introduced by Heinrich Vedder and gained wide acceptance. Vedder also opined that it was Amraal Lambert, Captain of the Kaikhauan (Khauas Nama) who called the place Gobabis because he could not pronounce Koabes. Apart from linguistic problems, this interpretation was contradicted by an 1845 letter by Reverend Joseph Tindall, a Wesleyan missionary, which states: "Reached Gobabis which I named 'Elephant's fountain'" - a place name like "Place of Altercation" would not bode too well for the missionary station he intended to establish.

Colonial

The Gobabis district was proclaimed by the German authorities in February 1894 and in June the following year Gobabis was occupied by a German garrison. While the military fort, built in 1896-7, has long since disappeared, one of the few buildings dating back to that era is the field hospital, or Lazarette, which has been declared a national monument.


Geography

Climate

Gobabis has a semi-arid climate (BSh, according to the Köppen climate classification), with hot summers and cool winters (with mild days and chilly nights). The average annual precipitation is 375 mm (15 in).

Economy

Gobabis continues to grow as a town due to goods crossing from the mines of landlocked Botswana to the Namibian port of Walvis Bay, and furthermore from consumer goods being imported into Namibia from Johannesburg in South Africa. Gobabis is connected to the Namibian railway system. The passenger train that used to run to the capital Windhoek four times a week no longer takes passengers.
The town hosts two hospitals, a clinic, banking and shopping facilities. Legare Stadium is located in the town.
Notable landmarks
Cattle Country Brahman Bull Statue
Phone code: 062. Police: 10111.
Would you like to book accommodation in Gobabis or a trip there? Contact us!
Facebook groups:
NAMIBIA: https://www.facebook.com/groups/namibia.namibia
GOBABIS: https://www.facebook.com/groups/gobabis
DRONESBERG AERIAL PHOTO/VIDEO: https://www.facebook.com/dronesberg
Contact & information:
E-mail: info@namibweb.com

Reservations are only accepted in writing: by fax or via e-mail.
Final availability confirmation: in writing: by fax or via e-mail.

Terms & conditions, Payment options and Cancellation policy
Page created and serviced by



www.namibweb.com

Copyright © 1998-2023 namibweb.com - The online guide to Namibia
All rights reserved | JOIN | VIDEO PORTFOLIO | VIDEO/PHOTO COLLECTION
Telegram | YouTube | Blog
Page is sponsored by ETS & Exploring Namibia TV
Disclaimer: no matter how often this page is updated and its accuracy is checked, www.namibweb.com and ETS
will not be held responsible for any change in opinion, information, facilities, services, conditions, etc. offered by
establishment/operator/service/information provider or any third party