| | |
| --- | --- |
| East Gate Rest Camp & Service Station | |

East Gate Rest Camp is located near border post with Botswana and an ideal stopover on your way from South Africa to Namibian Atlantic Coast and en route between top attractions in Zimbabwe, Zambia, Botswana, South Africa and Namibia.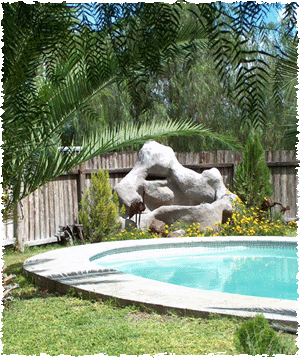 Accommodation establishment is situated 400m from the Buitepos border post between Namibia and Botswana and just the place to care for all your needs after a long day of travelling.

Buitepos is the main access point to the centre of Namibia and all tourism attractions this vast, sparsely populated country has to offer.

Officially, East Gate is a self-catering rest camp, but it's really so much more. Extended facilities are nestled in the refreshing landscape of Omaheke, one of the eleven administrative regions of Namibia.

Omaheke is the Herero word for sandveld (sand terrain), which is appropriate.

East Gate, Namibia offers accommodation facilities at the Buitepos border post between Namibia and Botswana. Travellers of the Trans Kalahari Highway enjoy camp's immaculate accommodation, beautiful surroundings and peaceful nature.

Accommodation proved to be the ideal stop-over for all traffic from Botswana to Namibia or visa versa. If you are on your way from Windhoek, Namibia to Johannesburg, South Africa, this route is the shortest and most interesting way to go. The camp is only a one-day drive from Johannesburg.
Number of units:
1 x luxury bungalow
4 x 3 or 4 bed bungalows
8 x 2 bed bungalows
13 x cabins
9 x camping sites
Coordinates:
East Gate
22°16.93 S 19°59.48 E

Buitepos Border Post
22°16.85 S 19°59.87 E
Rates per room per night: on request
Basis: no meals

Luxury bungalow - sleeps 4 adults and 2 children: 2 bedrooms, fitted kitchen, air-conditioner, TV & telephone

Bungalow - 1 or 2 persons: 1 bedroom, own kitchen (fully equipped), shower and toilet, air-conditioner

Bungalow - 3 or 4 persons: 1 bedroom, own kitchen (fully equipped), shower and toilet, air-conditioner

Cabin - per person per night: only two single beds with linen & ablution facilities

Camping/Bush Camp camping - per person per night: ablution facilities, power, electric lights
Facebook groups:

NAMIBIA: https://www.facebook.com/groups/namibia.namibia

GOBABIS: https://www.facebook.com/groups/gobabis

DRONESBERG AERIAL PHOTO/VIDEO: https://www.facebook.com/dronesberg

Contact & reservations:
E-mail: info@namibweb.com



Reservations are only accepted in writing: by fax or via e-mail.
Final availability confirmation: in writing: by fax or via e-mail.

Terms & conditions, Payment options and Cancellation policy

Page created and serviced by



www.namibweb.com

Copyright © 1998-2023 namibweb.com - The online guide to Namibia
All rights reserved | JOIN | VIDEO PORTFOLIO | VIDEO/PHOTO COLLECTION
Telegram | YouTube | Blog
Page is sponsored by ETS & Exploring Namibia TV
Disclaimer: no matter how often this page is updated and its accuracy is checked, www.namibweb.com and ETS
will not be held responsible for any change in opinion, information, facilities, services, conditions, etc. offered by
establishment/operator/service/information provider or any third party
Images & description: Copyright © East Gate Rest Camp