Windhoek Hosea Kutako International Airport
Hosea Kutako International airport is located 42 kilometres from Windhoek in the eastern direction (road to Gobabis) and was built in 1964.
There is a shuttle service available after every flight arrival with our sedan vehicles or microbuses.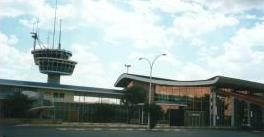 There are several versions why the airport was built so far from the capital. The first and most obvious is that large flat area suitable for international airport was only available 40 km from Windhoek. According to another strong winds in Windhoek during winter time can be dangerous for aircrafts.

Windhoek International airport has the following facilities: cafe, VIP lounge, two bureau de change, several car rental desks, airport information desk, passenger services desk, cellular phones rental desk, public telephones, customs offices, large recently renovated parking area with new clear road markings and signs, cargo depot, petrol station. The new hall underwent renovations in 2001.

According to survey conducted amongst several airports in Africa, Windhoek International airport has been acknowledged as the cleanest and safest in Africa, ahead of Johannesburg International airport (leaking roof seen by the author of this site does not qualify Johannesburg airport as the best in Africa). Convenient accommodation option is Valley Kappsfarm.
Contact:
E-mail: info@namibweb.com
To book:
1) you can e-mail us requesting information and/or rates
Reservations are only accepted in writing: by fax or via e-mail.
Final availability confirmation: in writing: by fax or via e-mail.
Terms & conditions, Payment options and Cancellation policy
Related: Airlines to Namibia, Shuttle and transfer services, Air Namibia information, Flights, Accommodation in the area
Please take a look at How to bookmark our page or just press Ctrl - D
Page created and serviced by



www.namibweb.com

Copyright © 1998-2023 namibweb.com - The online guide to Namibia
All rights reserved | JOIN | VIDEO PORTFOLIO | VIDEO/PHOTO COLLECTION
Telegram | YouTube | Blog
Page is sponsored by ETS & Exploring Namibia TV
Disclaimer: no matter how often this page is updated and its accuracy is checked, www.namibweb.com and ETS
will not be held responsible for any change in opinion, information, facilities, services, conditions, etc. offered by
establishment/operator/service/information provider or any third party